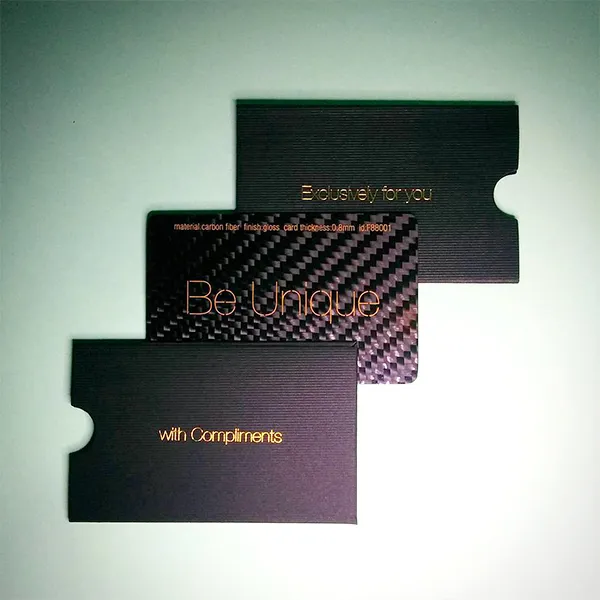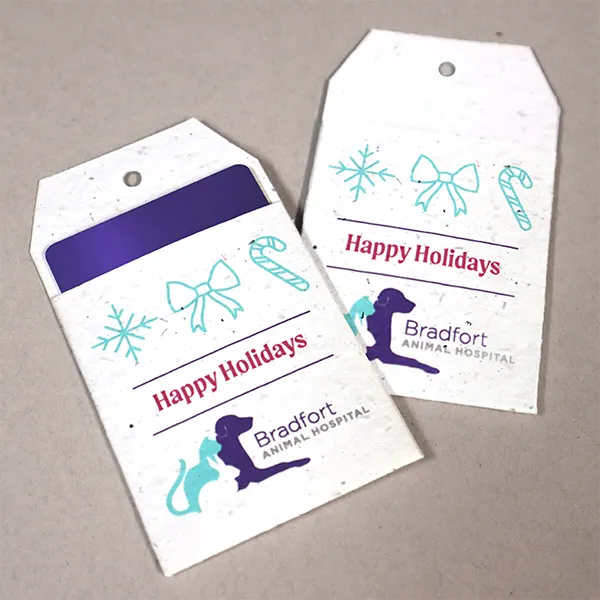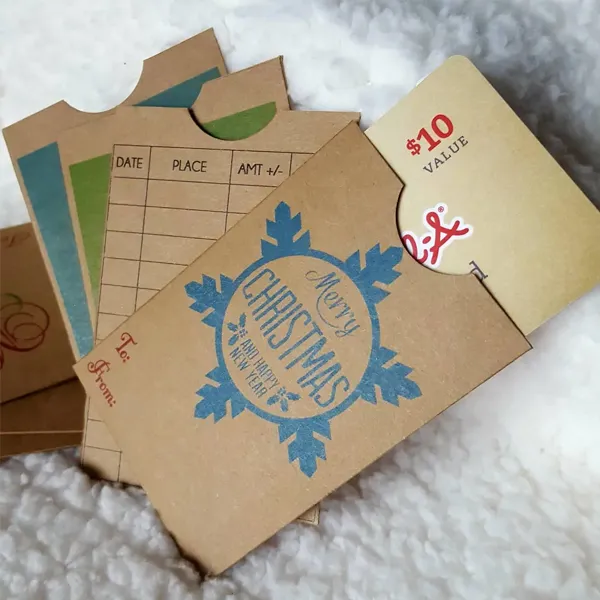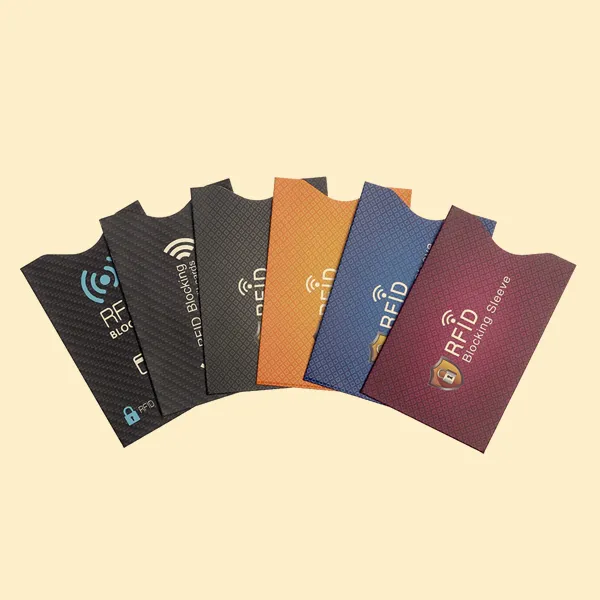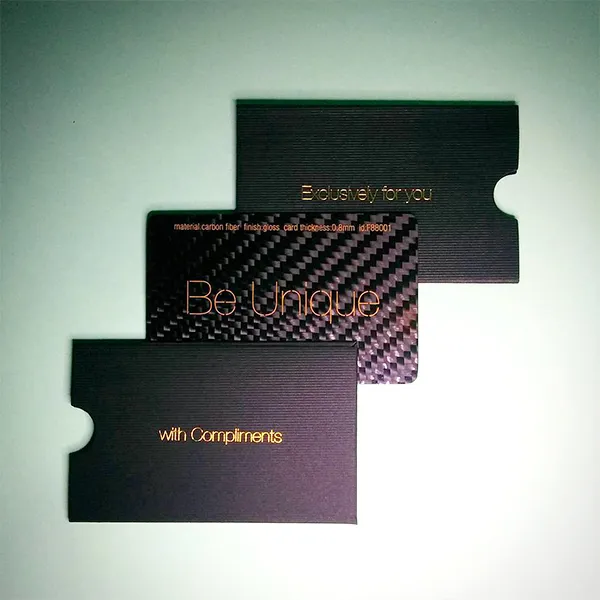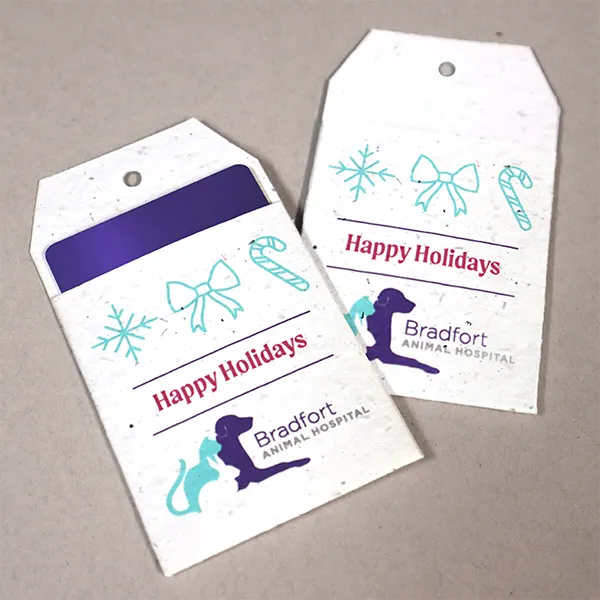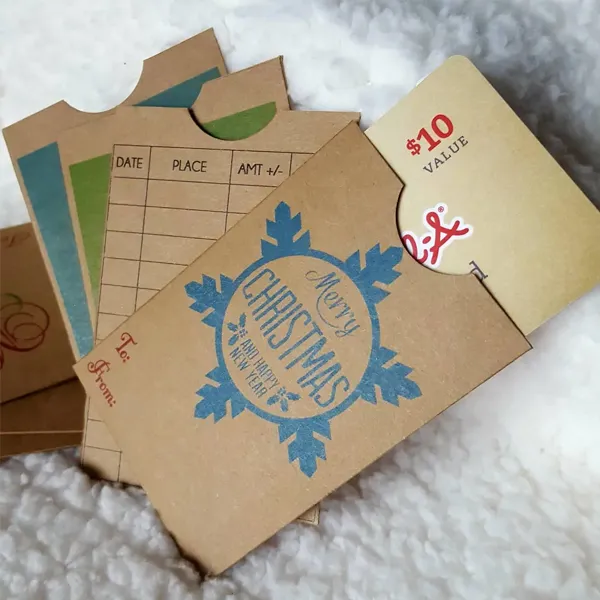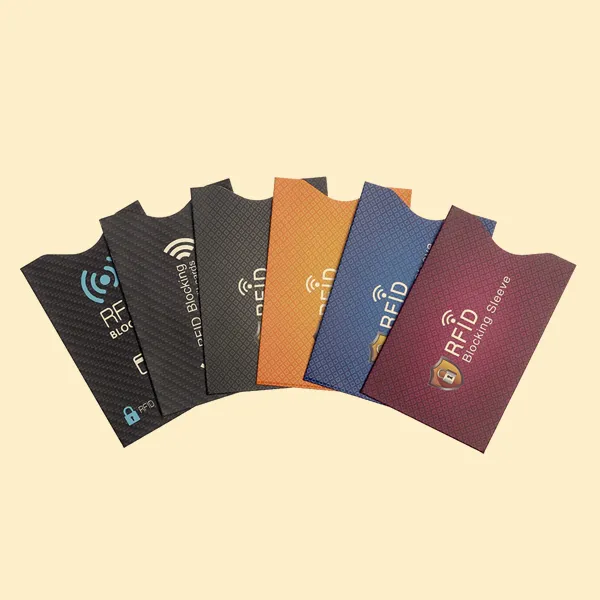 Gift Card Sleeves
Luxury eco-friendly gift card sleeves are a great way to promote your business while being environmentally responsible. These sleeves showcase your brand's commitment to sustainability and elevate the gifting experience for your customers. Using high-quality materials and designing unique patterns ensures your gift cards stand out from the rest. In addition, by incorporating sustainable practices into your business model, you can attract more eco-conscious consumers who prioritize ethical purchasing decisions. So why not take the first step towards a greener future and invest in luxury eco-friendly gift card sleeves for your business? At Noah Packaging, we have customized options to tailor your gift card packaging sleeves. With our customized card sleeves, your products will stand out on shelves and attract customers.
Shop with Confidence
Money
Back Guarantee


Luxury Eco-friendly Gift Card Sleeves for Your Business
Are you looking for a way to elevate your business's gifting experience while being environmentally conscious? Look no further than our luxury eco-friendly gift card sleeves. Made from sustainable materials such as recycled paper and biodegradable plant-based materials, these sleeves offer a stylish and sustainable solution for your business's gift cards.
Not only do these eco-friendly gift card packaging sleeves showcase your brand's commitment to sustainability, but they also provide a luxurious touch to the overall gifting experience. The sleek design and high-quality materials make them stand out among traditional plain paper sleeves. Plus, with customization options available, you can ensure that each sleeve represents your brand perfectly.
By choosing our luxury eco-friendly gift card sleeves for your business, you are positively impacting both the environment and your customers' experiences.
Increase Your Brand Image with Our Luxury Gift Card Sleeves
In today's competitive business environment, every brand strives to create a unique and memorable image that sets them apart. One of the most effective ways to achieve this is by offering custom gift card sleeves that protect your gift cards and give them an added layer of luxury. At our company, we offer high-quality custom printed gift card sleeves that are sure to make a lasting impression on your customers.
Our luxury custom printed gift card carriers sleeves and plain greeting card sleeves are made of premium materials and can be customized with your brand logo or message. They come in various sizes and colors, making them perfect for any occasion or promotion. Whether it's for a holiday season or a special event, our elegant gift card packaging sleeves will leave your customers feeling appreciated and valued.
Investing in our luxury custom gift card sleeves is a smart branding strategy that can help increase your revenue by attracting and retaining new customers.
Personalized Eco-Friendly Options for Your Gift Card Sleeves
In today's world, eco-friendliness has become a top priority for many consumers. As gift cards continue gaining popularity as a go-to present, businesses must find innovative ways to make their offerings more sustainable. One way to achieve this is by using personalized, eco-friendly options for your gift card sleeves.
Firstly, recycled materials can be used in the production of a gift card tray and sleeve, which not only reduces waste but also minimizes carbon footprint. By utilizing recycled paper instead of virgin materials, businesses can showcase their commitment to being environmentally
conscious while maintaining a personalized touch with custom designs and branding.
Secondly, biodegradable options are also available for those seeking an even more eco-friendly solution. These sleeves break down naturally over time without leaving harmful environmental residue. This option showcases a company's dedication to sustainability and provides peace of mind for environmentally-conscious customers.
Choose Noah Packaging for Your Wholesale Packaging
When it comes to gift card sleeves wholesale packaging, Noah Packaging is a clear choice. As a leading packaging company, we understand the importance of creating high-quality products that meet your needs. We have years of experience in the wholesale packaging industry and know how to design and manufacture packaging that will make your gift cards stand out.
Our gift card sleeves bulk are available in various sizes, colors, and materials to match your branding and style. We use premium-quality materials such as paperboard, kraft paper, corrugated cardboard, and more to ensure your packaging is durable and long-lasting. Our state-of-the-art equipment allows us to produce high volumes custom printed gift card sleeves at competitive prices without compromising quality or delivery times.
At Noah Packaging, we provide personalized service from start to finish. We work closely with our clients to understand their vision for their gift card or cookie sleeves wholesale packaging needs.
Contact Us
Don't hesitate to reach us to explore the options for improving the packaging of your product. To place your order with us, you can simply email us at sales@noahpackaging.com. Our team will assist you throughout the process and give you a free quote on your order.
Read more
| | |
| --- | --- |
| Box Style | Tray and Sleeve |
| Dimension (L + W + H) | All Custom Sizes & Shapes |
| Quantities | No Minimum Order Required |
| Paper Stock | 10pt to 28pt (60lb to 400lb) Eco-Friendly Kraft, E-flute Corrugated, Bux Board, Cardstock |
| Printing | No Printing, CMYK, CMYK + 1 PMS color, CMYK + 2 PMS colors |
| Finishing | Gloss Lamination, Matte Lamination, Gloss AQ, Gloss UV, Matte UV, Spot UV, Embossing, Foiling |
| Included Options | Die Cutting, Gluing, Scored,Perforation |
| Additional Options | Eco-Friendly, Recycled Boxes, Biodegradable |
| Proof | Flat View, 3D Mock-up, Physical Sampling (On request) |
| Turnaround | 4 - 8 Business Days, RUSH |
| Shipping | FLAT |
Yes, at Noah Packaging, we can customize card sleeves in every size and design according to client's requirements.
Yes, our card sleeves, made of biodegradable materials, are easy to recycle.
We offer the best affordable prices for our custom gift card holders wholesale and gift card sleeves.
Yes, one can use our packaging for various purposes, including gifting purposes.
Our gift card sleeves come in various sizes according to product and brand needs.