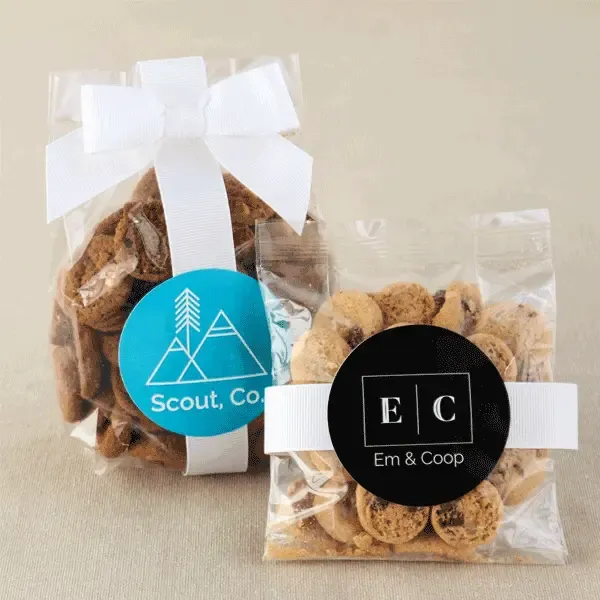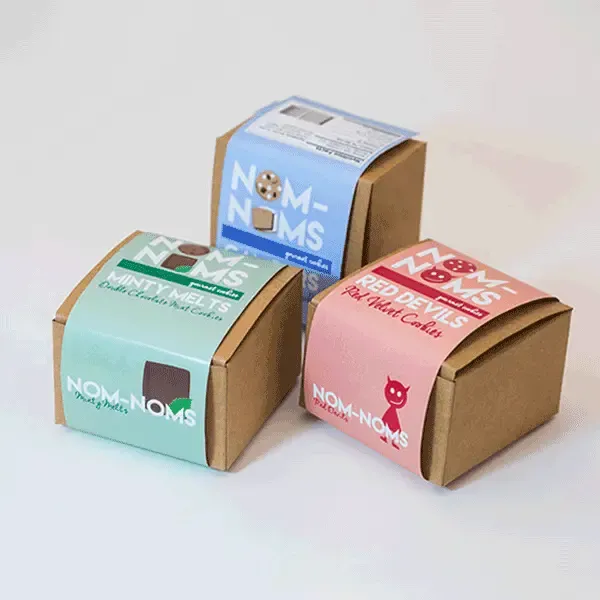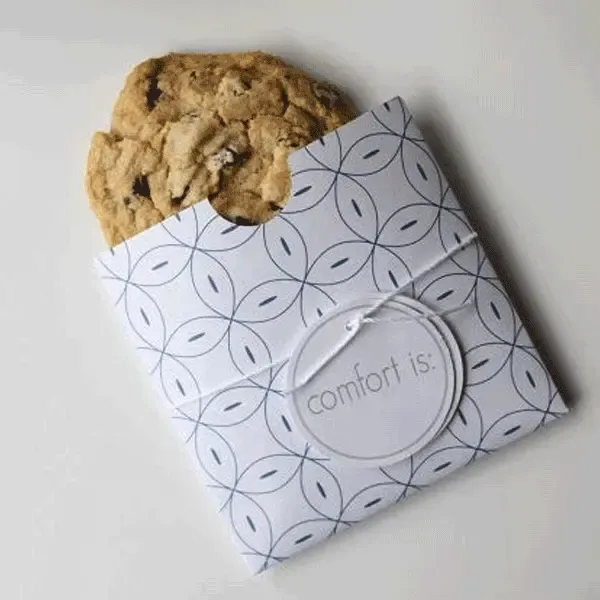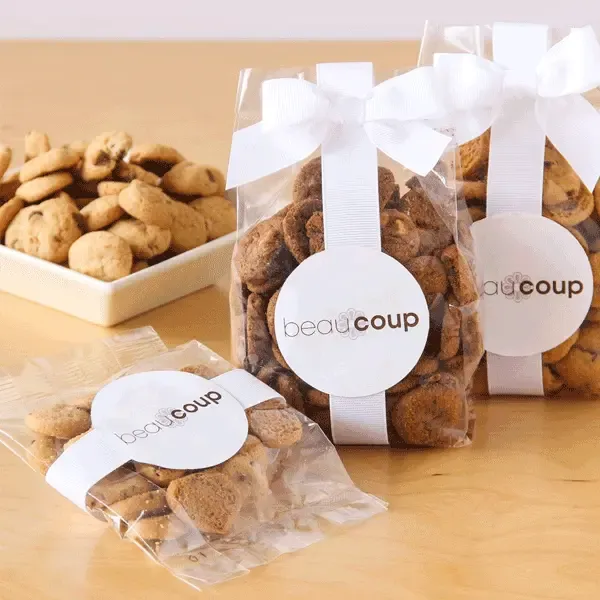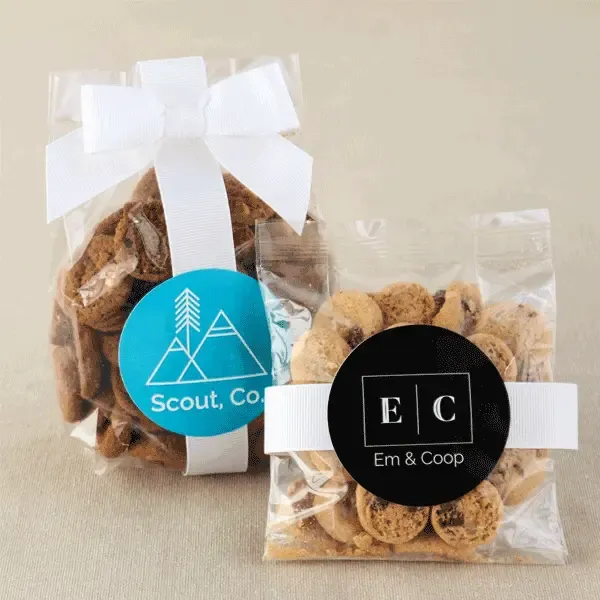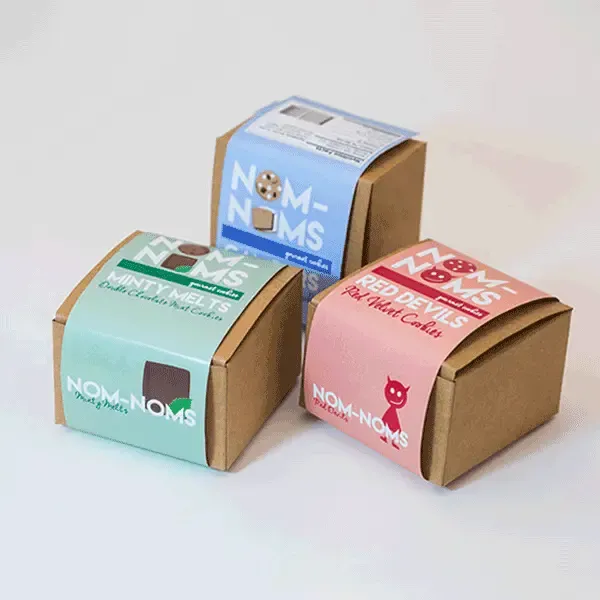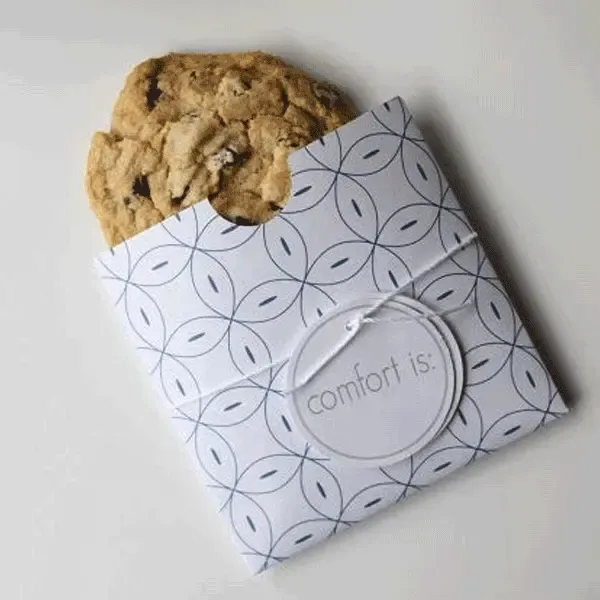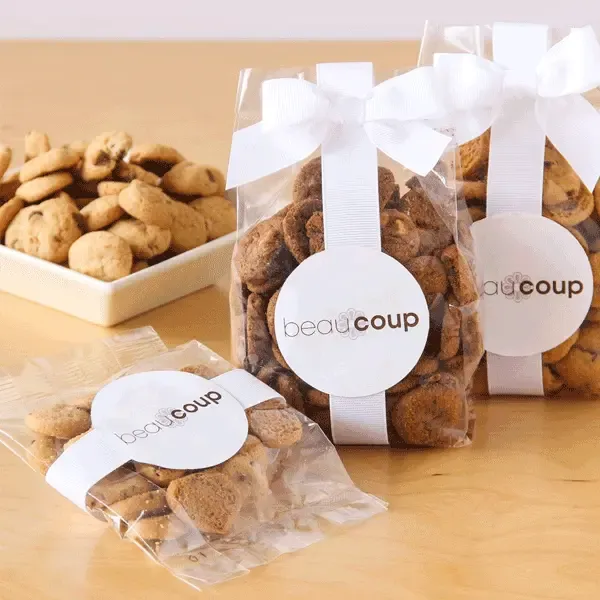 Cookie Sleeves
Cookie sleeves are an excellent way to make your brand stand out in a sea of competitors. With eye-catching designs and the ability to tailor them specifically for your target audience, these packaging options are guaranteed to attract attention and boost sales. Incorporating custom cookie sleeves into your marketing strategy is a smart move that can set you apart and provide a significant return on investment. So why wait? Contact us today and let us help you create the perfect personalized cookie sleeve solution that will help increase your brand's visibility and sales.
Shop with Confidence
Money
Back Guarantee


Custom Cookie Sleeves: Eye-Catching Packaging to Stand Out
In today's competitive market, businesses constantly seek ways to differentiate themselves. One way to do this is through eye-catching packaging that attracts customers and leaves a lasting impression. Personalized cookie sleeves are an excellent choice for companies in the food industry that want to stand out and add value to their products.
Custom cookie sleeves allow businesses to showcase their brand and create a unique identity that sets them apart. They can be designed with bold colors, creative graphics, and personalized messages that speak directly to consumers. This type of packaging enhances product presentation and adds a touch of personality and creativity that resonates with customers.
Personalized tray and sleeve boxes are also practical solutions for food companies due to their versatility and cost-effectiveness.
Grab Customer's Attention with Eye-Catching Paper Cookie Sleeves
As a business owner, you know how important it is to grab your customers' attention. In today's competitive market, you need to stand out to succeed. One way to do this is by using eye-catching custom cookie sleeves.
Paper cookie sleeves are a great way to package and promote your products. They come in various shapes and sizes and can be customized with your company's branding and messaging. By using vibrant colors and bold graphics on your cookie paper sleeves, you can attract the eyes of potential customers and encourage them to try your treats.
Not only are cookie paper sleeves visually appealing, but they also serve as a practical solution for keeping cookies fresh and safe during transport. Packaging has become more important than ever with the rise of online ordering and delivery services.
Unlimited Packaging Options to Give Unique Looks to Your Products
As a bakery business owner, you know that packaging is just as important as the product itself. The right packaging can elevate your individual cookies sleeves and make them stand out. With unlimited packaging options, you can give your cookies unique looks that will leave a lasting impression on your customers. From cardboard to corrugated and kraft paper, there are plenty of materials to choose from.
One popular option for cookie packaging is printed cardboard boxes. These boxes come in different sizes and shapes, making them versatile for all kinds of cookies. You can print your company logo or any graphics representing your brand identity on the boxes for a more personalized touch. Printed cardboard boxes enhance your cookies' aesthetics and keep them fresh for longer periods.
If you're looking for something more durable than cardboard, you may need corrugated packaging.
Boost Sales and Get Noticed with Our Personalized Cookie Sleeves
In today's highly competitive market, businesses must find innovative ways to stand out. One of the best ways to do this is by using personalized packaging solutions that make your brand memorable for customers. Our personalized cookie sleeves are a perfect example of how small details can make a big difference in boosting sales and getting noticed.
With our custom-designed cookie sleeves, you can showcase your logo or brand message in an eye-catching way that will leave a lasting impression on your customers. Not only do they look great, but they also provide an added layer of protection for your delicious baked goods. With our high-quality paper packaging materials and superior printing technology, you can be sure that your cookies will arrive fresh and intact every time. Moreover, if you are looking for coffee sleeves, you can also order them from Noah Packaging.
Choose Noah Packaging for Cookie Sleeve Wholesale Packaging
When it comes to wholesale packaging for cookies, Noah Packaging is the company to choose from. As an affordable packaging supplier, we provide high-quality cookie sleeves that are durable and visually pleasing. Our sleeves come in various sizes and designs to fit any cookie.
At our packaging company, we understand that your products need to stand out on shelves and appeal to customers. That's why we offer custom printing services on our cookie sleeves so that you can easily showcase your brand and product information. We use top-of-the-line printing technology to ensure that the colors and design pop off the sleeve, catching the eye of potential customers.
We also believe in sustainability and reducing carbon footprint by using eco-friendly materials for our packaging solutions. Our cookie sleeves are made from recycled materials and are 100% recyclable.

Contact Us
Reaching out for any packaging solution is easier than ever. Email us at sales@noahpackaging.com, and our company's representative is always available to provide you with all the required details and answer any queries. So don't hesitate and place your order to enjoy free delivery.
Read more
| | |
| --- | --- |
| Box Style | Tray and Sleeve |
| Dimension (L + W + H) | All Custom Sizes and Shapes |
| Quantities | No Minimum Order Required |
| Paper Stock | 10pt to 28pt (60lb to 400lb) Eco-Friendly Kraft, E-flute Corrugated, Bux Board, Cardstock |
| Printing | No Printing, CMYK, CMYK + 1 PMS color, CMYK + 2 PMS colors |
| Finishing | Gloss Lamination, Matte Lamination, Gloss AQ, Gloss UV, Matte UV, Spot UV, Embossing, Foiling |
| Included Options | Die Cutting, Gluing, Scored,Perforation |
| Additional Options | Eco-Friendly, Recycled Boxes, Biodegradable |
| Proof | Flat View, 3D Mock-up, Physical Sampling (On request) |
| Turnaround | 4 - 8 Business Days, RUSH |
| Shipping | FLAT |
Yes, you can customize your packaging in any size, shape, and material with a logo and branding.

Individual cookie sleeve offers a more convenient and compact solution, while regular cookie packaging mostly involves boxes for multiple cookies and large containers.
Yes, our sleeve packaging is recyclable.
Affordability depends on customization, material options, and quantity. However, we make sure to keep the prices low so each size of business can buy from us.
Yes, you can get cookie sleeves with printed logos and brand messages.