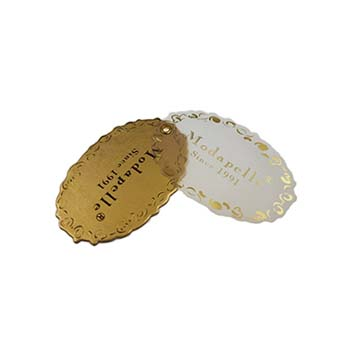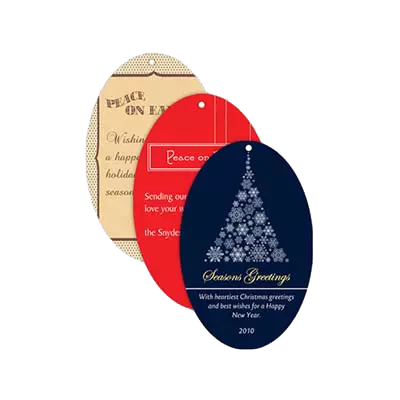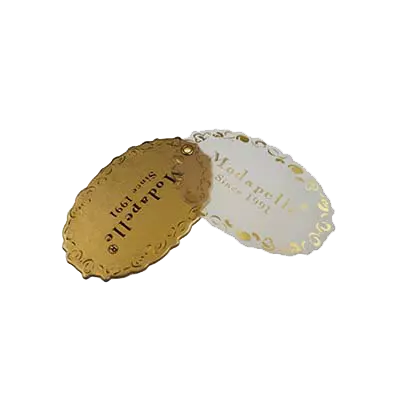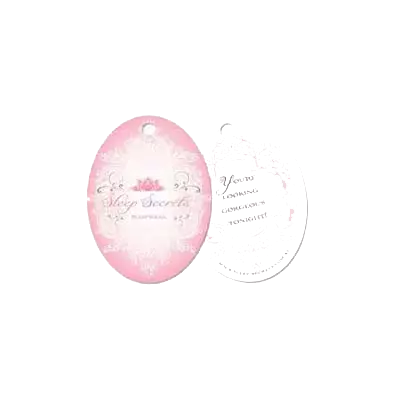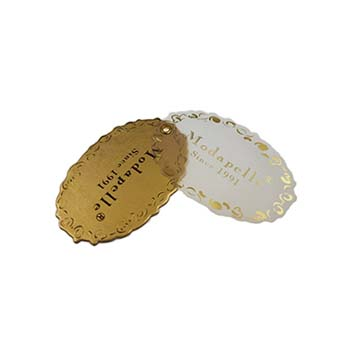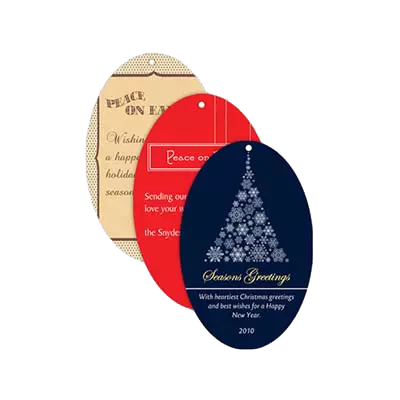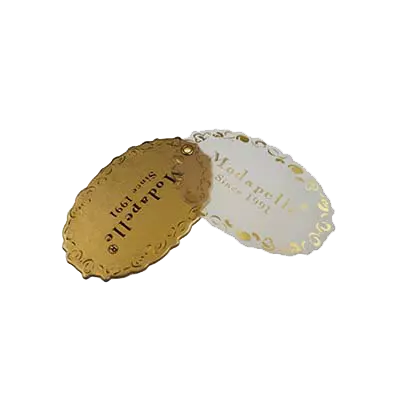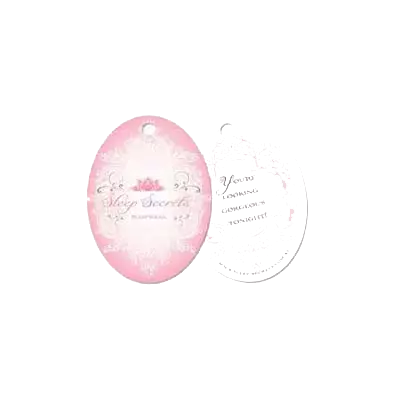 Oval Hang Tags
Oval hang tags are a valuable addition to any product presentation. They offer a unique shape that adds visual interest, and their size allows for ample space to provide important information about your products. Not only do they enhance the overall look of your products, but they also serve as an effective marketing tool. Using oval shaped hang tags can reinforce brand identity and increase brand recognition. So, don't overlook the power of this small but mighty accessory in your product packaging strategy.
Shop with Confidence
Money
Back Guarantee


Oval Hang Tags For The Better Presentation of Your Products
Oval hang tags are an excellent way to showcase your products in a unique and eye-catching manner. Whether you want to add a touch of elegance to your clothing line or give your handmade crafts a professional finish, an oval hang tag is the perfect solution.
These tags come in various sizes and materials, allowing you to customize them according to your specific needs. You can choose from durable cardboard or eco-friendly options such as recycled paper. Additionally, oval shaped hang tags come in a range of colors and designs that complement any brand's aesthetic.
Using hang tags on your products is essential for creating a cohesive brand image that resonates with customers. They provide vital information about the product's size and care instructions and serve as a subtle marketing tool that can help increase sales.
Printed Hang Tags to Improve the Overall Product Presentation
Printed oval hang tag is a fantastic way to add professionalism and style to your product presentation. Not only do they serve as a form of branding, but they also provide important information about the product itself. Custom printed hang tags can be used for various products, from clothing to accessories and even food items.
The oval shape is particularly popular due to its unique design. With custom die cut hang tags options, you can choose the size, color, font, and design that best suit your brand's needs. Printed oval hang tags enhance the overall presentation and create an opportunity for increased brand visibility and customer engagement. By utilizing this marketing tool effectively in your packaging strategy, you can leave a lasting impression on potential customers while concisely yet effectively showcasing your brand's key selling points.
Enhance Product Value with Custom Hang Tags
Custom oval hang tags are an excellent way to enhance the value of your products. They offer a unique branding opportunity that can help differentiate your products from those of your competitors. With our oval hang tags bulk, you can communicate important information about your product, including its features, benefits, and uses.
One of the significant advantages of using hang tags is that they provide a cost-effective solution for adding value to your products. Instead of investing in expensive packaging, you can use these small but mighty tags to share more detailed information with customers. This is critical in today's market as consumers increasingly seek transparency and authenticity in their purchases.
Custom oval hang tag also allows businesses to showcase their brand identity through creative design elements like colors, logos, and fonts.
Choose Noah Packaging for Oval Hang Tags
Noah Packaging is the best packaging supplier for high-quality bulk oval hang tags. Our extensive range of wholesale packaging and our commitment to exceptional customer service have made us the preferred choice for wholesale oval hang tags. We specialize in producing customized oval hang tag that meet each client's unique needs.
Our team at Noah Packaging takes great pride in offering a wide selection of custom bulk oval hang tags that come in different sizes and materials. From eco-friendly paper-based options to premium cardboard, we have what it takes to create durable and functional oval hang tags. Whether you need 100 or 10,000 oval hang tags, we can deliver them on time and within budget. At Noah Packaging, we understand that quality is paramount in packaging solutions.

Contact Us
To place your order for our hang tags, send us an email at sales@noahpackaging.com. Our team ensures delivery of your order on time and uses high-quality materials to tailor your cards. Moreover, we offer free-of-cost delivery on all types of orders. So do not wait and place your order now.
Read more
| | |
| --- | --- |
| Box Style | Hang Tags |
| Dimension (L + W + H) | All Custom Sizes and Shapes |
| Quantities | No Minimum Order Required |
| Paper Stock | 10pt to 28pt (60lb to 400lb) Eco-Friendly Kraft, E-flute Corrugated, Bux Board, Cardstock |
| Printing | No Printing, CMYK, CMYK + 1 PMS color, CMYK + 2 PMS colors |
| Finishing | Gloss Lamination, Matte Lamination, Gloss AQ, Gloss UV, Matte UV, Spot UV, Embossing, Foiling |
| Included Options | Die Cutting, Gluing, Scored,Perforation |
| Additional Options | Eco-Friendly, Recycled, Biodegradable |
| Proof | Flat View, 3D Mock-up, Physical Sampling (On request) |
| Turnaround | 4 - 8 Business Days, RUSH |
| Shipping | FLAT |
Cardboard and kraft materials are commonly used to tailor oval hang tags

Yes, these tags are easily customized according to product and brand needs.
Yes, we customize our hang tags in a range of sizes from small to medium and medium to large according to product needs.
Yes, they are eco-friendly because we use sustainable cardboard and paper materials to craft them.
Yes, these tags can be ordered in bulk, as we offer affordable rates and timely delivery.