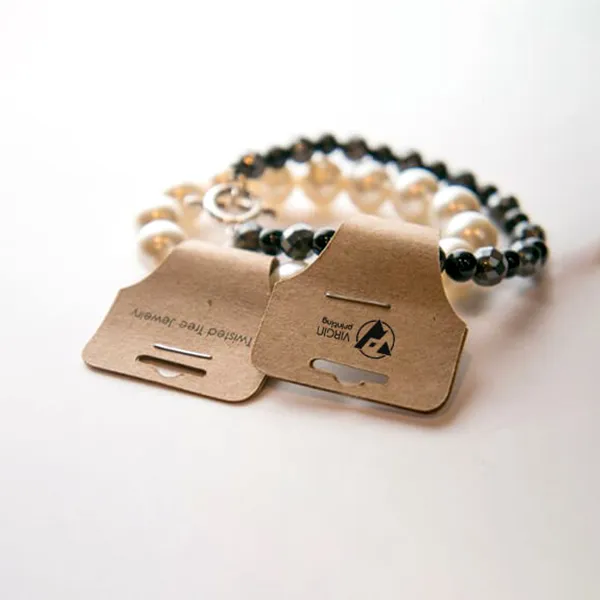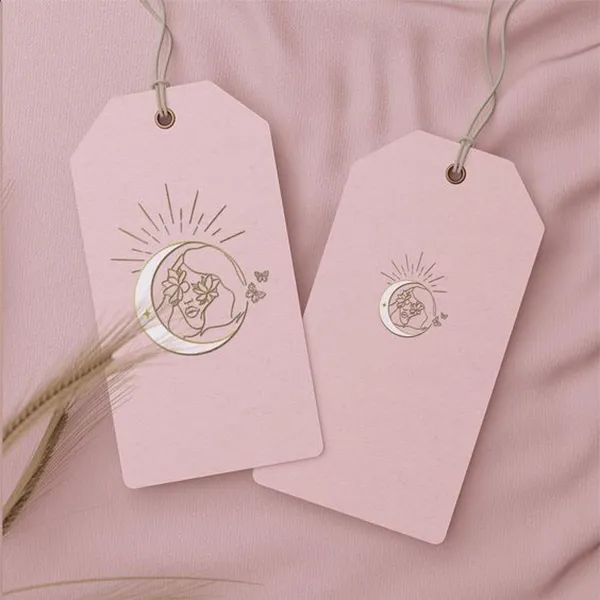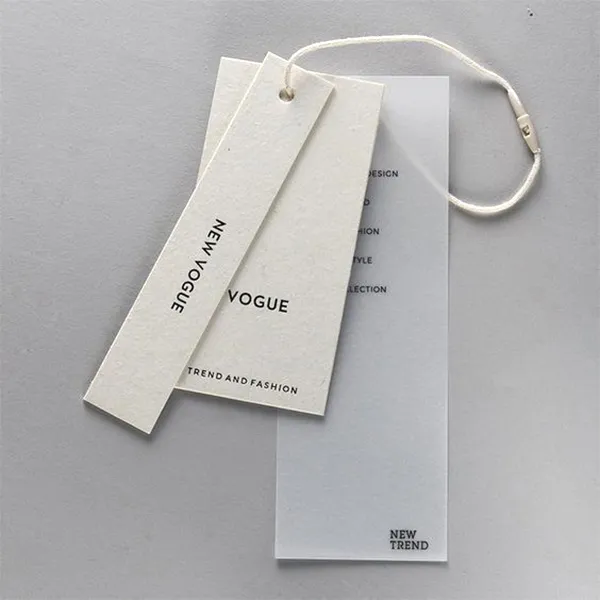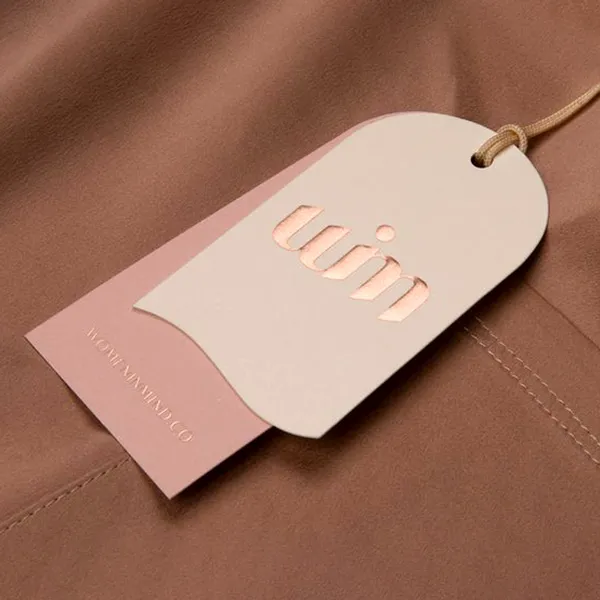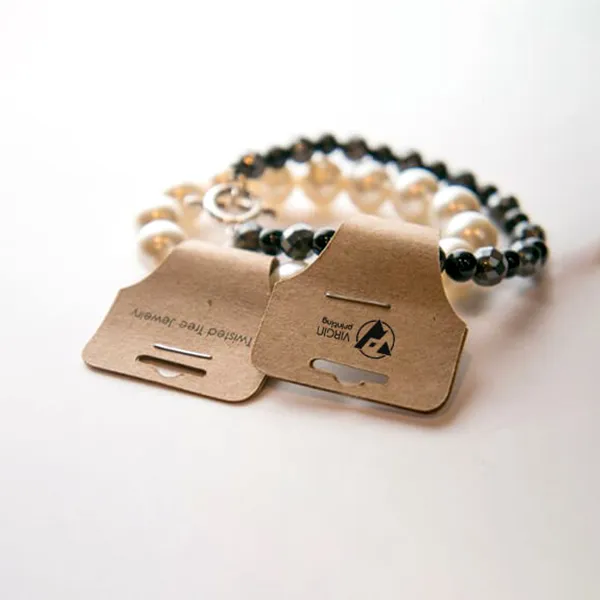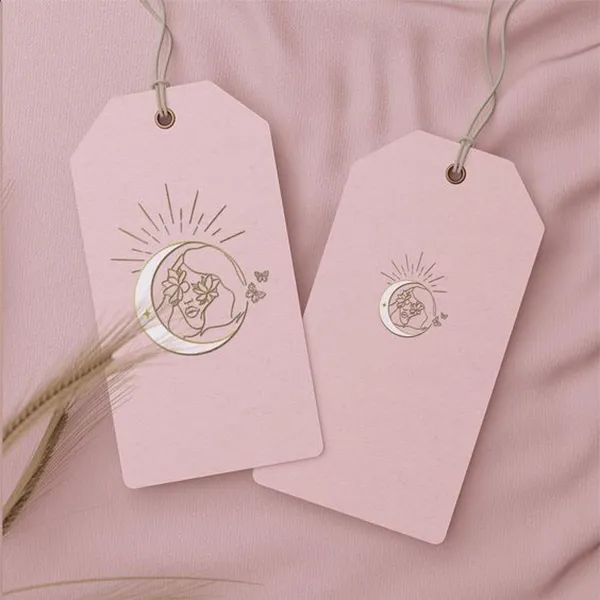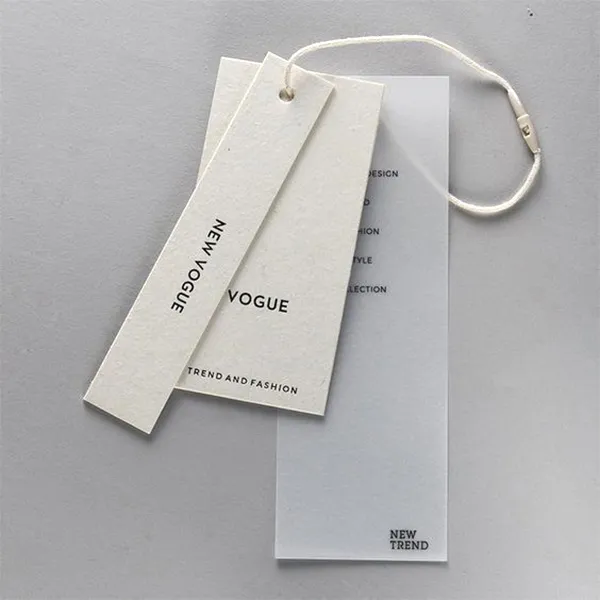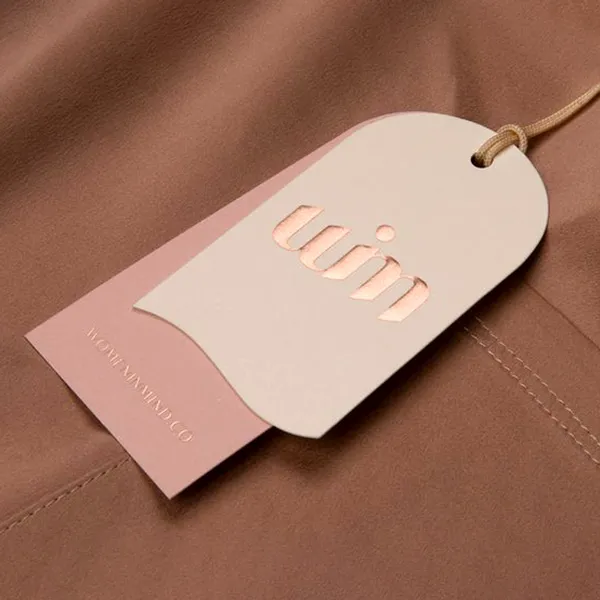 Jewelry Hang Tags
Custom jewelry hang tags are an essential aspect of any jewelry business. They offer numerous benefits, such as increased brand recognition, improved customer experience, and enhanced product presentation. It is evident that custom hang tags play a vital role in the triumph of any jewelry business.
Shop with Confidence
Money
Back Guarantee


Enhance Your Jewelry Packaging with Jewelry Hang Tags - Exquisite Designs and Finishing Options
When you plan to run a successful jewelry business, presentation is everything. In a competitive industry, having an eye-catching and distinctive product is essential to stand out and attract customers. One way you can do this is through custom hang tags.
Custom printed jewelry tags are small pieces of card or paper that can be attached to your products with information about the piece, such as its materials, brand name, or care instructions. Not only do they provide helpful information for customers, but they also add a dash of professionalism and style to your products. From showcasing product details to reinforcing your brand identity, investing in high-quality jewelry hang tags from Noah Packaging is a smart decision for any jewelry business owner.
Brand Awareness: Custom Jewelry Hang Tags Can Increase Brand Recognition
Brand recognition is essential to any business's success, and custom hang tags are a great way to increase brand awareness. Custom tags can help companies differentiate themselves from their competitors while reinforcing the brand identity they have worked hard to create. Custom tags can become an integral part of a company's branding strategy when used effectively.
Jewelry hang tags allow brands to showcase their unique personality through design elements such as fonts, colors, and logos. The key is ensuring these elements align with the brand image and messaging. By consistently looking across all marketing materials, including custom tags on products or packaging, customers will recognize the brand more easily and associate it with certain values or qualities. Another advantage of custom jewelry hang tags is that they allow businesses to communicate additional information about their products or services.
Customization: Create Unique Jewelry Tags Designs to Attract Customers
Jewelry tags with logo are a great way to add a touch of personalization and branding to your jewelry. These tags come in different shapes, sizes, materials, and designs. And the best part? With Noah Packaging, you can customize them according to your specific needs and preferences.
One of the aspects you can customize on jewelry hang tags is the shape. You can choose from various shapes such as rectangle, square, circle, oval, or even custom shapes like hearts or stars. The shape should complement your brand image and fit with the design of your jewelry pieces.
Design is another important aspect to consider when customizing your jewelry hang tags. You want to ensure your design is appealing, memorable, and consistent with your brand. It can be achieved through various elements such as images, colors, fonts, logos, or slogans. The design should also reflect the type of audience you're targeting – whether it's elegant and sophisticated or fun and whimsical.
Printing and Finishing Options
At Noah Packaging, several printing options are available, including digital, offset, or letterpress printing. As for the finishing options for your tags, you can choose from gloss lamination, matte lamination, gloss aq, gloss UV, matte UV, spot UV, embossing, and foiling to create exquisite jewelry tags.
Cost-Effectiveness: Custom Jewelry Hang Tags are Worth the Investment
Jewelry tags with logo are a marketing tool that can benefit designers and retailers significantly. These tags, which can be designed to fit your brand's unique style, serve as an essential aspect of branding. They provide customers important information about the product, such as its price, material composition, and care instructions.
The cost-effectiveness of jewelry hang tags makes them an investment worth considering. While some may see this as an unnecessary expense, it is crucial to understand that these tags can make all the difference in customer satisfaction and sales. Quality customized Hang Tags reflect your business's reputation positively by stating your attention to detail and commitment to quality.
In today's competitive marketplace, where customers have thousands of options, presentation is critical in differentiating one business from another.
Noah Packaging: Your Reliable Packaging Partner!
If you are in the jewelry business, you know how important having high-quality and attractive hang tags is. This is where Noah Packaging steps in. Noah Packaging is a reputable packaging company providing high-quality packaging solutions for years.
One of the reasons why you should choose us is our commitment to quality and customer satisfaction. We understand that every product needs unique packaging, so we work with clients to ensure that they get the best solution for their products. Whether you need custom printed Metallic Hang Tags, boxes, or jewelry hang tags wholesale, Noah Packaging has covered you.
We offer a wide range of jewelry hang tags bulk at affordable prices without compromising quality. Therefore, if you have any questions regarding wholesale tags options, contact us at sales@noahpackaging.com. Our state-of-the-art printing technology allows us to create customized jewelry hang tags in different colors, shapes, sizes, and designs.
Read more
| | |
| --- | --- |
| Box Style | Hang Tags |
| Dimension (L + W + H) | All Custom Sizes and Shapes |
| Quantities | No Minimum Order Required |
| Paper Stock | 10pt to 28pt (60lb to 400lb) Eco-Friendly Kraft, E-flute Corrugated, Bux Board, Cardstock |
| Printing | No Printing, CMYK, CMYK + 1 PMS color, CMYK + 2 PMS colors |
| Finishing | Gloss Lamination, Matte Lamination, Gloss AQ, Gloss UV, Matte UV, Spot UV, Embossing, Foiling |
| Included Options | Die Cutting, Gluing, Scored,Perforation |
| Additional Options | Eco-Friendly, Recycled, Biodegradable |
| Proof | Flat View, 3D Mock-up, Physical Sampling (On request) |
| Turnaround | 4 - 8 Business Days, RUSH |
| Shipping | FLAT |
There are different types of retail hang tags, including dir-cut hang tags, metal hang tags, jewelry hang tags, etc.
Noah Packaging allows clients to customize hang tags with their company logo, name, and other branding elements.
The minimum order quantity for your hang tags at Noah Packaging is 50-100 tags per order.
Yes, you can order your hang tags in any shape and size to fit your business requirements with Noah Packaging.
Since these hang tags are made from eco-friendly materials like kraft and cardboard, they are eco-friendly.