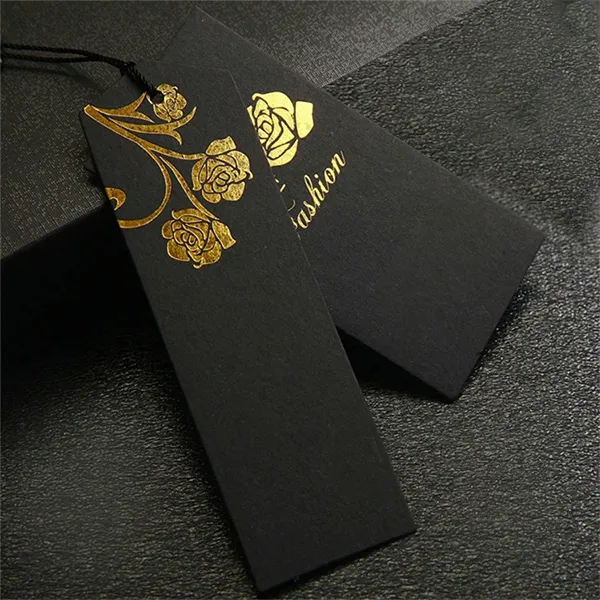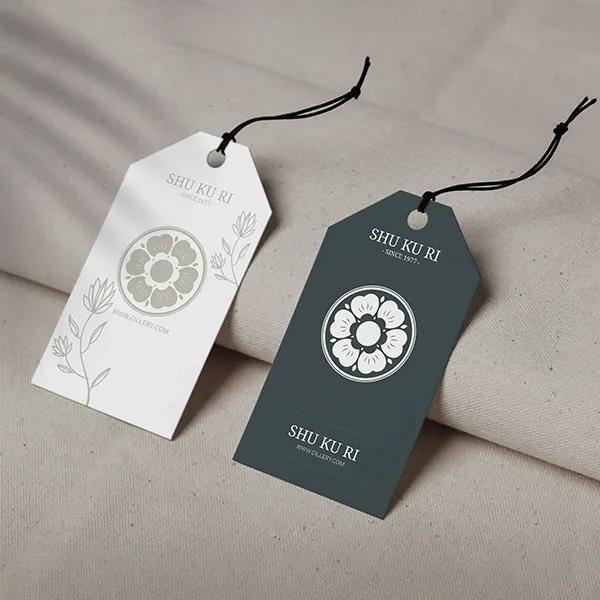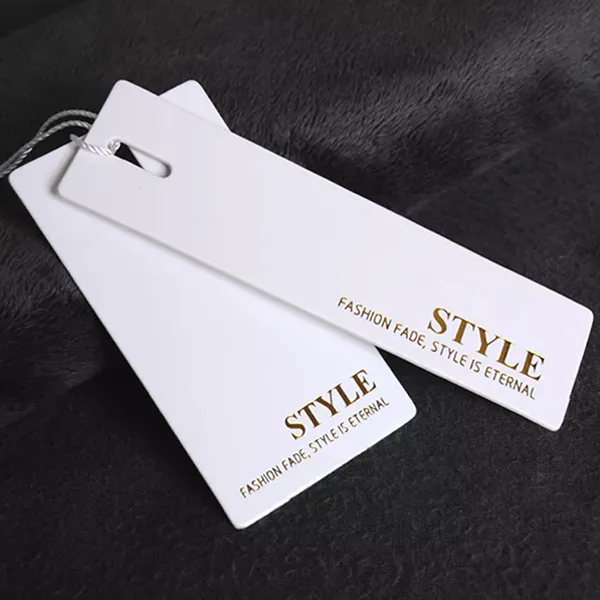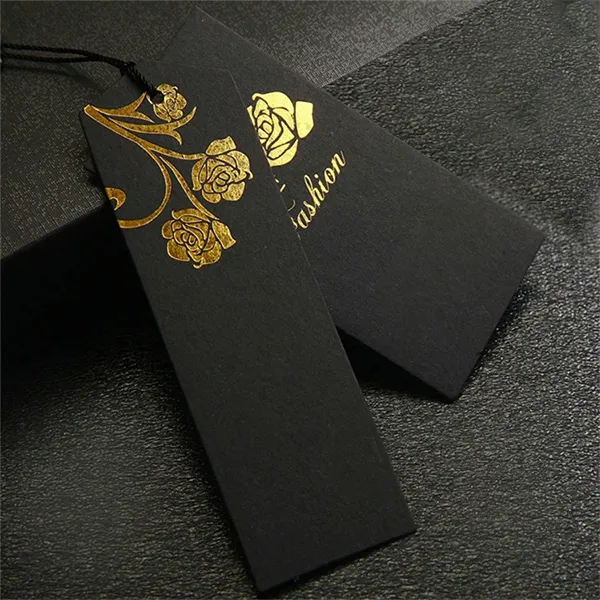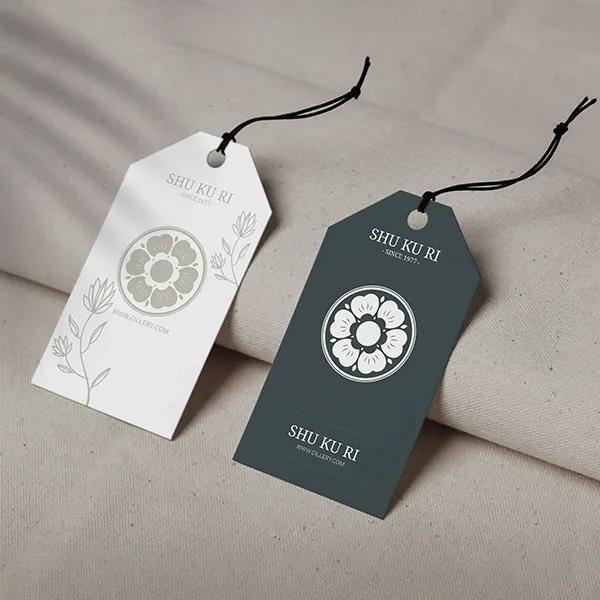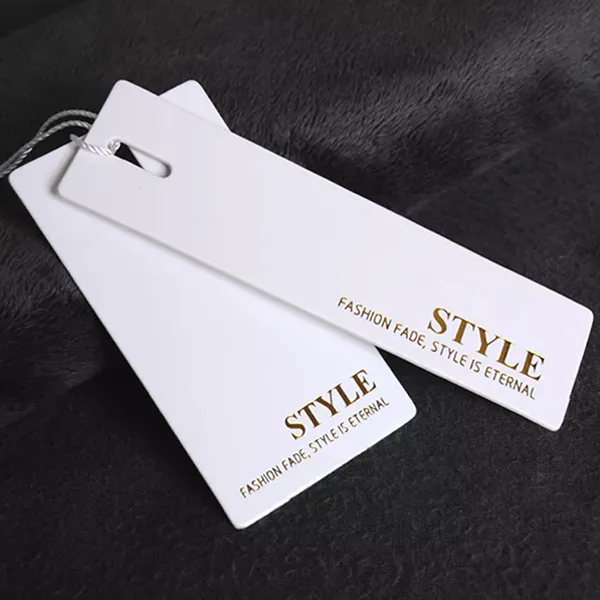 Metallic Hang Tags
Elevating your brand's packaging with metallic hang tags is an effective way to make a solid impression on your customers. Using metallic materials adds luxury and sophistication that can enhance the perceived value of your products. So, why not elevate your packaging game and incorporate them into your branding strategy?
Shop with Confidence
Money
Back Guarantee


Excellent Packaging Solution: Elevate Your Brand's Packaging with Metallic Hang Tags
The packaging of a product can make or break a brand's identity. Creating an impactful and memorable package that will attract potential customers and leave a concrete impression is crucial. One way to elevate your brand's packaging is by incorporating metallic hang tags. These hang tags are small pieces of metal that are attached to the product's packaging using string or ribbon. They add an element of luxury, sophistication, and elegance to the overall look and feel of the packaging.
These eye-catching folded hang tags come in various shapes, sizes, and finishes, like gold, silver, rose gold, copper, etc., providing brands with endless possibilities for customization. Not only do they enhance the product's appearance, but they also increase its perceived value in the eyes of consumers.
Custom Metal Hang Tags: Add Value to Your Products and Brand
Custom metal hang tags are an excellent way to add value to your products and make them stand out in a crowded marketplace. Metallic hang tags can be made from a variety of materials, including eco-friendly kraft, e-flute corrugated, bux board, and cardboard. They can also come in different shapes and sizes that are perfect for any product.
One of the significant advantages of using custom printed metal hang tags is their durability. Made from paper or cardboard, these Hang Tags are long-lasting and will not wear out quickly. Additionally, they provide a more upscale appearance that customers associate with quality products. The use of metal hangtags elevates your brand image and makes your products appear more luxurious than those without them.
Metal Swing Tags: Increase Perceived Quality and Luxury of Your Products
Brand recognition and quality are key factors that influence purchasing decisions. Metal swing tags have become an important accessory for luxury brands to enhance their product presentation. These metal swing tags not only add visual appeal but also enhance the product's perceived value.
If you are looking for tags that can set you apart, at Noah Packaging, these tags come in various shapes, sizes, and finishes, which can be customized to suit a company's branding needs. They offer a unique way for companies to convey information about their products, such as material composition or care instructions, in an elegant and visually appealing manner. When it comes to luxury fashion items such as leather bags or high-end clothing, metal swing tags add a layer of sophistication that sets them apart from other products on the market. Moreover, metallic hang tags engraved with company logos or slogans help reinforce your brand identity and elevate it to new heights.
Custom Metal Hang Tags: Cost-Effective Marketing Strategy for Your Brand
Wholesale tags are a cost-effective marketing strategy that is gaining popularity among small businesses. These tags can be used to add a touch of elegance to any product while also providing important information about the brand and its products.
With Noah Packaging, one of the key advantages of using a custom metal hangtag is its durability. Unlike other materials, we create metal hang tags that are built to last, which can easily tear or damage. It means they will continue to promote your brand long after other forms of advertising have faded away. Additionally, these hang tags can be used for multiple purposes, including branding, product labeling, and even as an accessory for clothing items.
Your Reliable Custom Supplier!
Noah Packaging is the perfect choice if you are looking for a reliable tags supplier that provides top-quality metallic hang tags. With years of showing expertise in the packaging industry, we have established ourselves as the leading metallic hang tags company. Our team consists of highly skilled professionals committed to delivering exceptional customer service and meeting all your packaging needs.
At Noah Packaging, we take pride in our commitment to quality. Our metallic hang tags wholesale are made from premium materials, ensuring durability and longevity. We understand that every business has exclusive requirements for wholesale tags, which is why we offer customization options for our metallic hang tags. Whether you need logos or specific tag designs, we will work with you to create a product that meets your exact specifications. So, to customize your metal hangtag at affordable rates, contact us at sales@noahpackaging.com. We offer economical pricing and fast turnaround times.
Read more
| | |
| --- | --- |
| Box Style | Hang Tags |
| Dimension (L + W + H) | All Custom Sizes and Shapes |
| Quantities | No Minimum Order Required |
| Paper Stock | 10pt to 28pt (60lb to 400lb) Eco-Friendly Kraft, E-flute Corrugated, Bux Board, Cardstock |
| Printing | No Printing, CMYK, CMYK + 1 PMS color, CMYK + 2 PMS colors |
| Finishing | Gloss Lamination, Matte Lamination, Gloss AQ, Gloss UV, Matte UV, Spot UV, Embossing, Foiling |
| Included Options | Die Cutting, Gluing, Scored,Perforation |
| Additional Options | Eco-Friendly, Recycled, Biodegradable |
| Proof | Flat View, 3D Mock-up, Physical Sampling (On request) |
| Turnaround | 4 - 8 Business Days, RUSH |
| Shipping | FLAT |
These hang tags offer numerous benefits for branding, such as enhanced brand recognition, improved product presentation, versatile customization options, and more.
You can choose from different hang tags, like holographic, foil-stamped, and embossed metallic hang tags.
Yes, you can customize metallic hang tags with your company logo, name, and other branding elements.
The minimum order quantity for all types of hang tags is between 50-100 tags for each order.
The eco-friendliness of these hang tags depends on the materials and manufacturing process. However, these tangs can be eco-friendly as they are made from cardboard.