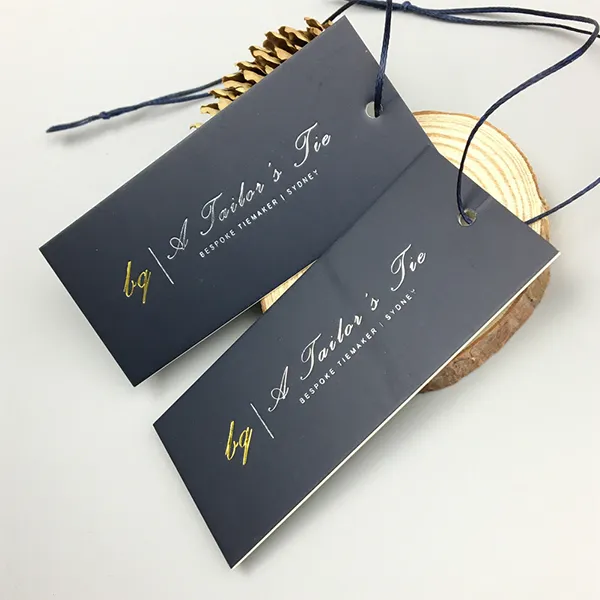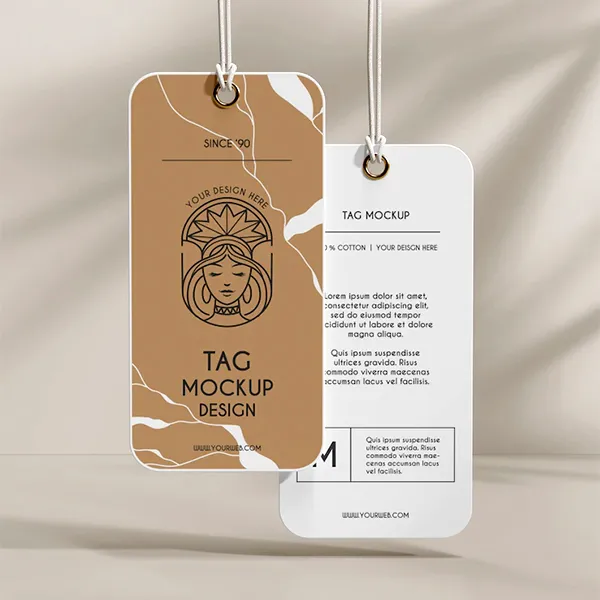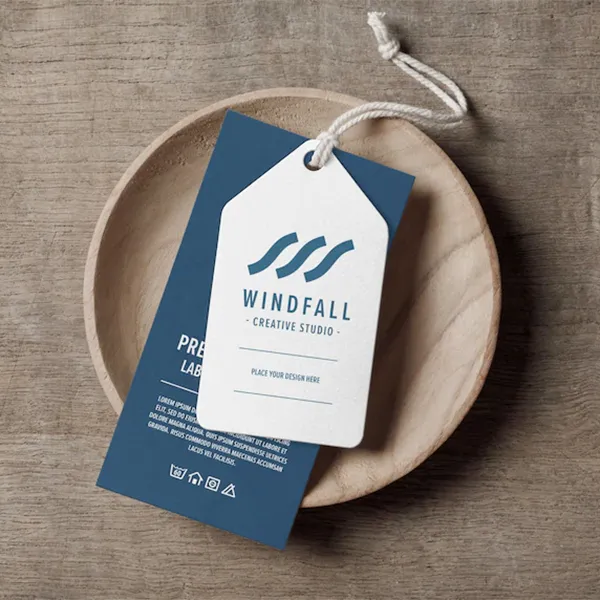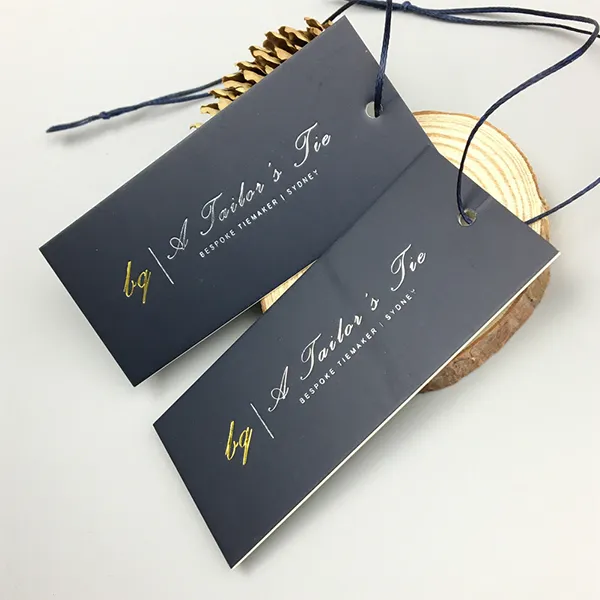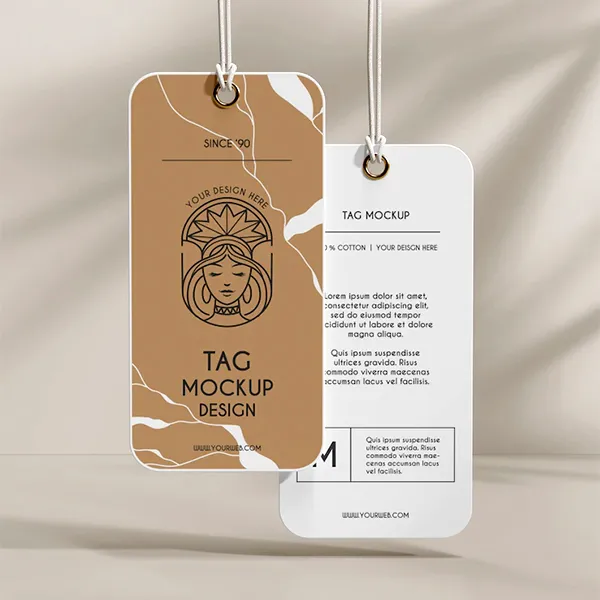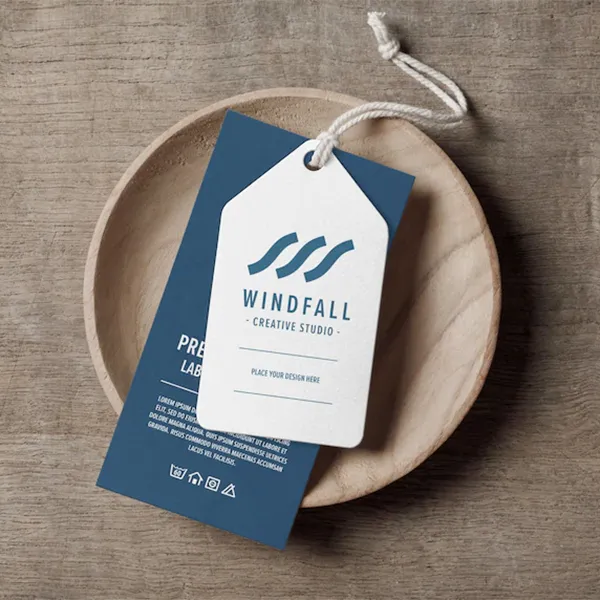 Retail Hang Tags
Retail hang tags can potentially revolutionize the shopping experience for businesses and customers. With their ability to provide valuable information, retailers can increase sales and improve customer satisfaction. As the retail landscape evolves, you must explore options to stand out in an increasingly competitive market.
Shop with Confidence
Money
Back Guarantee


Retail Hang Tags: Enhance Your Retail Products Presentation and Captivate Shoppers
In the world of retail, it's not just about the products on display - the shopping experience is equally important. Retail hang tags are a small but powerful tool that can greatly impact this experience for both businesses and customers. Hang tags of all types, like Jewelry Hang Tags provide information, branding, and product pricing details, but they can also enhance the overall retail experience.
Retail hang tags have evolved over time from basic price tags to more creative and informative ones. They now feature product descriptions, care instructions, sustainability information, social media handles, and QR codes. These additional features add value for customers while allowing businesses to showcase their brand philosophy and highlight key selling points.
Promote Sales and Discounts with Custom Retail Hang Tags
Retail businesses have to constantly evolve their marketing strategies to stay competitive. You can do this by using custom retail hang tags. These tags add an extra layer of branding and professionalism and can also be used to promote sales and discounts in an eye-catching way.
By adding a sale or discount message on your custom retail hang tag, you can ensure that customers notice it right away. They may even be more likely to purchase if they know they're getting a deal. Hang tags are also versatile and can be attached to clothing items, accessories, or even home decor items such as candles or soaps.
Enhance Customer Shopping Experience with Wholesale Retail Hang Tags
Retail shopping is about creating an environment that enables customers to spend more time and money in a store. To do this, retailers must focus on enhancing customer experience at every touch point. One best way to do this is by incorporating wholesale tags into their product displays. These tags provide important information about the product, such as its price, specifications, and unique features.
Retailers can also create a sense of brand identity and establish themselves as experts in their niche by using these tags. Customized hang tags with unique designs or branding elements help products stand out from competitors on the shelves. As customers browse through products, they are more likely to be drawn toward items that have well-designed hang tags that catch their attention.
Provide Clear and Concise Product Information Using Custom Retail Hang Tags
When it comes to retail, providing clear and concise product details is essential. It helps customers make informed purchasing decisions and can even increase sales. One effective way to achieve this is using custom retail hang tags on your products.
Retail hang tags are small cardstock or other materials attached to a product with a string or ribbon. They provide information about the product, such as its name, price, materials used in its manufacture, care instructions, and any other relevant details. You can create eye-catching hang tags that inform and promote your brand by adding customized design elements like logos, colors, and graphics.
Moreover, Noah Packaging can print retail tags according to your requirements, which offers great flexibility when tailoring the information conveyed to suit each product you sell.
Why Choose Noah Packaging?
Noah Packaging is a wholesale packaging supplier specializing in designing and producing high-quality retail hang tags for various businesses. With exceptional experience in the industry, we have become a trusted retail hang tags company for providing top-notch retail packaging solutions. You should choose this company for your retail hang tag needs for many reasons.
Firstly, Noah Packaging is the best choice if you want to order retail hang tags bulk option. We offer wholesale discounts on all orders to save money while still getting high-quality products. Whether you need 100 or 10,000 hang tags, we can deliver them to your doorstep at an affordable price.
Secondly, the team at Noah Packaging understands that every business has unique branding and packaging design needs. That is why we offer made-to-order solutions tailored to meet your specific requirements.
Read more
| | |
| --- | --- |
| Box Style | Hang Tags |
| Dimension (L + W + H) | All Custom Sizes and Shapes |
| Quantities | No Minimum Order Required |
| Paper Stock | 10pt to 28pt (60lb to 400lb) Eco-Friendly Kraft, E-flute Corrugated, Bux Board, Cardstock |
| Printing | No Printing, CMYK, CMYK + 1 PMS color, CMYK + 2 PMS colors |
| Finishing | Gloss Lamination, Matte Lamination, Gloss AQ, Gloss UV, Matte UV, Spot UV, Embossing, Foiling |
| Included Options | Die Cutting, Gluing, Scored,Perforation |
| Additional Options | Eco-Friendly, Recycled, Biodegradable |
| Proof | Flat View, 3D Mock-up, Physical Sampling (On request) |
| Turnaround | 4 - 8 Business Days, RUSH |
| Shipping | FLAT |
There are different types of retail hang tags, including dir-cut hang tags, metal hang tags, jewelry hang tags, etc.
Noah Packaging allows clients to customize hang tags with their company logo, name, and other branding elements.
The minimum order quantity for your hang tags at Noah Packaging is 50-100 tags per order.
Yes, you can order your hang tags in any shape and size to fit your business requirements with Noah Packaging.
Yes, hang tags that are made from kraft paper and cardboard are environmentally friendly.