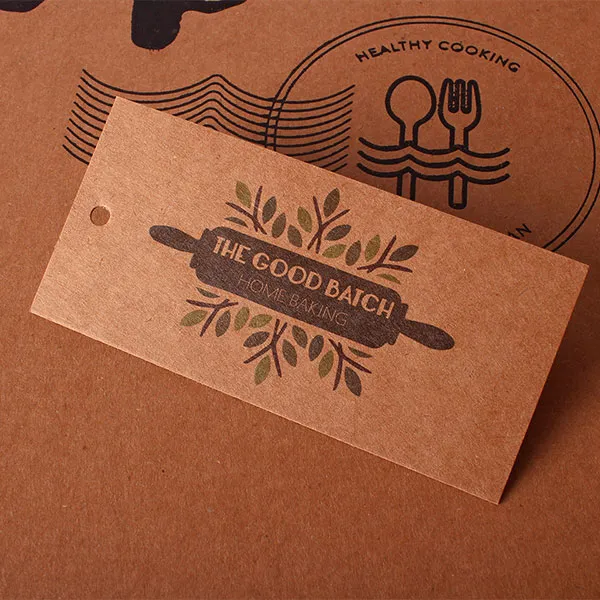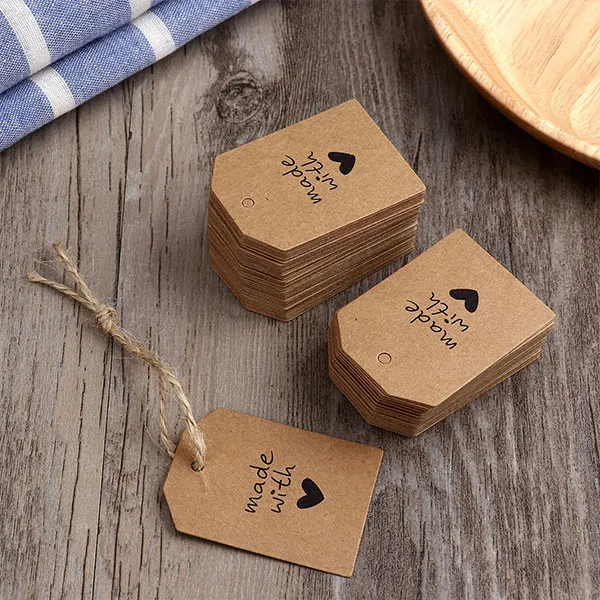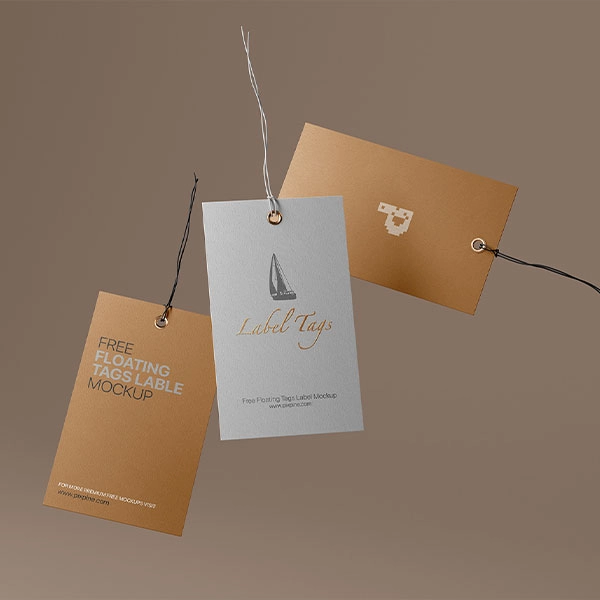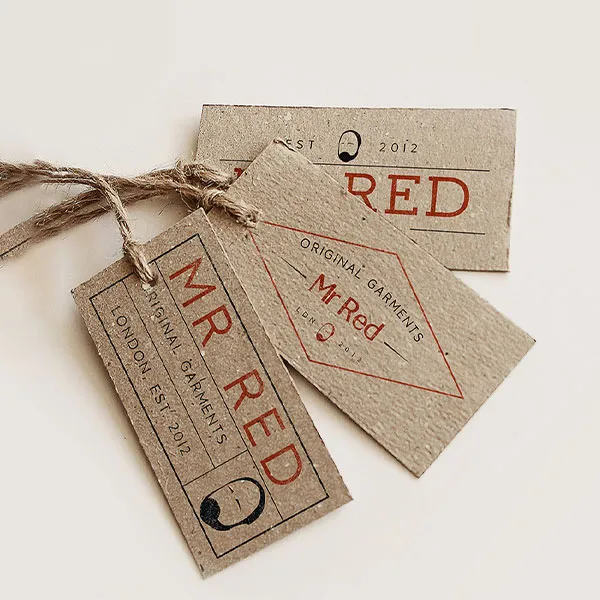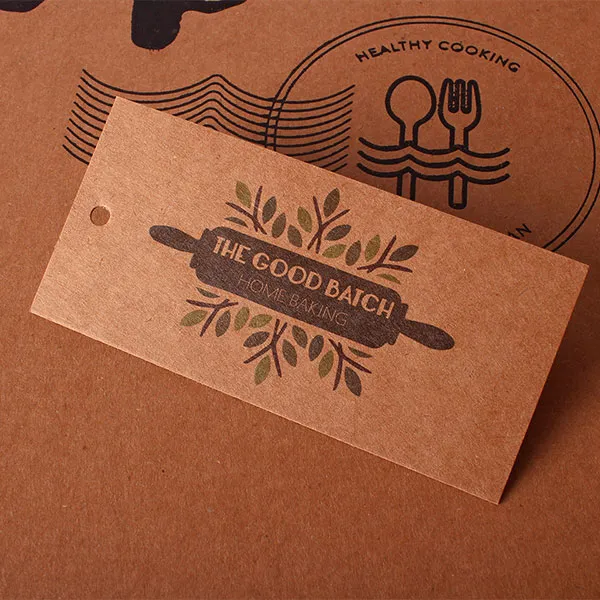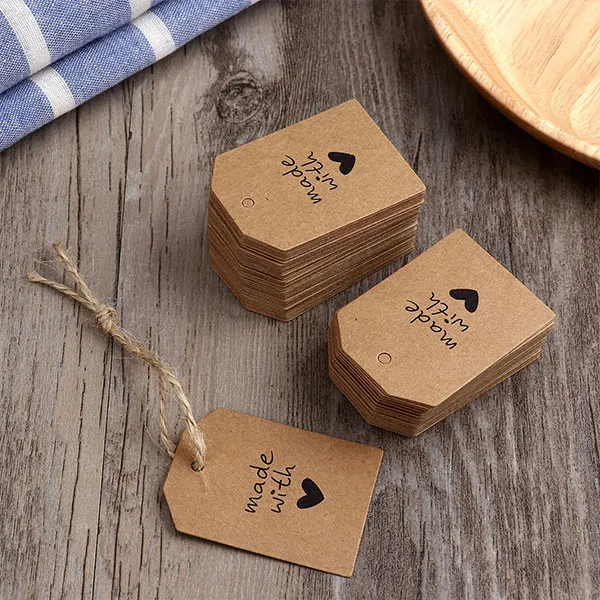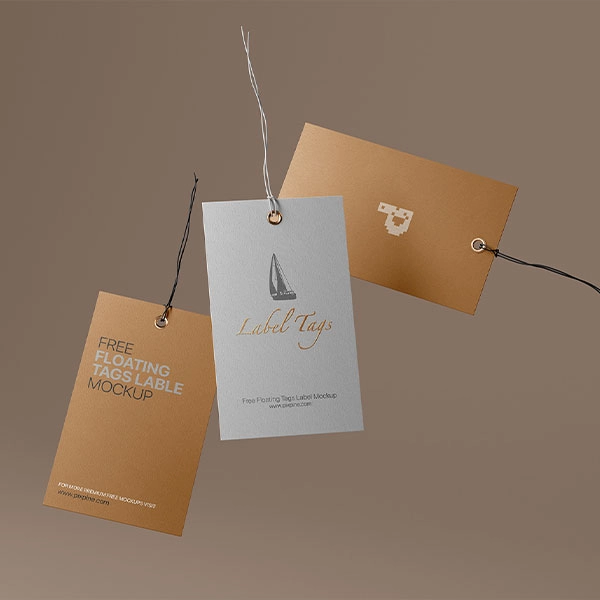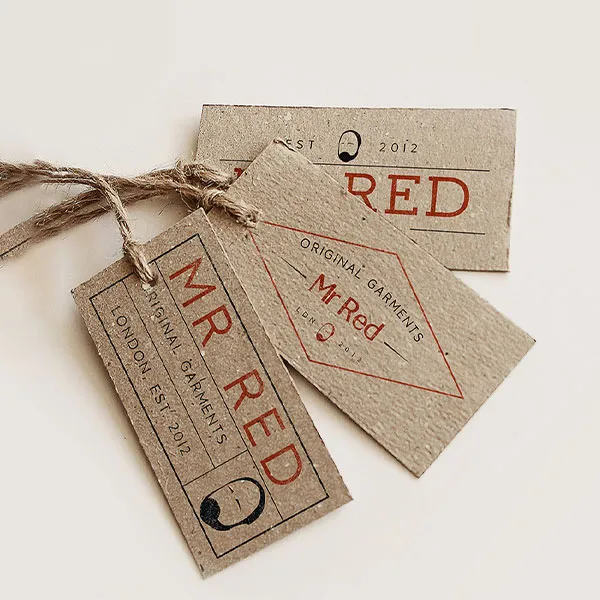 Custom Paper Tags
Paper tags are an essential part of branding for businesses. They can help to identify products, ensure accuracy and track inventory. In addition, paper packaging tags can be used as a marketing tool to promote the company or product. The brand's image and message must be kept in mind when creating tags from paper. Tags should be appropriate for the target audience and reflect the company's values. Noah Packaging is one the best company in the United States that provides ideal custom kraft paper tags. So why wait? Get in touch with us today, and let us help you get started with the custom paper packaging tags you need!
Shop with Confidence
Money
Back Guarantee


Give a Nice Look to Your Products with Paper Tags
Paper tags are an essential part of any packaging or product process. They ensure that products reach their destination safely and accurately. And like most businesses, you must get your hands on many kraft paper tags to do your job right. These tags are also essential for branding your businesses. They can help to identify products and make it easy for customers to find what they're looking for.
Moreover, you can customize tags to reflect the brand's personality and style. These tags are a great way to keep track of inventory and organize products. Retailers or shopkeepers can also use kraft paper tags to promote special deals or discounts. And last but not least, you can Customize Tags to reflect your brand's personality and style.
Tips for Using Brown Paper Tags
When designing Kraft paper tags, it is essential to consider the layout and design elements. These include font choice, spacing between text, color palette, and images. The goal is to create a consistent look across all products with the same tag design. This helps customers associate the brand with specific effects rather than just a generic tag.
Paper packaging tags can be a valuable tool for businesses of all sizes. Companies can increase sales and build customer loyalty by creating appropriate tags that accurately represent the brand and its products. Here are some tips for using tags:
Choose a tag design that reflects the brand's style and personality.
Make sure the tag is legible and easy to read.
Choose a tag size that will fit most products.
Print the tag on high-quality paper.
Add a logo or other branding elements to the tag.
Advantages of Using Custom Paper Tags
Custom-printed tags are an essential marketing tool to help identify and track your business's products. You can also use them to label items, store information, and more. So if you're looking for a way to improve your business presentation, consider using custom tags. Here are some benefits of using custom paper tags for your business.
One of the benefits of using custom paper tags is that they can offer a unique touch to your branding. When done well, they can create a sense of distinction and importance for your business.
Additionally, custom-printed paper packaging Hang Tags can serve as valuable marketing tools for tracking inventory and ensuring products are correctly labeled.
Inexpensive Way to Outshine your Brand Name
You can customize brown paper tags to suit the needs of a particular product or company. Paper-made tags offer an inexpensive and easy way to track inventory and provide branding for your products. They also make it easy for customers to find what they're looking for and can help promote your brand. If you're interested in getting custom-printed tags for your business, look no further than Noah Packaging. We have years of experience in high-quality printing tags that will make your operation run more smoothly.
Provide Accuracy in Shipping Processes
Custom paper tags can help ensure that your shipments accurately arrive at their destinations. In addition, by tracking information such as package dimensions and weights, you can avoid potential problems down the line.
Best Way to Communicate with Your Customers
You can easily reach out to your customers when necessary by putting important contact information on the tag. This way, they'll always have access to essential information without searching through hundreds of pages of paperwork. Noah Packaging has the perfect solution for businesses of all sizes. We offer high-quality, customizable tags that are perfect for your needs.
How Brown Paper Tags Enhance your Product Value
Regarding packaging, many businesses need to take the time to attach tags or labels to their products. However, there may be better ways to present your product than this, as customers may need help finding what they are looking for if they cannot see the label. This is where brown paper tags come in handy; they can provide a more tactile experience when interacting with a product. These tags can also help identify specific products in a store or on a shelf.
If you want to add extra value to your products and increase brand recognition, consider getting custom tags from Noah Packaging. Our team of experts can create unique and classy tags that will stand out on any product and provide customers with the information they need about your product. In addition, we offer a wide variety of colors and designs so you can find the perfect option for your business.
Get Ideal Custom Paper Tags at Noah Packaging
You have seen the various benefits of using custom tags. Our custom paper tags are ideal if you want to create a tag that features your company's logo or slogan. Our tags come in various colors and styles, making them perfect for any product or business. Our tags are also made from high-quality stock resistant to wear and tear, so you can be sure they will last long term.
To get the most out of tags, consider choosing from Noah Packaging's wide selection of Luxury Hang Tags. We will gladly provide you with a list of all the available options and help you select the perfect tag for your product or company. Contact us today to learn more about how we can help.
Read more
| | |
| --- | --- |
| Box Style | Tags |
| Dimension (L + W + H) | All Custom Sizes and Shapes |
| Quantities | No Minimum Order Required |
| Paper Stock | 10pt to 28pt (60lb to 400lb) Eco-Friendly Kraft, E-flute Corrugated, Bux Board, Cardstock |
| Printing | No Printing, CMYK, CMYK + 1 PMS color, CMYK + 2 PMS colors |
| Finishing | Gloss Lamination, Matte Lamination, Gloss AQ, Gloss UV, Matte UV, Spot UV, Embossing, Foiling |
| Included Options | Die Cutting, Gluing, Scored,Perforation |
| Additional Options | Eco-Friendly, Recycled Boxes, Biodegradable |
| Proof | Flat View, 3D Mock-up, Physical Sampling (On request) |
| Turnaround | 4 - 8 Business Days, RUSH |
| Shipping | FLAT |