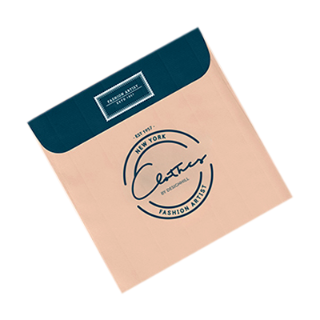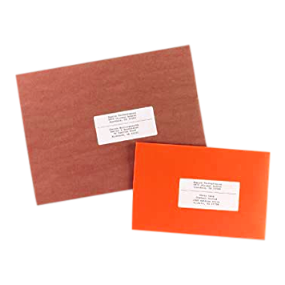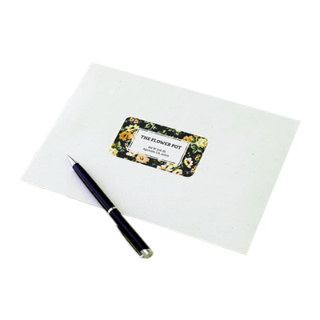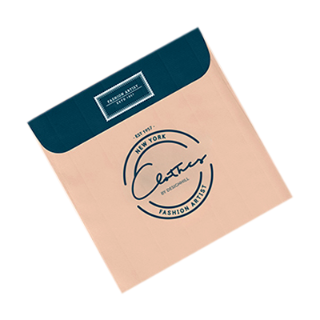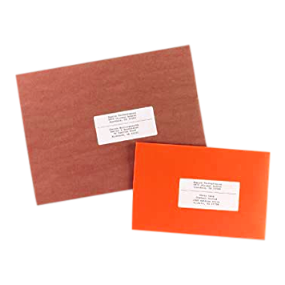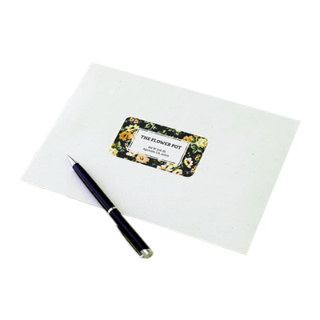 Mailing Labels
Make a professional statement with personalized mailing labels that leave a lasting impression. Our customizable labels can be designed with your company logo, return address, and recipient details, ensuring your packages stand out from the rest.
Shop with Confidence
Money
Back Guarantee


Enhance Your Business Communication with Personalized Mailing Labels
In the world of business, effective communication is key. Every interaction with your customers, partners, and suppliers presents an opportunity to showcase your professionalism and leave a lasting impression. That's why we're thrilled to present our customizable mailing labels, the ultimate solution for businesses seeking to streamline their mailings and make a memorable statement.
Personalized Mailing Labels for a Touch of Distinction
In a sea of generic mailings, standing out is essential. Our personalized mailing labels are the perfect tool to leave a lasting impression on your customers. By adding a personal touch to each package, you demonstrate your attention to detail and dedication to exceptional customer service.
With our user-friendly design interface, creating personalized mailing labels for packages is a breeze. Simply upload your logo, choose your preferred font and color scheme, and watch as we generate a stunning label design tailored specifically to your business. Whether you're shipping products or sending important documents, our labels ensure that your brand identity remains intact throughout the shipping process.
Mailing Labels for Every Package
When it comes to shipping packages, reliability is of utmost importance. At Noah Packaging, we take pride in offering labels that are both reliable and customizable, ensuring that your packages reflect the same level of quality and care that you put into your products. Our custom mailing labels are designed to cater to your specific packaging needs, offering a wide range of options to choose from.
One of the key aspects of our mailing labels for packages is their versatility in size. We understand that packages come in various shapes and dimensions, which is why our labels are available in different sizes. Whether you're shipping a small envelope or a large box, our labels can be customized to fit your package perfectly.
In addition to size options, we also recognize that different packages have different adhesive requirements. Some packages may need a strong adhesive to withstand long journeys and rough handling, while others may require a gentler adhesive to prevent damage upon removal. With our customizable labels, you have the flexibility to choose the adhesive strength that best suits your specific packaging needs. Rest assured that your labels will stay securely in place during transit, ensuring that your packages arrive at their destination intact and professionally presented.
Streamline Your Packaging Process with Wholesale Mailing Labels
Efficient and hassle-free packaging is crucial for businesses of all sizes. With our custom mailing labels, you can say goodbye to time-consuming manual writing and hello to seamless shipping. Our wholesale Packaging Labels offer the ideal solution for businesses that require large quantities of labels without breaking the bank. By investing in bulk orders, you'll enjoy significant cost savings without compromising on quality.
At Noah Packaging, we understand that every business has unique needs. That's why our labels are fully customizable, allowing you to add your company logo, address, and any other relevant information. By incorporating your brand elements, you'll elevate your professionalism and create a cohesive brand experience for your recipients.
Your Trusted Packaging Supplier for Printable Mailing Label!
At Noah Packaging, we take pride in being your trusted packaging supplier. Our printable mailing label provides the perfect solution for businesses that require the flexibility of on-demand label printing. Whether you're shipping a high volume of packages or have ever-changing mailing addresses, our printable labels offer convenience and efficiency.
When it comes to enhancing your business communication, our customizable labels offer unbeatable convenience, personalization, and reliability. From wholesale labels to personalized designs, we have the ideal solution to meet your specific needs. Experience the ease of streamlined shipping, leave a lasting impression on your recipients, and elevate your brand with our exceptional mailing labels.
Invest in the best for your business. Choose Noah Packaging for affordable and high-quality Labels and Stickers. Streamline your packaging process, personalize your mailings, and leave a lasting impression with our customizable labels. Order your batch today and revolutionize the way you communicate with the world!
Read more
| | |
| --- | --- |
| Box Style | Labels & Stickers |
| Dimension (L + W + H) | All Custom Sizes & Shapes |
| Quantities | No Minimum Order Required |
| Paper Stock | 10pt to 28pt (60lb to 400lb) Eco-Friendly Kraft, E-flute Corrugated, Bux Board, Cardstock |
| Printing | No Printing, CMYK, CMYK + 1 PMS color, CMYK + 2 PMS colors |
| Finishing | Gloss Lamination, Matte Lamination, Gloss AQ, Gloss UV, Matte UV, Spot UV, Embossing, Foiling |
| Included Options | Die Cutting, Gluing, Scored,Perforation |
| Additional Options | Eco-Friendly, Recycled Boxes, Biodegradable |
| Proof | Flat View, 3D Mock-up, Physical Sampling (On request) |
| Turnaround | 4 - 8 Business Days, RUSH |
| Shipping | FLAT |
Yes, labels can be fully customized with sender and recipient information. At Noah Packaging, we offer customizable labels that allow you to include all the necessary details.
Absolutely! These labels can be printed with barcodes or QR codes to enhance efficiency and tracking. Barcodes and QR codes provide a convenient and accurate way to scan and identify packages during the shipping process.
Yes, at Noah Packaging, we understand that envelopes and packages come in various sizes and shapes. That's why our labels can be designed to accommodate different envelope or package dimensions.
The cost of labels depends on various factors, including the quantity ordered, customization options, and additional features such as barcodes or QR codes. At Noah Packaging, we strive to offer competitive and affordable pricing for our labels.
Yes, we understand that businesses have different needs and volume requirements. That's why we offer the flexibility to order labels in both small and large quantities.