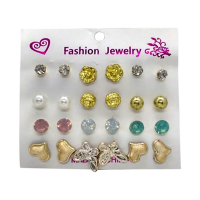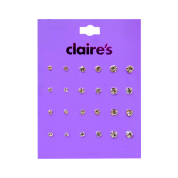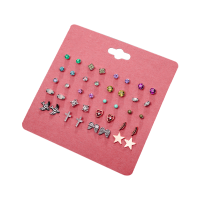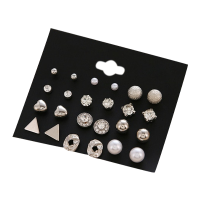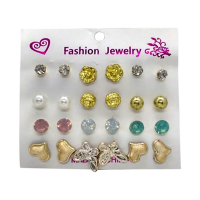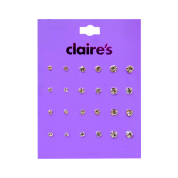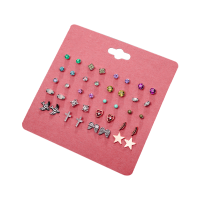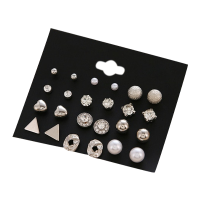 Earring Packs
Earring packs can help you grow your jewelry business. They provide an affordable and customizable product that is easy for customers to purchase. Customizing the packaging and incorporating your brand's identity will ensure a memorable customer experience. You can create custom earring packs with Noah Packaging with the right design and materials.
Shop with Confidence
Money
Back Guarantee


Appealing Custom Earring Packs to Cater to Your Audience
Are you looking for a way to stand out in the jewelry business? Earring packs are an innovative and cost-effective way to do just that. With these packs, you can create memorable, unique styles for your customers. Whether it is a single pair of earrings or a pack of earrings, customizing each design can make all the difference in making your business stand out from the competition. With these packs, you can offer your customers an exciting and personalized way to buy beautiful jewelry. Not only do they make it easier for customers to purchase multiple pairs of earrings, but they also make it easy to find something that fits their needs and style.
Key Features and Functions of Our Custom Earring Packs
Offering custom jewelry boxes is a great way to differentiate your business from competitors and provide personalized experiences for customers. That is why earring packs are becoming increasingly popular among jewelry lovers. The ability to customize a pack of earrings to match personal style and preferences is an attractive option for many customers. Therefore, offering custom options can benefit the customer and the business in various ways. Here are a few advantages when customizing your gold earring packs with Noah Packaging.
A Promotional Tool To Attract Customers:
Custom packs can also be used as a promotional tool to attract or retain new customers. Offering special deals on customized bundles encourages shoppers to explore different products and try new things they may not have considered. Additionally, this approach allows businesses to showcase the diversity of their product line and highlight key items that may otherwise go unnoticed.
Suitable For All The Retailers:
When it comes to attracting customers, online and brick-and-mortar retailers spend a lot of money on marketing and advertising their products. However, with these cute earring packs, online and brick-and-mortar retailers benefit from better customer experience, increased sales, more profits, and whatnot.
Upsell And Cross-Sell Products:
Earring packs are an excellent way for your jewelry business to upsell the products. By offering customized sets at a discounted price or including additional accessories with the pack, you can increase their revenue while providing more value for the customer.
Personalized Shopping Experience:
Customers love to enjoy a personalized shopping experience, and these packs allow customers to have an experience that caters to their preferences and style. To offer such an experience, you can choose from different styles, colors, and materials to create unique packaging that attracts customers and makes them buy your products.
Lastly, custom earring packs can help build brand loyalty among customers. By offering unique and personalized products that cannot be found elsewhere, businesses can stand out and create a strong connection with their audience. This connection leads to repeat purchases and positive word-of-mouth advertising that ultimately increases sales in the long run.
Variety of Options: Design, Colors, Size
Custom jewelry boxes are becoming increasingly popular among fashion-conscious individuals seeking to express their unique style through accessories. Whether they are ring boxes or necklace boxes, customers love custom packaging. Therefore, one of the key advantages of custom earrings is the variety of customization options available. From design to colors and size, there are countless ways to make your custom earring pack genuinely one-of-a-kind.
Moreover, you have the freedom to choose from a range of styles and materials that best suit your brand's personality and taste. Whether you want to create cute earring packs or gold earring packs, there are endless possibilities for making packaging that reflects your brand's individuality. Additionally, customizing the colors of your packaging with the jewelry pieces allow you to match them perfectly, and customers will also love it.
How to Create Earring Packs For Your Jewelry?
Are you tired of buying pre-made earring packs that do not quite fit your style? Why not create your own packaging? Not only will you be able to personalize them to your liking, but it is also a great way to win more customers. At Noah Packaging, we can help you create packaging that exudes style and sophistication. If you are wondering how it works, here is how you can create packaging with us.
1. Choose Your Color Scheme:
First, choose a theme or color scheme for your earring pack. Do you want them to all be similar in style or have a mix of different designs? Also, it is essential to select a color scheme that aligns with your brand.
2. Pick The Material:
Next, pick the materials for your earring packs. It is important to choose high-quality materials so that your earrings are protected and can withstand daily wear. Typically, cardboard boxes are the most suitable option for packaging jewelry pieces.
3. Create Unique Designs:
Once you have your materials ready, start designing! Get creative with the best combinations and try out different patterns until you find the perfect design. Do not forget to consider the length of the earring packaging as well - do you prefer matte or glossy packs?
Reach Us Out!
To get the best offer on your earring packs in bulk, contact us at sales@noahpackaging.com to get a free instant quote.
Read more
| | |
| --- | --- |
| Box Style | Jewellry Boxes |
| Dimension (L + W + H) | All Custom Sizes & Shapes |
| Quantities | No Minimum Order Required |
| Paper Stock | 10pt to 28pt (60lb to 400lb) Eco-Friendly Kraft, E-flute Corrugated, Bux Board, Cardstock |
| Printing | No Printing, CMYK, CMYK + 1 PMS color, CMYK + 2 PMS colors |
| Finishing | Gloss Lamination, Matte Lamination, Gloss AQ, Gloss UV, Matte UV, Spot UV, Embossing, Foiling |
| Included Options | Die Cutting, Gluing, Scored, Perforation |
| Additional Options | Eco-Friendly, Recycleable Boxes, Biodegradable |
| Proof | Flat View, 3D Mock-up, Physical Sampling (On request) |
| Turnaround | Normal 12-15 Business Days , Rush 8-12 Business Days (After Design Approval) |
| Shipping | FLAT |
Typically, these packs are made of cardboard or other sturdy materials so that the precious jewelry pieces are kept safe without any damage.
From hoops to studs and from huggies to dangles, all types of earrings can be found in these custom packs.
To choose the right packs for your business, you must design it with your brand's theme, color scheme, and personality so that the packaging aligns with it.