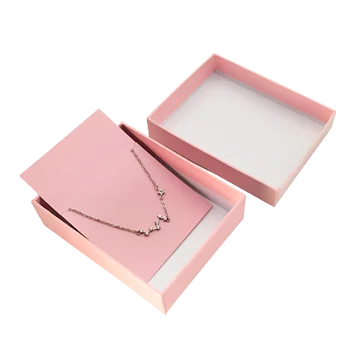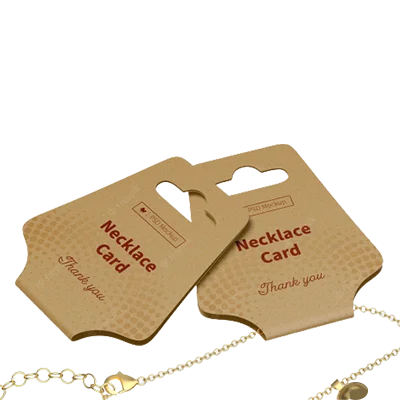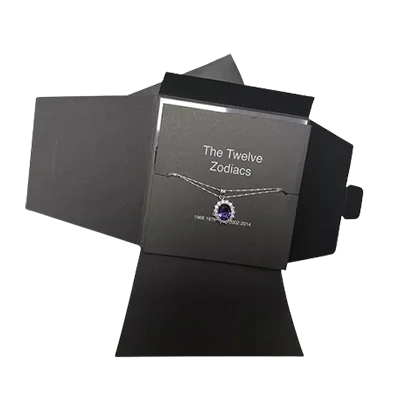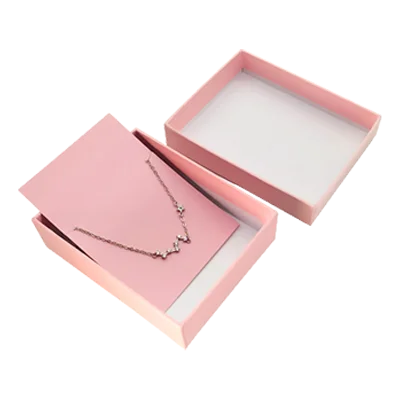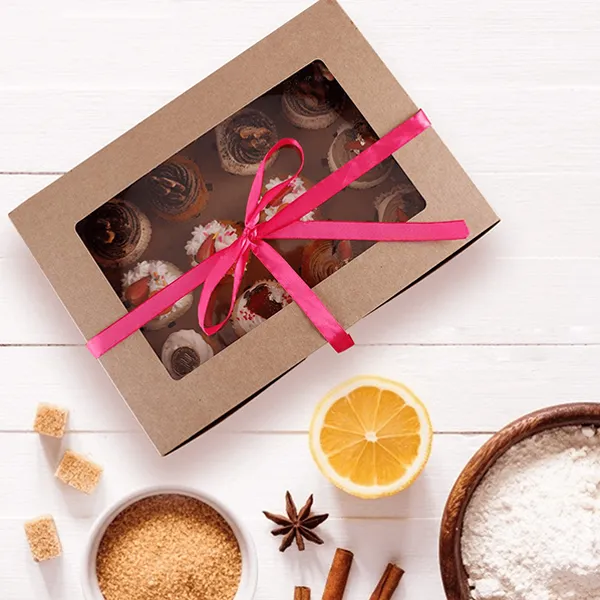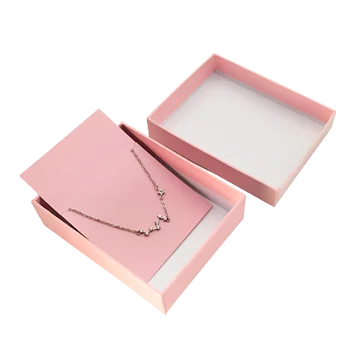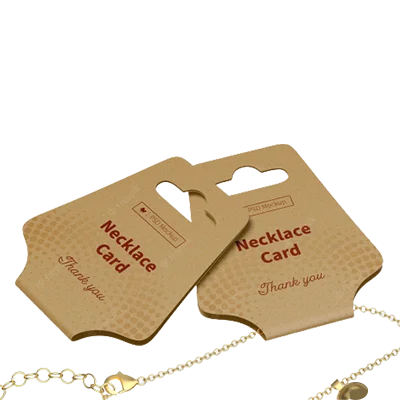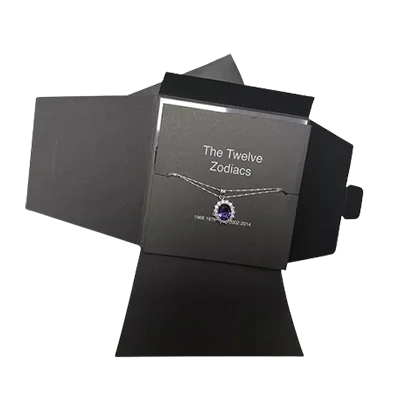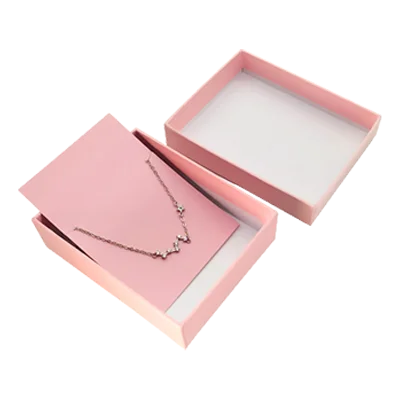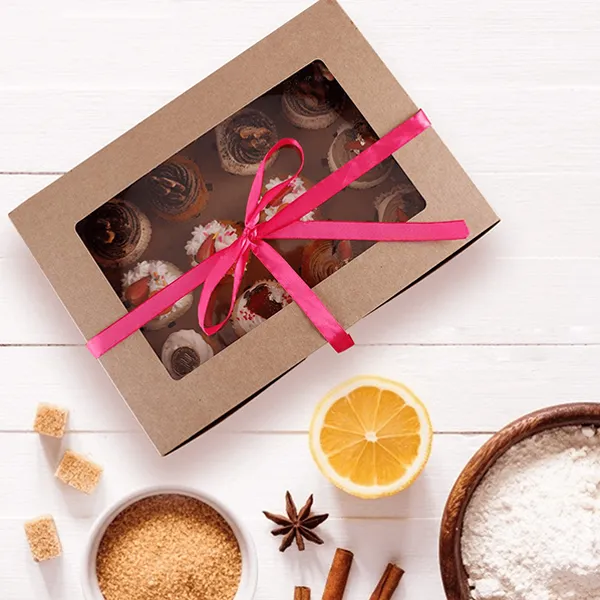 Necklace Packaging Cards
Noah Packaging allows you to showcase necklaces in a stylish yet professional way with their necklace packaging cards. The cards can be customized to your desired designs, colors, patterns, and themes. Moreover, they are versatile and not limited to necklaces only. You can utilize them for many other products including bracelets, earrings, and other jewelry items.
Shop with Confidence
Money
Back Guarantee


Protect Your Precious Necklaces with Our Customizable Necklace Packaging Cards
Are you tired of searching for the perfect packaging solution for your necklaces? Look no further! Our necklace packaging cards are here to save the day. Our cards are designed to protect your necklaces while giving them a professional and stylish appearance. With our cards, you can create a cohesive brand image and increase customer loyalty. Let us help you take your brand to the next level with our customizable and high-quality packaging cards!
High-Quality Necklace Packaging Cards for Maximum Protection
At Noah Packaging, we understand that your necklaces are precious and deserve the best protection possible. Because of this, we only utilize premium materials to create your necklace packaging cards. Our materials offer maximum protection from dust, dirt, and other damages that may happen during storage and transportation. Depending on the requirements of our clients, we design kraft, rigid, corrugated, and cardboard boxes.
Besides that, you may feel good about your packing selections because our boxes are environmentally friendly. To help you select the material that best suits the demands of your brand, we also provide personalized choices.
Significance of Custom Necklace Packaging Cards
Our cards not only offer protection and organization for your necklaces. But they also provide a range of benefits that can help you elevate your brand:
Versatile and Multi-Functional
Our custom necklace packaging cards aren't just limited to necklaces. They can also be used for bracelets, earrings, and other jewelry items. This versatility allows you to streamline your packaging process and reduce costs by using one packaging solution for multiple products.
Customizable for Different Occasions
Our custom necklace cards are perfect for a variety of occasions, such as holidays, special events, or product launches. You can customize the design and packaging to align with the theme or occasion. This makes your brand stand out and creates a memorable experience for your customers.
Make an Eco-Conscious Choice
Our custom necklace packaging cards are made from high-quality and sustainable materials. This makes them an eco-conscious choice that aligns with your brand's values and commitment to sustainability. By choosing our cards, you're able to showcase your brand's dedication to the environment. It will allow you to make a positive impact on the world.
Increase Customer Loyalty and Sales
Investing in our custom necklace packaging cards is a smart business decision that can lead to increased customer loyalty, brand recognition, and sales. By providing your customers with an exceptional unboxing experience, you're able to create a positive impression that can encourage repeat purchases and word-of-mouth referrals.
Custom Printed Necklace Cards
Our custom-printed necklace cards offer an excellent way to showcase your brand's unique style. With a variety of customizable options, you can create a one-of-a-kind packaging solution that perfectly represents your brand's values. Our talented design team will work with you to create a custom design that aligns with your brand's identity, including choosing from various fonts, colors, and designs.
We use a high-quality printing process that ensures your custom design looks sharp and vibrant. Our advanced printing techniques allow us to produce high-quality images that are true to color and will stand out. We use only the best printing materials and equipment to ensure that your custom necklace packaging cards are of the highest quality.
Custom Necklace Card Holder
If you're looking for a more secure packaging solution, our custom necklace card holders are a perfect choice. These holders are designed to keep your necklaces in place during shipping or storage. They are available in a variety of materials and can be customized to fit your brand's needs. Our card holders are easy to use and will give your customers a great unboxing experience.
Custom Necklace Cards Wholesale
Wholesale prices are more cost-effective than buying individual packaging units. This makes them an excellent option for businesses looking to save money on their packaging costs. Our custom necklace cards wholesale prices are competitive. With our cards, you can ensure that you get the best value for your investment.
We also offer discounts for bulk purchases, which means the more you buy, the more you save. This is especially beneficial for businesses that require a large quantity of packaging for their necklaces. Our sales team can work with you to determine the best pricing options based on your specific needs.
Why Go For Noah Packaging?
At Noah Packaging, we utilize the finest quality materials to design affordable necklace packaging cards for you. This makes them resistant to toxic external factors. As a result, the product reaches the end user in a safe and sound condition. Additionally, we offer several customization and finishing options for the cards. These features make the cards look more striking to your target audience.
We ensure that our clients get a hassle-free experience while ordering with us. For this purpose, our team of professionals stays in touch with you throughout the process. For queries or concerns, don't hesitate to reach us via call or email.

Read more
| | |
| --- | --- |
| Box Style | Jewellry Boxes |
| Dimension (L + W + H) | All Custom Sizes & Shapes |
| Quantities | No Minimum Order Required |
| Paper Stock | 10pt to 28pt (60lb to 400lb) Eco-Friendly Kraft, E-flute Corrugated, Bux Board, Cardstock |
| Printing | No Printing |
| Finishing | Gloss Lamination, Matte Lamination, Gloss AQ, Gloss UV, Matte UV, Spot UV, Embossing, Foiling |
| Included Options | Die Cutting, Gluing, Scored, Perforation |
| Additional Options | Eco-Friendly, Recycleable Boxes, Biodegradable |
| Proof | Flat View, 3D Mock-up, Physical Sampling (On request) |
| Turnaround | Normal 12-15 Business Days , Rush 8-12 Business Days (After Design Approval) |
| Shipping | FLAT |
The materials we utilize to manufacture your necklace packaging cards are cardboard, kraft, rigid, and corrugated. Besides, we ensure that the materials we use are eco-friendly to minimize your carbon footprint.
Yes, absolutely! The cards are highly customizable. With us, you can get your desired customizations on the boxes. We can add your brand's logo and design depending on your preferences and needs. Apart from that, we offer holographic foiling, silver foiling, embossing, debossing, and many other finishing options.
Yes, necklace packaging cards can be printed with your preferred custom designs. We utilize innovative customized designs for your cards, so they can easily stand out.