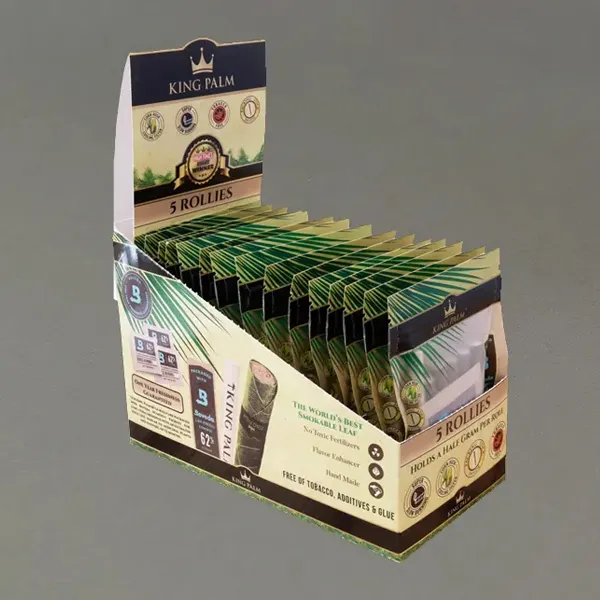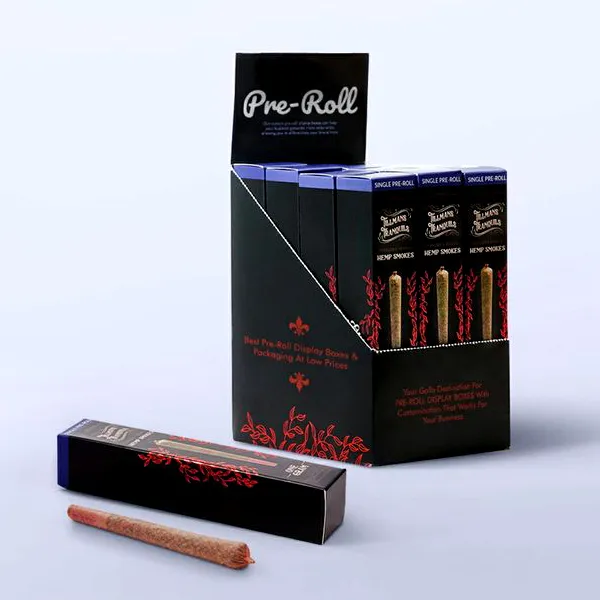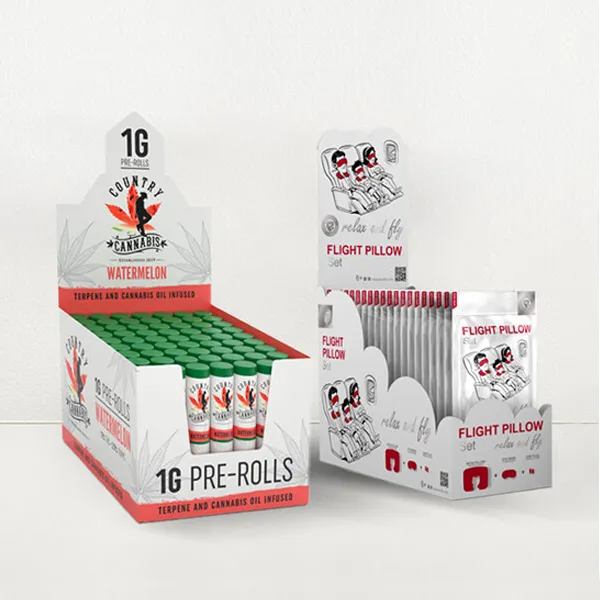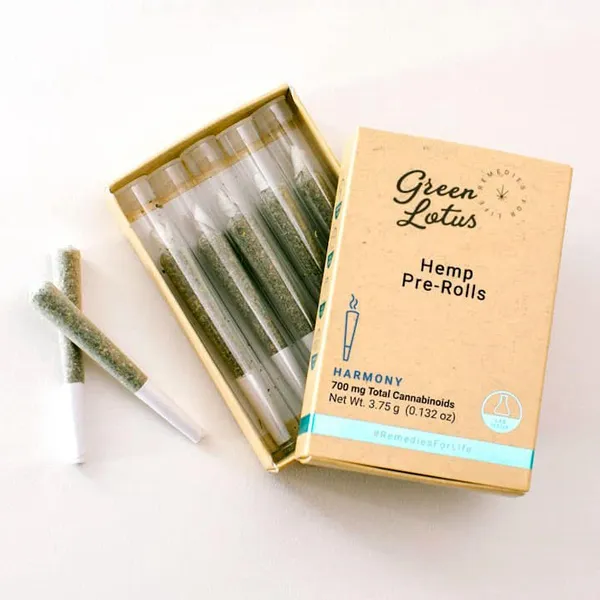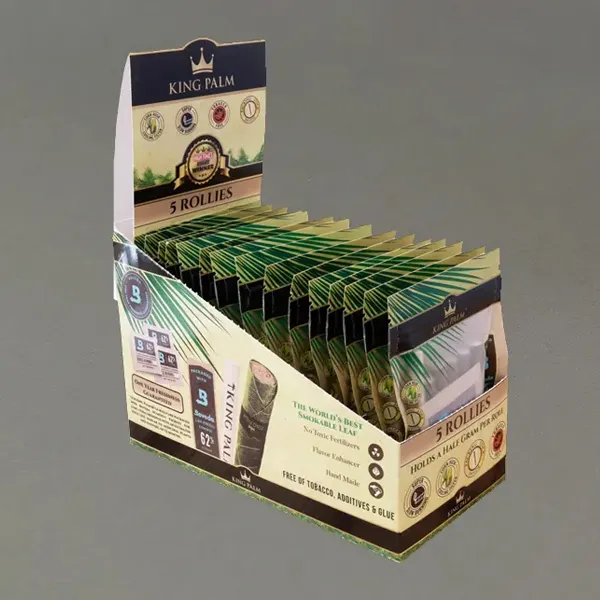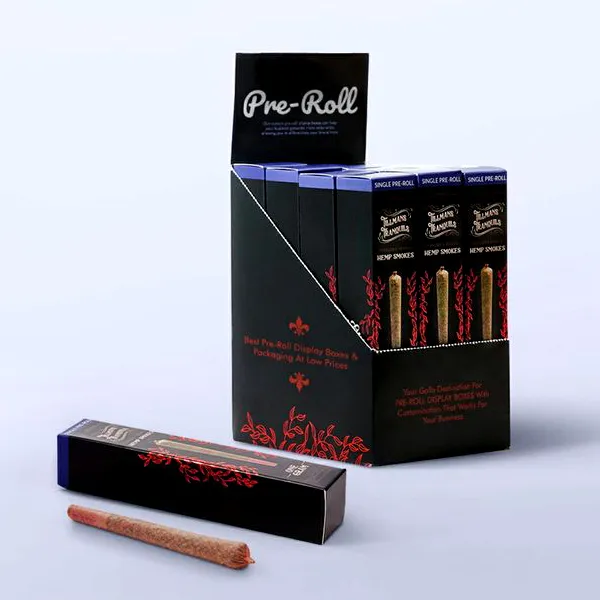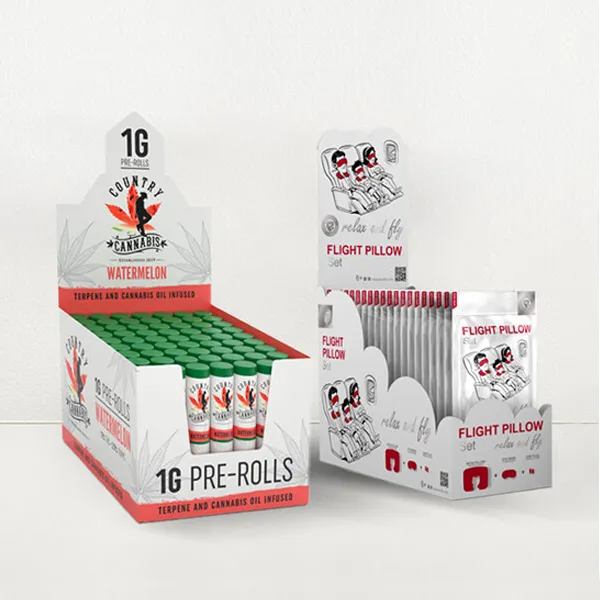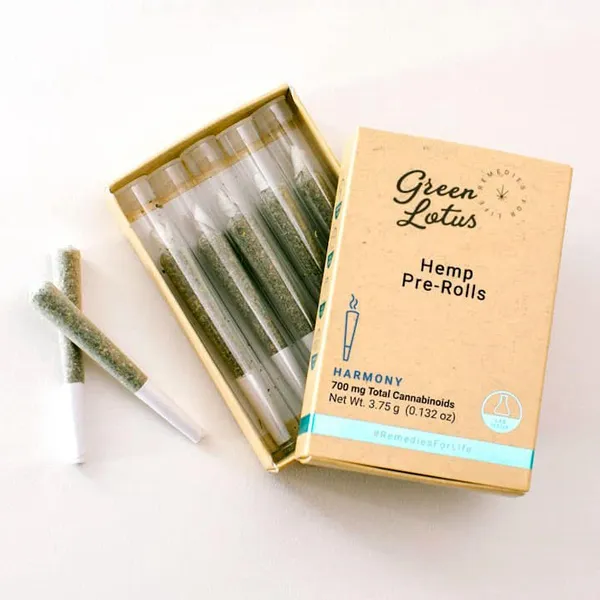 Pre Roll Display Boxes
Elevate your cannabis pre roll brand's position with Pre Roll Display Boxes that encapsulate quality, innovation, and brand identity. At Noah Packaging, we recognize that packaging is not just about enclosing products; it's about enhancing your brand's essence. From Wholesale Packaging to custom solutions, we're your packaging partner, dedicated to making your brand stand out in a competitive market.
Shop with Confidence
Money
Back Guarantee


Sleek, Stylish, and Durable Pre Roll Display Boxes for Your Business
Pre roll display boxes are a great way to showcase your pre-rolled joints in a professional and eye-catching way. They are perfect for dispensaries, head shops, and other retailers who want to make a good impression on their customers. These boxes aren't just containers; they blend elegance, style, and durability—a perfect packaging solution for businesses like yours.
At Noah Packaging, we're excited to introduce our pre roll display box collection, which redefines how your products are presented. Besides display boxes for pre rolls, you can get pre roll cone packaging from us.
Strengthen Your Cannabis Pre Roll Brand Position
Our display boxes for pre roll are made from high-quality materials that will protect your joints from damage. They are also sturdy and durable enough to withstand the rigors of retail displays.
In addition to being protective, our pre roll display boxes are stylish and eye-catching. They come in various colors and sizes, so you can choose the perfect one to match your brand.
Our pre roll display boxes also offer several benefits for your business. They can help you:
Increase Sales:
When your pre rolls are displayed in a professional and eye-catching way, they are more likely to catch the attention of potential customers. This way of showcasing your pre rolls can lead to increased sales.
Improve Brand Awareness:
Our display boxes for pre roll can help improve brand awareness by prominently displaying your logo and branding. This can aid in the development of a stronger brand identity and the attraction of more customers.
A Versatile Solution for Your Business Needs
Our pre roll display boxes offer versatility that aligns seamlessly with your business requirements. Whether you're a cannabis dispensary or a CBD product distributor, these boxes cater to your needs. With the ability to showcase your pre rolls in an elegant and organized manner, these boxes become your silent brand ambassadors on the shelves.
Pre roll display packaging offers a versatile solution that can be used to:
Promote your Brand at Events
Pre roll display boxes are also a great way to promote your brand at events. You can use them to display your products, hand out samples, and collect leads.
Send out as Marketing Materials
Pre roll boxes can also be used as marketing materials. You can send them to potential customers or use them as event giveaways.
Material Choices for Pre Roll Display Boxes
At Noah Packaging, we prioritize quality. Our Pre Roll Display Boxes are created from durable and eco-friendly materials that not only protect your pre rolls but also contribute to a greener planet. With options that balance sturdiness and sustainability, you can rest assured that your products are presented well and packaged responsibly.
Pre roll display boxes are available in a variety of materials, including:
Cardboard:
Cardboard is a popular choice for display boxes for pre roll because it is affordable and durable. It is also recyclable, which is a good choice for environmentally conscious businesses.
Kraft:
Kraft material, renowned for its natural strength and eco-friendly composition, is an ideal choice for pre-roll boxes. Its durability ensures product protection, while the rustic texture and organic look complement branding. Kraft paper aligns sustainability with packaging needs, making it a favored option for pre-roll packaging solutions.
Printing Techniques
Your brand's logo, colors, and design are intricately woven onto the Pre Roll Display Box, creating a visual identity that resonates with customers. From minimalist designs to vibrant artwork, our printing options cater to a spectrum of styles, reflecting your brand's uniqueness.
Pre roll display boxes can be printed using a variety of techniques, including:
Offset printing is a traditional printing technique that is used for high-quality prints. It is a good choice for businesses that want their display boxes for pre roll to look professional.
Digital printing is a more affordable technique often used for short-run printing jobs. It is a good choice for businesses that want to print custom pre roll boxes.
Flexo printing is a versatile printing technique that can be used to create a variety of effects. It is a good choice for businesses that want their pre roll display boxes to be eye-catching and unique.
Partner With Noah Packaging for Quality Packaging
At Noah Packaging, our commitment to excellence is unwavering. Our custom pre roll display packaging boxes are manufactured with innovative design and a dedication to your brand's success. Whether you're seeking custom Pre Roll Display Boxes wholesale or personalized packaging solutions, partnering with us ensures that your pre rolls are encased in packaging that enhances their value.
We are the industry's leading provider of display boxes for pre roll. We offer a wide variety of styles, sizes, and colors. With our custom printing services and pre roll boxes wholesale prices, you can create a truly unique display for your pre rolls.
We provide excellent customer service in addition to a diverse range of products and services. We are dedicated to giving our customers the best possible experience.
Call Us!
If you are looking for a high-quality pre roll display box that will help you increase sales, improve brand awareness, and create a positive shopping experience, then we are the perfect solution for you. Contact us today to learn more about our pre roll packaging services.

Read more
| | |
| --- | --- |
| Box Style | Pre Roll Boxes |
| Dimension (L + W + H) | All Custom Sizes and Shapes |
| Quantities | No Minimum Order Required |
| Paper Stock | 10pt to 28pt (60lb to 400lb) Eco-Friendly Kraft, E-flute Corrugated, Bux Board, Cardstock |
| Printing | No Printing, CMYK, CMYK + 1 PMS color, CMYK + 2 PMS colors |
| Finishing | Gloss Lamination, Matte Lamination, Gloss AQ, Gloss UV, Matte UV, Spot UV, Embossing, Foiling |
| Included Options | Die Cutting, Gluing, Scored,Perforation |
| Additional Options | Eco-Friendly, Recycled Boxes, Biodegradable |
| Proof | Flat View, 3D Mock-up, Physical Sampling (On request) |
| Turnaround | 4 - 8 Business Days, RUSH |
| Shipping | FLAT |
Yes, pre-roll cone packaging can be customized with your branding and logos.
We offer eco-friendly options for pre-roll cone packaging, contributing to sustainability.
Certainly, bulk orders for pre-roll cone packaging are available to meet your needs.
Yes, there are various types of closures for pre-roll cone packaging, including cork stoppers, adhesive seals, and resealable stickers.
Our pre-roll cone packaging is designed for protection during transit to ensure secure shipping.