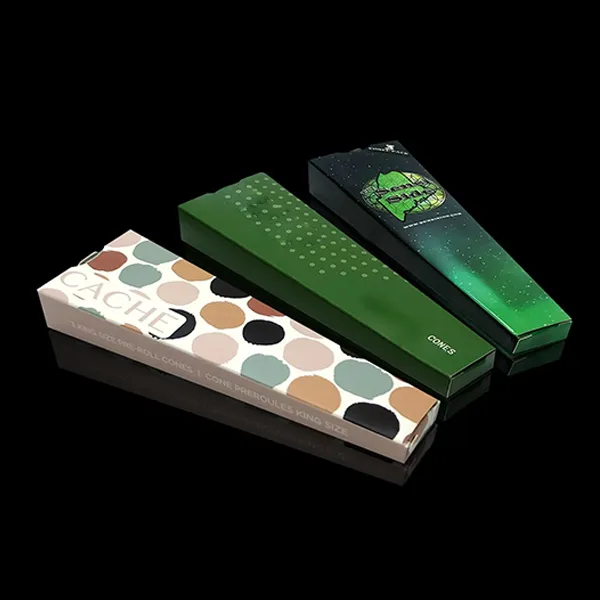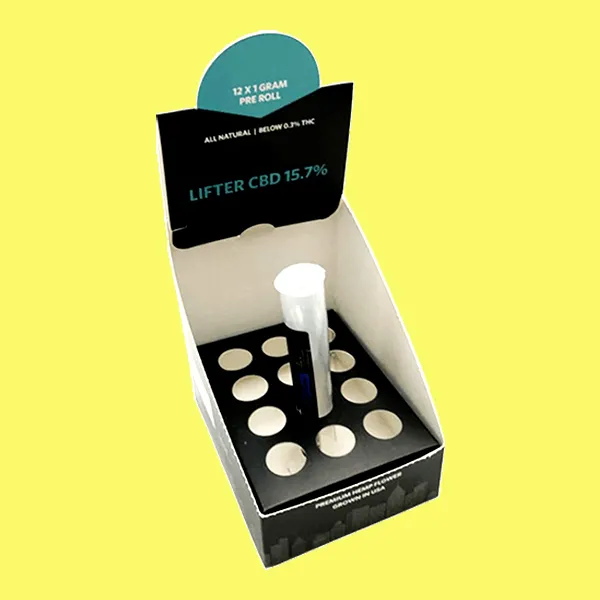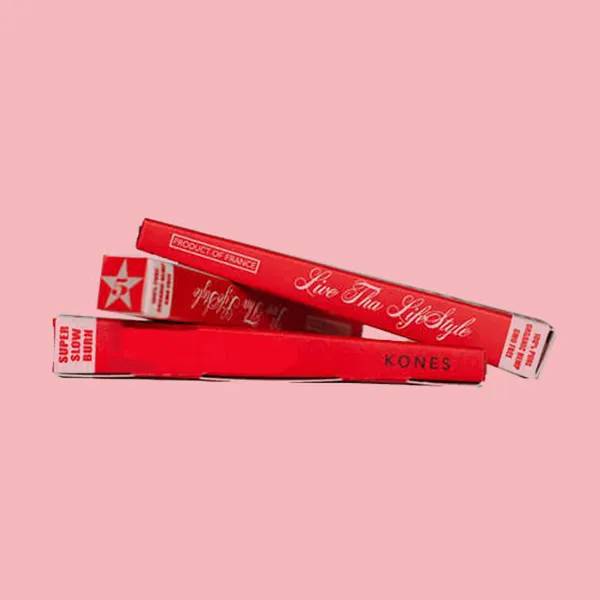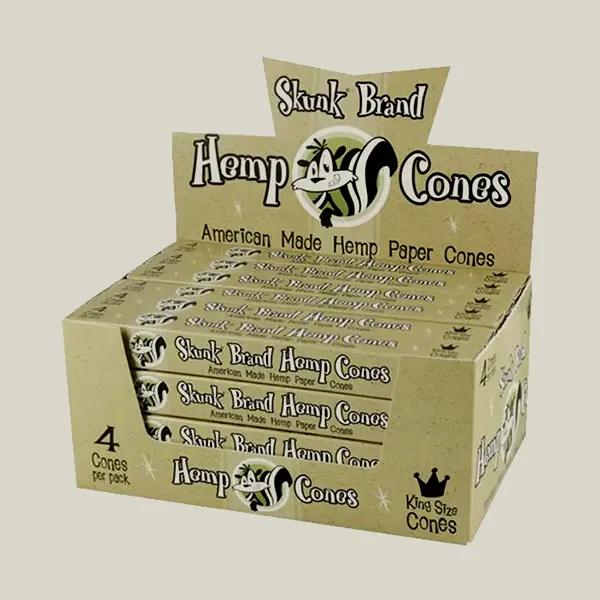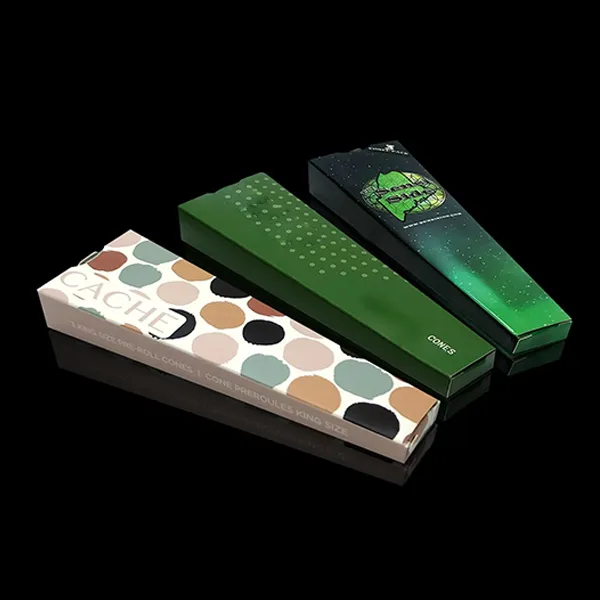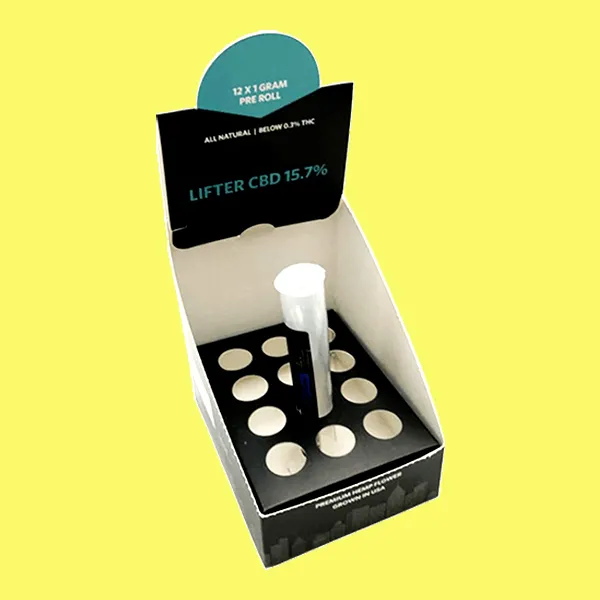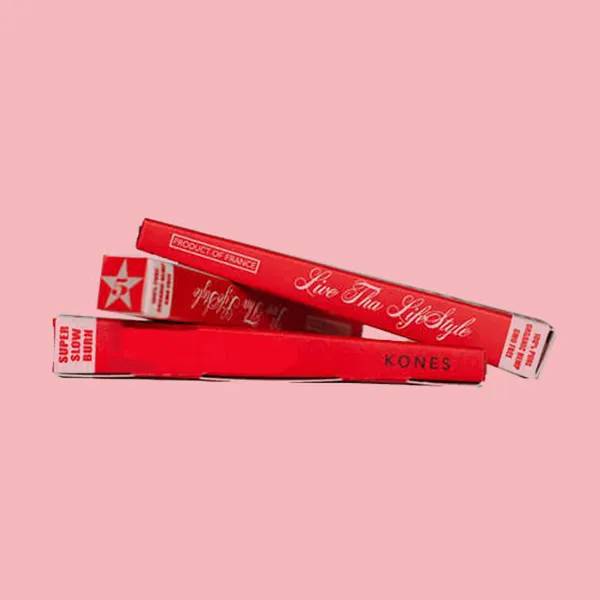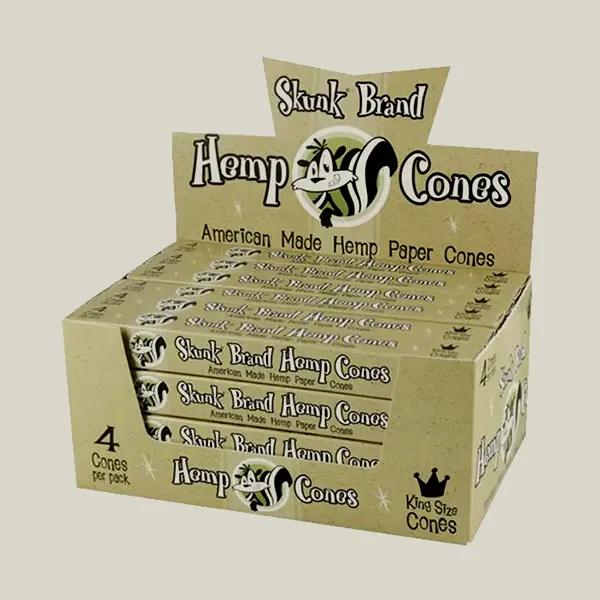 Pre Roll Cone Packaging
Elevate your pre-roll experience with our versatile and secure pre roll cone packaging solutions. Choose from a range of sizes and materials to suit your branding needs. Our packaging keeps your pre-roll cones fresh and protected while making a lasting impression. Discover packaging that speaks volumes about your product.
Shop with Confidence
Money
Back Guarantee


Pre Roll Cone Packaging To Elevate the Unboxing Experience
At Noah Packaging, we know that pre-roll cones are a popular choice for cannabis consumers of all ages. That's why we offer a wide variety of pre roll cone packaging options to fit your needs. Whether you're a small business just starting out or a large corporation, we have the perfect packaging solution for you.
Our pre roll cone packaging features high-quality materials that will keep your cones fresh and secure. We also offer a variety of custom printing options, so you can create packaging that reflects your brand. And because we know that time is money, we offer fast turnaround times so you can get your products to market quickly.
Tailored Pre Roll Cone Packaging for Your Brand
At Noah Packaging, we understand that your pre-rolled cones deserve packaging that is just as unique as they are. That's why we offer pre rolled cones packaging that is made to fit your brand's identity. Our custom pre roll boxes come in a variety of sizes, materials, and designs, so you can create a packaging solution that stands out on the shelf and leaves a lasting impression on your customers. We also offer high quality construction and precision craftsmanship, so you can be sure that your pre-rolled cones will stay fresh and protected.
Whether you're looking for a minimalistic and elegant design or something more vibrant and eye-catching, we have a custom pre-roll cone box that will fit your needs. Our boxes are also child-resistant, so you can be sure that your products are safe.
Innovative Display Boxes for Maximum Impact
Make a statement with our innovative custom pre rolled cones display boxes that add an element of intrigue and allure to your pre roll cones. These display boxes are not just containers but an experience in themselves. They are designed to immerse your customers in your brand with captivating visuals and engaging displays. The unique design of our display boxes will ensure that your pre-rolled cones are the centre of attention, enticing customers to explore your offerings further.
With Noah Packaging's custom pre rolled cones display boxes, you have the power to create an immersive shopping experience that leaves a lasting impression, driving customer loyalty and repeat business. Besides cone display boxes, our pre roll packaging labels seamlessly blend aesthetics with functionality. These labels provide essential information while enhancing the overall appeal of your products.
The Power of Visuals to Enhance the Customer Experience
At Noah Packaging, we believe that visuals on boxes can be a powerful tool for enhancing the customer experience. By incorporating images, infographics, and diagrams into your packaging, we can make complex information easier to understand, highlight the features and benefits of your products, and create a more engaging and visually appealing presentation.
For example, we can use an image to show how our airtight seal keeps your pre-rolled cones fresh for longer or an infographic to explain the child-resistant features of our packaging. These visuals can help customers understand the value of your products and make them more likely to purchase them.
In addition to making your packaging more informative, visuals can also help create a more professional look. A well-designed package with clear and concise visuals can make your brand look more credible and trustworthy.
Different Sizes and Materials for Your Needs
At Noah Packaging, we know that everyone has different needs. That's why we offer a range of sizes and materials to choose from for your custom pre roll cone packaging. No matter if you have a small batch or a large order, our various sizes make sure your pre-roll cones fit perfectly.
When it comes to materials, we've got your back. You can choose from different materials to match your style. Want something sleek and modern? We have that. Prefer a more natural look? We've got options for that too. Our materials not only look good but also keep your pre-roll cones safe against damaging factors.
Branding and Marketing: Your Packaging, Your Story
When it comes to your pre rolled cones packaging, it's not just about keeping things safe; it's a chance to show off your brand and connect with your customers. At Noah Packaging, we give you the tools to make your packaging uniquely yours. You can tell your brand's story, share what your business cares about, and give important details about your pre-rolled cones. Plus, having packaging that looks great can make people remember your brand and feel closer to it. It's like a friendly introduction that leads to a strong bond between you and your customers. With our customizable packaging options, your brand's identity shines through, making your pre-roll cones stand out and creating a memorable experience for everyone who chooses your products.
Uncompromised Quality for Unmatched Freshness
Pre-rolled cones are a convenient and popular way to enjoy cannabis. But if you don't store them properly, they can dry out and lose their flavour. That's where Noah Packaging comes in. We understand the importance of preserving the freshness and quality of your pre rolled cones.
Our custom pre roll cone packaging offers an airtight seal, ensuring that your products retain their flavour, aroma, and potency. The high-quality materials used in our packaging solutions are carefully chosen to safeguard your pre rolled cones from external elements, guaranteeing a premium experience for your customers.
Sustainability Meets Style
As more and more consumers become aware of their choices' environmental impact, cannabis businesses look for ways to reduce their environmental footprint. One way to do this is to choose sustainable pre roll cone packaging.
At Noah Packaging, sustainable pre roll cone packaging features materials that are eco-friendly and biodegradable. This means that when your customers are finished with your products, they can dispose of the packaging without harming the environment.
There are a variety of sustainable pre roll cone packaging options available, so you can find one that fits your budget and style. In addition to choosing sustainable materials, you can also choose sustainable design options for your pre roll cone packaging. For example, you can choose packaging that offers printing with soy-based inks.
By choosing sustainable pre roll cone packaging, you can reduce your environmental impact and appeal to environmentally conscious consumers. This is a win-win for your business and the planet.
The Perfect Partnership: Your Vision, Our Expertise
When you join hands with Noah Packaging, you're not just getting packaging; you're getting a whole team of specialists who are super excited to turn your ideas into reality. Our way of working is all about teamwork, which means we listen really carefully to what you want and then work extra hard to make it even better than you imagined. We're really proud of keeping our promises, and we make sure the whole journey, from thinking up the design to getting your packaging delivered, goes super smoothly. So get in touch with us and let us create packaging that wins the market.

Read more
| | |
| --- | --- |
| Box Style | Pre Roll Boxes |
| Dimension (L + W + H) | All Custom Sizes & Shapes |
| Quantities | No Minimum Order Required |
| Paper Stock | 10pt to 28pt (60lb to 400lb) Eco-Friendly Kraft, E-flute Corrugated, Bux Board, Cardstock |
| Printing | No Printing, CMYK, CMYK + 1 PMS color, CMYK + 2 PMS colors |
| Finishing | Gloss Lamination, Matte Lamination, Gloss AQ, Gloss UV, Matte UV, Spot UV, Embossing, Foiling |
| Included Options | Die Cutting, Gluing, Scored, Perforation |
| Additional Options | Eco-Friendly, Recycled Boxes, Biodegradable |
| Proof | Flat View, 3D Mock-up, Physical Sampling (On request) |
| Turnaround | 4 - 8 Business Days, RUSH |
| Shipping | FLAT |
Pre roll cone packaging is often crafted from durable materials like cardboard, paperboard, rigid, and kraft, ensuring protection and visual appeal.
Absolutely! Our pre roll cone packaging offers customisation with your branding, logos, and unique designs to enhance your product's identity and visibility.
Yes, we offer eco-friendly pre roll cone packaging solutions made from sustainable materials, aligning with environmentally conscious practises.
Certainly, we accommodate bulk orders to meet your business demands, ensuring a steady supply of high-quality packaging.
Our pre roll cone packaging showcases your products attractively. You can explore various options, including display boxes and labelling, to create an engaging presentation that draws customers' attention.