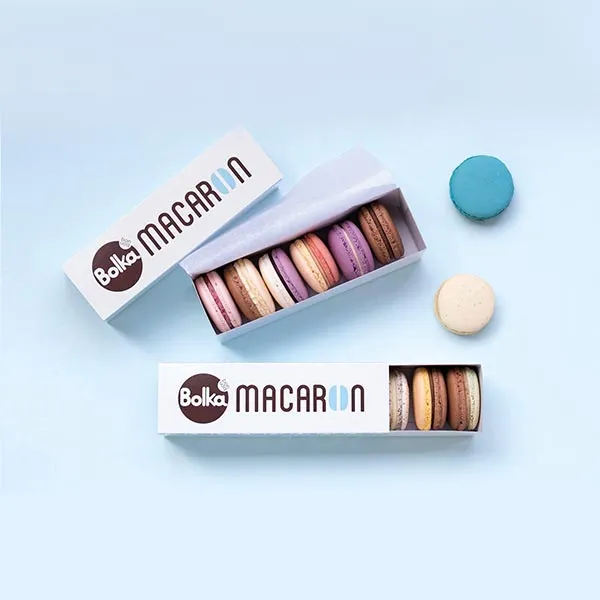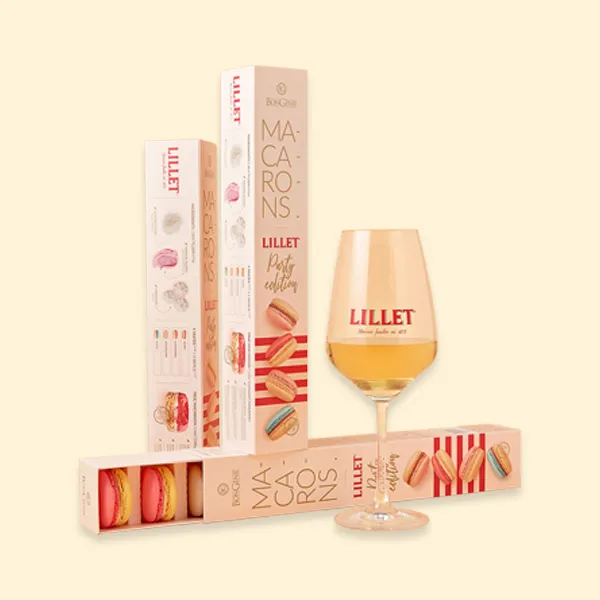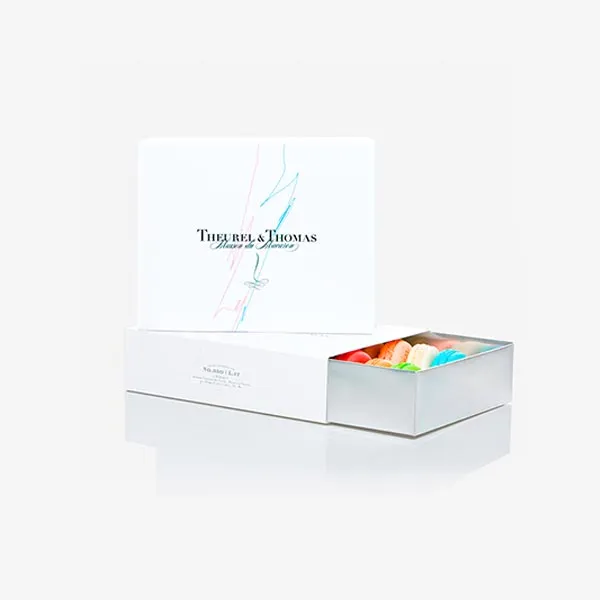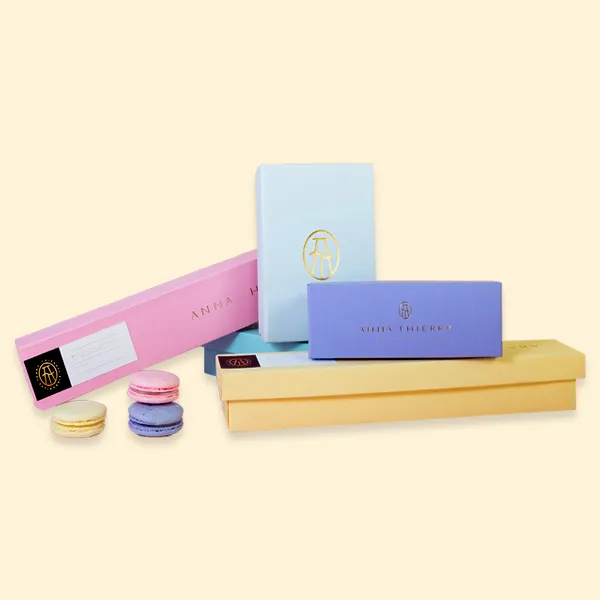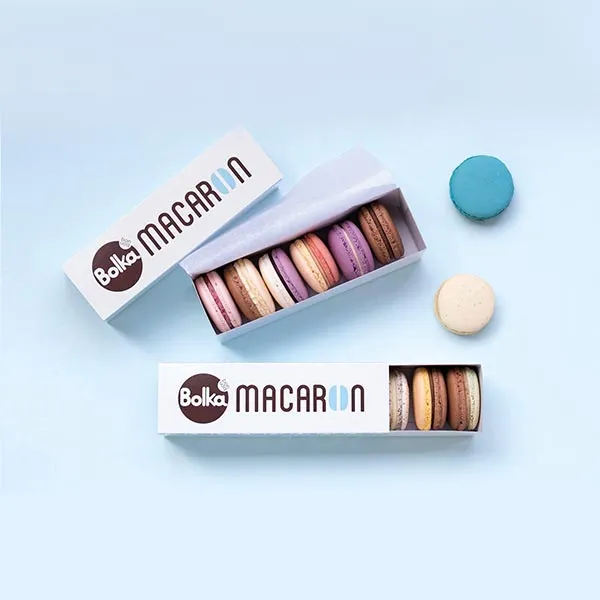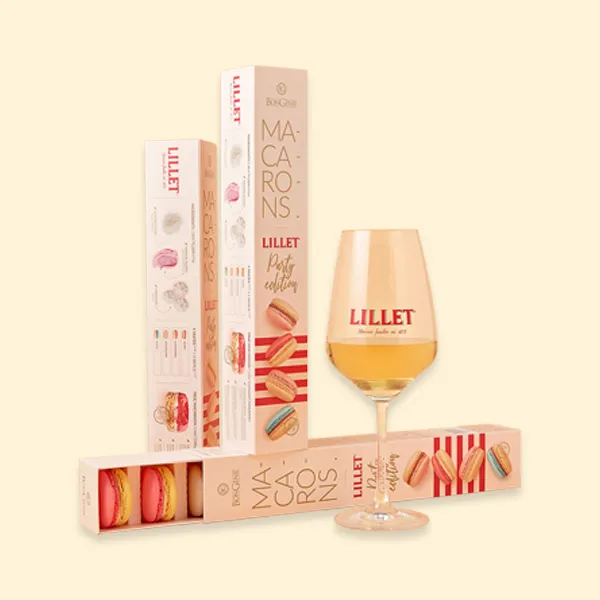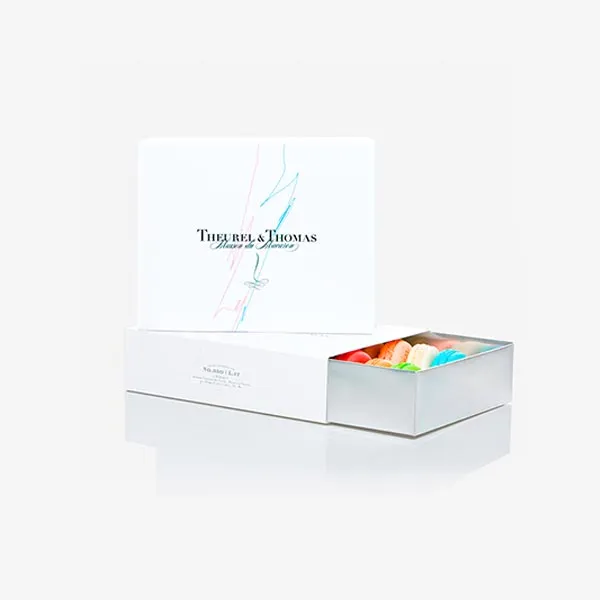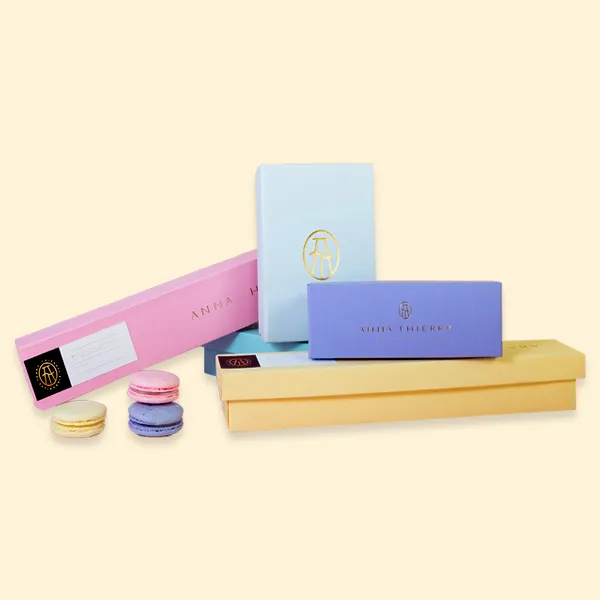 Custom Macaron Boxes
Macarons are the most enchanting product of the bakery shop. Every shopkeeper wants to display their product in an eye-catching manner so that it increases their clientage and boosts sales. Noah Packaging provides you with bewitching designs and styles that remarkably enhance the interest of your customers. Boost your sales and revenue with our creative designs for your box of macarons.
Shop with Confidence
Money
Back Guarantee


Affordable yet Customizable Macaron Boxes for your Brand
When it comes to promoting your brand or business, creating a lasting impression is key. Customized packaging is one of the best ways that reflect your brand's personality and values. And what better way to do this than with affordable yet customizable macaron boxes? Not only do these boxes add a touch of elegance and sophistication to your product, but they also help your brand stand out from the competition.
Noah Packaging excels in making excellent quality Food Packaging. With a wide range of customization options, you can easily choose the perfect box of macaron to fit your brand's needs and budget. Whatever the scale of your business, cost-effective and customized macaron boxes are the best choice. This type of packaging solution is both functional and visually appealing. So, if you are looking for a money-saving way to elevate your brand's image and leave a profound impact on your customers, then invest in customizable macaron storage containers.
Different Sizes And Style Of Macaron Boxes are Available
We offer a wide range of macaron boxes in various sizes and styles to meet your packaging needs. Our boxes are made of high-quality materials and designed to keep your macarons fresh and safe. Alluring box shapes are available such as gift boxes with handles, circular-shaped boxes, and macaron favor boxes. Our styles include die-cut boxes, windowed boxes, and elegant macaron gift boxes. Whether you need a single macaron box or a box with compartments, we have options for you. Our boxes are customizable and can be tailored to fit your brand's unique style.
Durable And Reasonable Packaging Materials Are Used
At Noah Packaging, we prioritize the quality and durability of our packaging materials. We use sturdy and eco-friendly materials to ensure that your macarons are protected during transportation and storage. Cardboard or Kraft paperboard are commonly used packaging materials for macaron storage containers.
Our packaging is designed to keep your macarons fresh and maintain their shape. Additionally, our packaging materials are reasonably priced, making them a cost-effective solution for your packaging needs. Furthermore, we use fine-quality food-grade coatings to add elegance to your macaron packaging. A box of macarons with superb finishing grabs the interest of a large audience and boosts your sales.
Add Trendy Designs To Make A Lasting Impression On Customers
In today's competitive market, it's essential to make an impression that lasts on buyers. One way to achieve this is by adding classy designs to your macaron packaging. We offer a variety of design options to help your brand stand out. Our designers can create custom designs that showcase your brand's unique personality and style.
We use ongoing market trends and techniques to ensure that your packaging is not only eye-catching but also functional. Our design team can help you create a cohesive brand image across all of your packaging solutions. By incorporating trendy designs into your macaron packaging, you can attract new customers and keep them coming back for more.
Catchy Colors And Graphics For Macaron Gift Box
The color and graphics of macaron boxes play an essential role in the overall appeal of the product. We offer a range of color and graphic options to make your macaron gift box visually appealing and memorable. The color and graphics should be reflective of your brand's style and personality. Our designers can help you choose a color scheme that complements your macarons' colors and enhances their visual appeal.
Macaron gift boxes are an excellent way to add a personal touch to your macaron packaging. Whether it's for a special occasion or a simple gift, our macaron gift box is sure to impress. customize your macaron gift box with the desired features to make them heart-touching for customers.
Box Of Macaron For Branding
We understand the importance of branding for the success of the food industry. That is why we offer customizable macaron boxes that can include all of your branding elements. By including your brand's name and logo on your macaron favor boxes, you set your brand apart from competitors.
Moreover, it can create a cohesive and memorable packaging solution. This can lead to increased sales and revenue as customers are more likely to remember and recommend your brand. Customized packaging can also create a professional and upscale image for your brand.
We understand that cost is an important consideration for businesses of all sizes. That is why we offer budget-friendly macaron boxes wholesale. Our wholesale pricing is available for all of our packaging solutions, and we offer discounts on bulk orders. We never compromise on our bulk or individual orders.
Customer satisfaction is our topmost priority. By choosing our wholesale offers, you can reduce your packaging costs and save time. This can lead to increased profit margins and more resources for your business.
Let's Have A Chat Now!
At Noah Packaging, we strive to be the best packaging partner for your macaron business. We are also a great seller of noodle boxes. We offer high-quality packaging solutions, customizable options, reasonable pricing, and excellent customer service. Our packaging is designed to protect your macarons while also enhancing your brand image. With our packaging solutions, you can focus on your core business while leaving the packaging to us. We are committed to delivering high-quality packaging solutions that meet your unique needs and exceed your expectations. So why wait? Reach out now with your requirements and get what you desire for your macarons at your doorstep.
Read more
| | |
| --- | --- |
| Box Style | Bakery Boxes |
| Dimension (L + W + H) | All Custom Sizes & Shapes |
| Quantities | No Minimum Order Required |
| Paper Stock | 10pt to 28pt (60lb to 400lb) Eco-Friendly Kraft, E-flute Corrugated, Bux Board, Cardstock |
| Printing | No Printing, CMYK, CMYK + 1 PMS color, CMYK + 2 PMS colors |
| Finishing | Gloss Lamination, Matte Lamination, Gloss AQ, Gloss UV, Matte UV, Spot UV, Embossing, Foiling |
| Included Options | Die Cutting, Gluing, Scored,Perforation |
| Additional Options | Eco-Friendly, Recycled Boxes, Biodegradable |
| Proof | Flat View, 3D Mock-up, Physical Sampling (On request) |
| Turnaround | 4 - 8 Business Days, RUSH |
| Shipping | FLAT |
Cardboard and Kraft paperboard are commonly used for macaron packaging boxes.
You can customize the shape, size, style, design, print, and packaging material of your macaron packaging boxes.
There is no minimum order quantity for macaron packaging boxes. You can order from 50 to 3000 pcs per order.