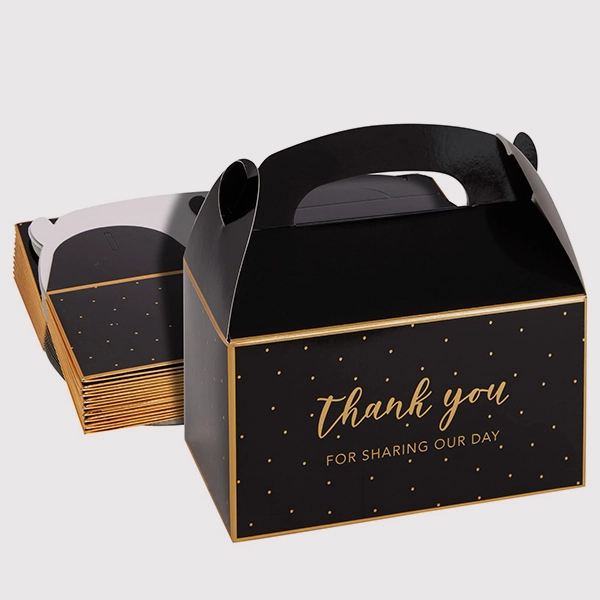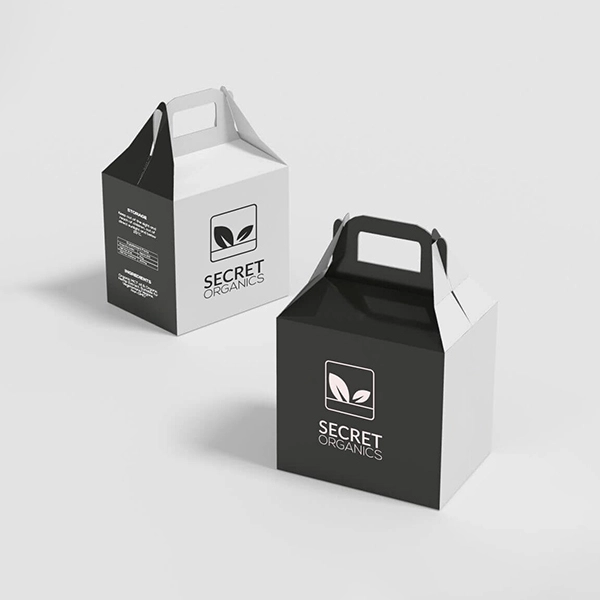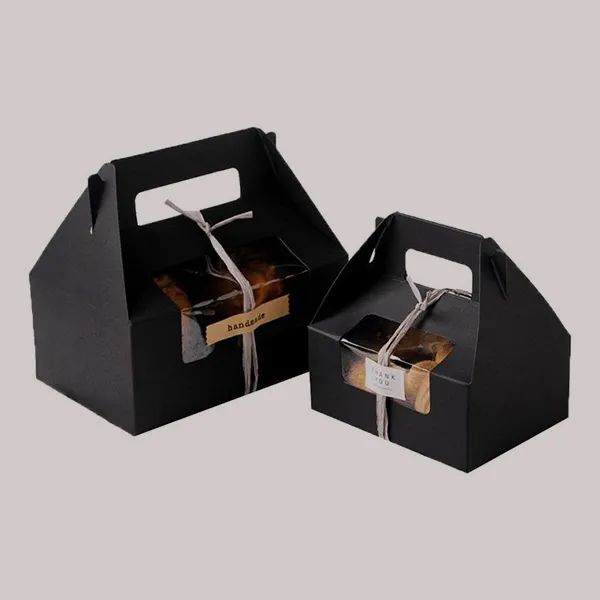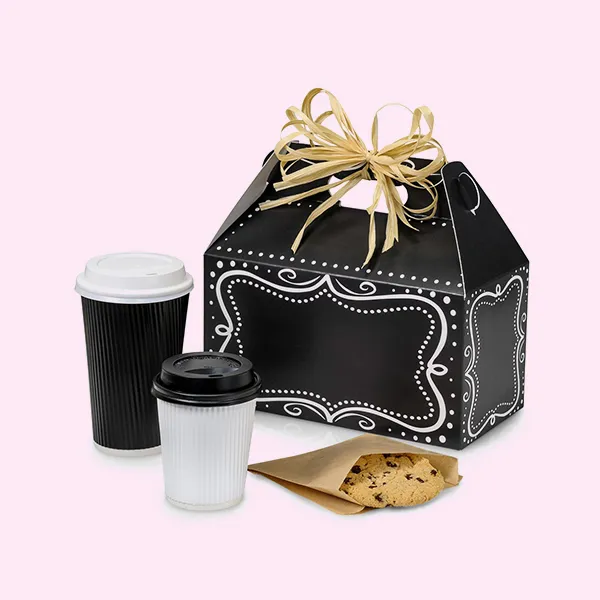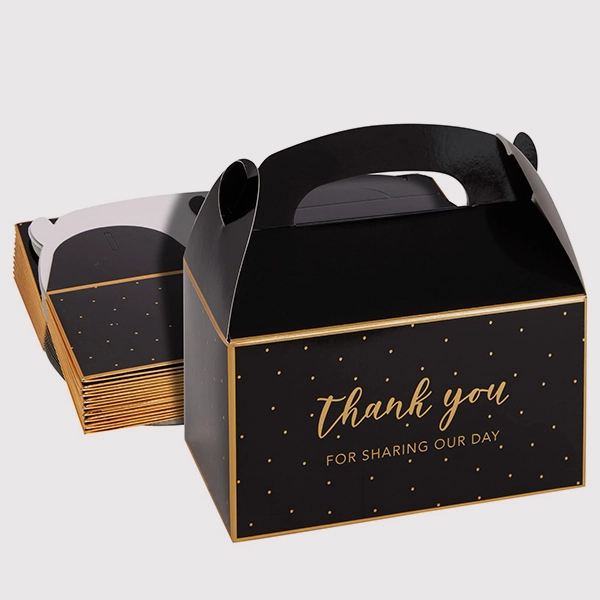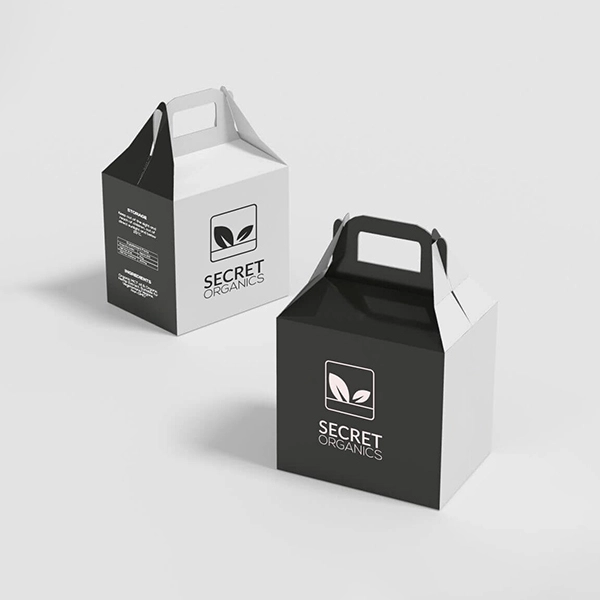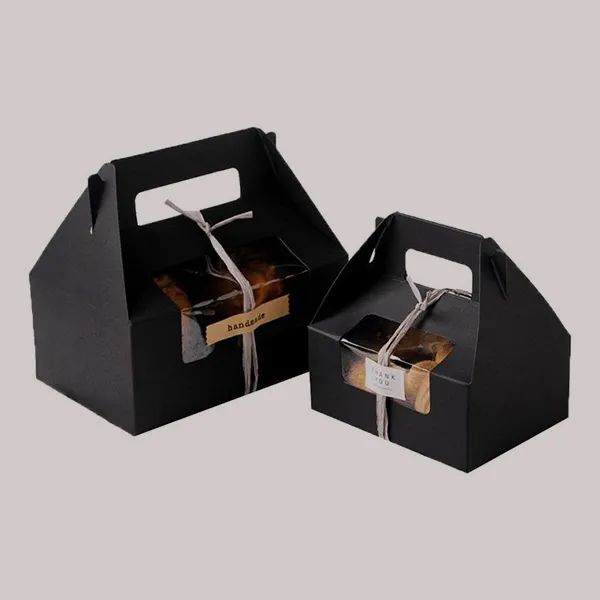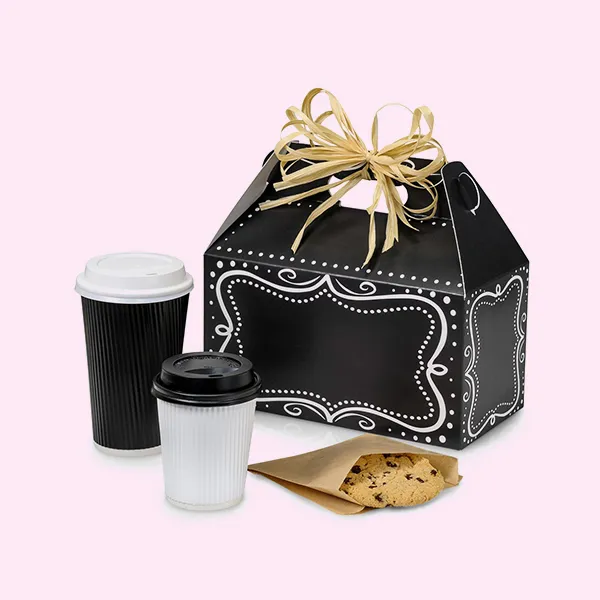 Custom Black Gable Boxes
Experience packaging excellence with black gable boxes. These versatile and stylish boxes are ideal for various occasions, enhancing your brand's appeal. Crafted with precision, they create a memorable unboxing experience that leaves a lasting mark.
Shop with Confidence
Money
Back Guarantee


Black Gable Boxes For a Mesmerizing Unboxing Experience
Black gable boxes are a versatile and stylish packaging option that can be used for various purposes. They're made from durable cardboard and are available in a variety of sizes, making them perfect for food and beverage companies, retailers, e-commerce businesses, and gift-givers.
Noah Packaging is a leading provider of black gable boxes. We offer a wide variety of sizes and styles to fit your needs, and we can also customize your boxes with your logo or branding. Our custom gable boxes are made from high-quality materials and are designed to protect your products during shipping and handling.
Black Gable Boxes for Every Occasion
Our black gable boxes are more than just packaging. They play a crucial role in your celebration. You can use them to present delicate jewelry pieces, share delectable treats, or send tokens of appreciation. They are elegant and sophisticated, making your gifts and products look even better. Our large gable boxes are sturdy and well-made, so your items will stay safe during transport. They are perfect for any occasion, from birthdays and weddings to corporate gatherings and festive events.
Your special moments deserve packaging that is as special as the occasion itself. The gable boxes' black packaging is the perfect way to show your loved ones how much you care. They are also an excellent way to promote your company and leave a positive impression on your customers.
The Unboxing Delight of Black Gable Boxes
At Noah Packaging, we manufacture black gable boxes that can make your customer's unboxing experience truly magical. When they open their package and see a black gable box, they will be instantly drawn to its sleek and elegant design. As they run their fingers over the smooth surface, they will feel a sense of excitement and anticipation. The act of unboxing the box will become a symphony of sensations, from the tactile pleasure of touching the smooth cardboard to the visual delight of seeing the beautiful design.
As soon as customers unbox a black gable box, they will be reminded of your brand's commitment to quality and craftsmanship. They will also be left with a lasting impression of your brand's value.
Personalized Black Gable Boxes That Speak Volumes
Personalized black gable boxes are a great way to make your packaging stand out from the crowd. We can add your logo, a heartfelt message, or any other design element that you think will resonate with your customers. Personalized boxes are a great way to show your customers that you care about them and that you put thought and effort into their experience.
When you personalize your large black gable boxes, you are creating a lasting impression on your customers. Each time they see the box, they will remember the thoughtfulness and care that you put into it. This will make them more likely to do business with you again in the future. With our personalized gable boxes, you can show your customers that you value them as individuals. This will make them feel more connected to your brand and more likely to be loyal customers.
The Charm of Black and White Striped Gable Boxes
Our black and white striped gable boxes are a reflection of timeless charm that never goes out of style. With their classic black and white stripes, they bring an air of sophistication to every unboxing experience. The fusion of tradition and modernity creates a visual delight that leaves a lasting impression. Whether you're presenting delicate keepsakes, gourmet delights, or cherished gifts, these boxes add an extra layer of charm to your offerings. Crafted with an unwavering commitment to quality, these striped gable boxes ensure your items are not only well-protected but also beautifully presented.
Partner for Success with Noah Packaging!
At Noah Packaging, we are committed to making your brand shine with our high-quality black gable boxes. These luxury boxes are a perfect blend of style and quality, giving your products a touch of timeless elegance. But it's more than looks; it's about values. We are concerned about the environment and use environmentally friendly materials. With us, you're not just getting boxes; you're getting a partnership that's committed to your success and the planet. Contact us today to get your first instant quote for black gable boxes!
Read more
| | |
| --- | --- |
| Box Style | Gable Boxes |
| Dimension (L + W + H) | All Custom Sizes and Shapes |
| Quantities | No Minimum Order Required |
| Paper Stock | 10pt to 28pt (60lb to 400lb) Eco-Friendly Kraft, E-flute Corrugated, Bux Board, Cardstock |
| Printing | No Printing, CMYK, CMYK + 1 PMS color, CMYK + 2 PMS colors |
| Finishing | Gloss Lamination, Matte Lamination, Gloss AQ, Gloss UV, Matte UV, Spot UV, Embossing, Foiling |
| Included Options | Die Cutting, Gluing, Scored,Perforation |
| Additional Options | Eco-Friendly, Recycled Boxes, Biodegradable |
| Proof | Flat View, 3D Mock-up, Physical Sampling (On request) |
| Turnaround | 4 - 8 Business Days, RUSH |
| Shipping | FLAT |
Absolutely! Black gable boxes are versatile, perfect for any event, from birthdays to business gatherings.
Yes, you can! We offer personalized options to showcase your brand's identity on black gable boxes.
Certainly! We offer bulk ordering options for your convenience.
Yes, indeed. Black gable boxes are excellent for packaging a variety of goodies and treats.
Of course! We offer sample options so you can ensure the perfect fit before placing a larger order.