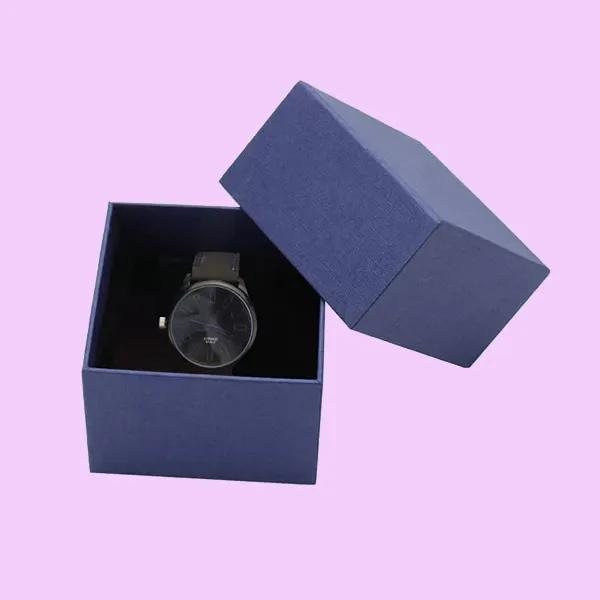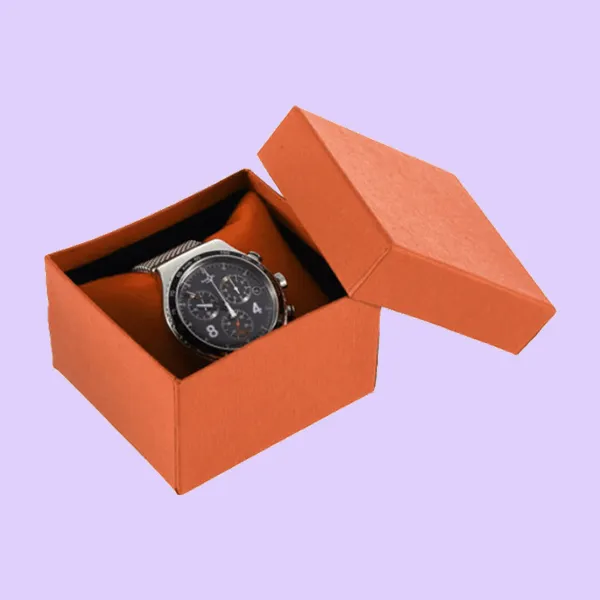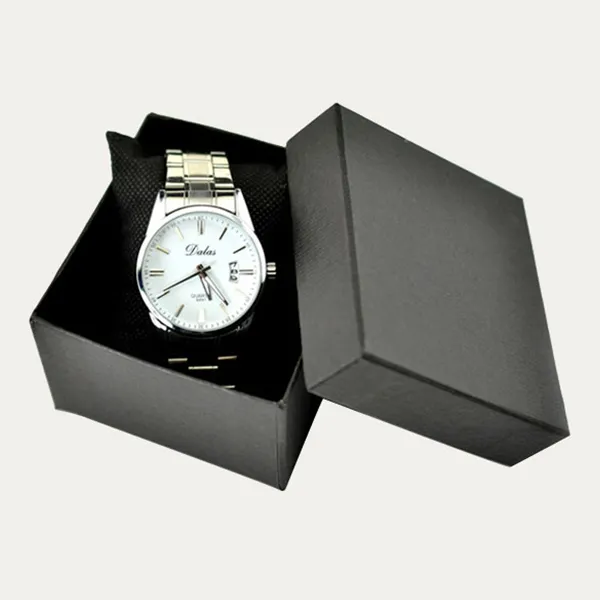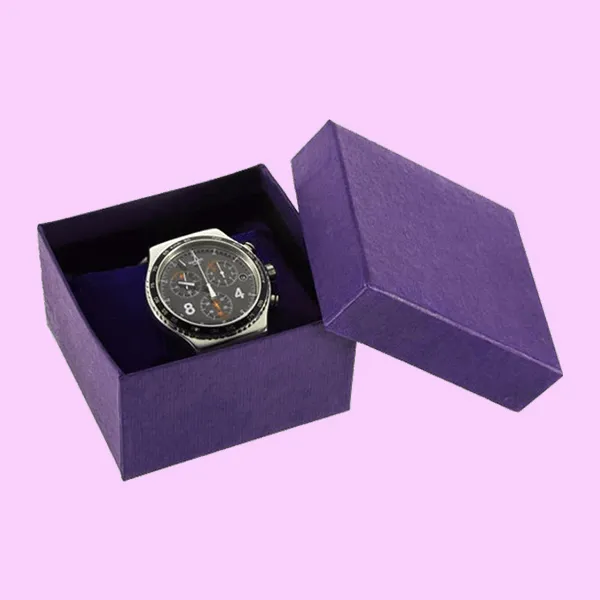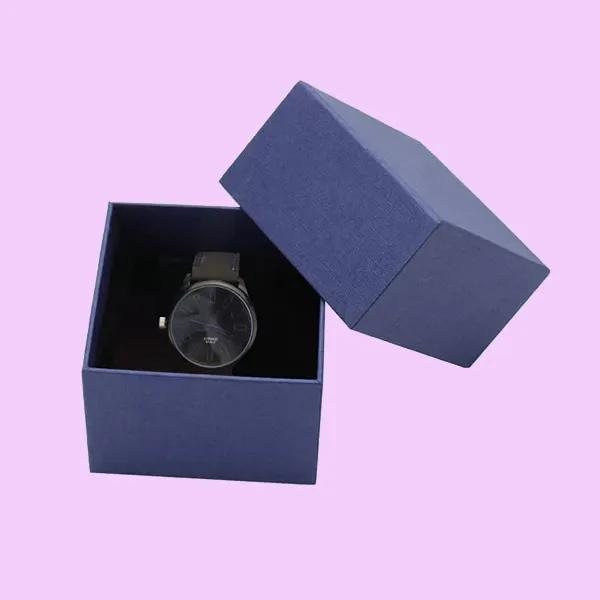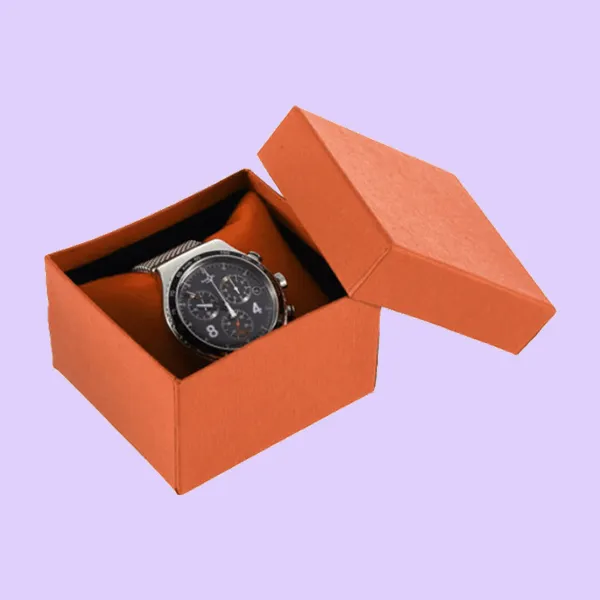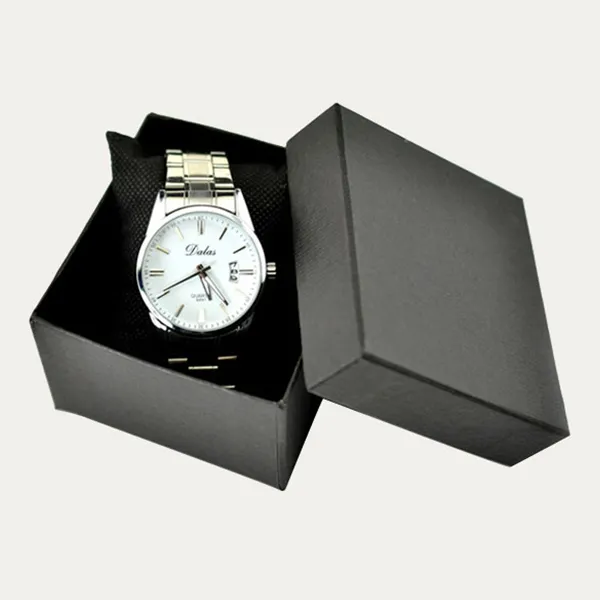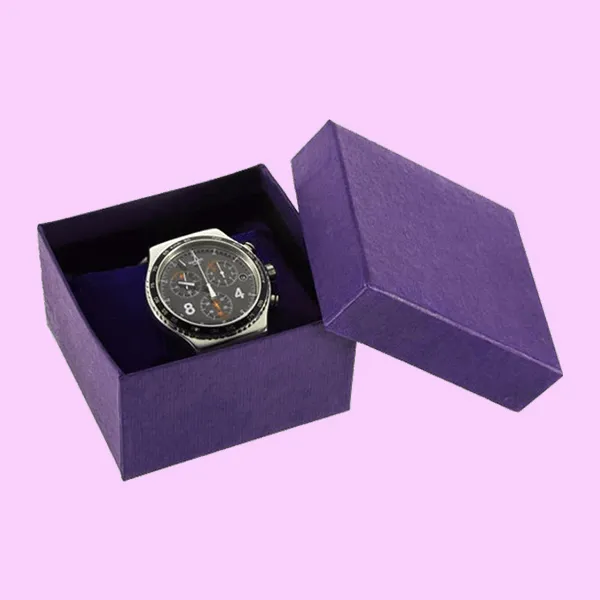 Rigid Wrist Watch Boxes
At Noah Packaging, we manufacture wrist watch boxes that are attractive and functional. These boxes are sure to protect your watches and showcase them elegantly on retail shelves. When customized, these boxes look luxurious and give your products a luxurious look and feel.
Shop with Confidence
Money
Back Guarantee


Present Your Watches in Style With Our Exquisite Wrist Watch Boxes
In the world of wristwatches, presentation is everything. The way you showcase your timepieces can have a significant impact on how they are perceived by your target market. That's why we at Noah Packaging are proud to present our collection of wrist watch boxes, a fusion of elegance, functionality, and unrivaled craftsmanship. These meticulously designed and impeccably crafted boxes are not just boxes; they are a reflection of your brand's commitment to excellence.
The Perfect Blend of Luxury and Protection for Wrist Watch Boxes
Enhance the allure of your wristwatches with our premium collection of rigid wrist watch boxes. Crafted to perfection, these boxes exude luxury and sophistication while ensuring the utmost protection for your valuable timepieces. Our attention to detail and commitment to quality make our wrist watch boxes the perfect choice for businesses seeking to create a lasting impression.
From elegant designs to durable construction, our wrist watch rigid boxes are the epitome of excellence. Each box is meticulously engineered to provide a secure and snug fit for your wristwatches, eliminating any risk of damage during transit or storage.
Unleash Your Creativity With A Cardboard Watch Gift Box
Crafted with precision and creativity, our cardboard wrist watch boxes combine functionality with aesthetic appeal, making them a perfect fit for businesses of all sizes. With a wide range of colors, finishes, and printing options available, you can create a captivating packaging design that stands out. Let your imagination run wild as you explore various customization possibilities, including embossing, foiling, and window cut-outs, to create a truly memorable unboxing experience for your customers.
The durability of our cardboard watch gift box ensures that your timepieces are safe during shipping and handling. Constructed from sturdy materials, these boxes safeguard your watches from any potential damage.
Unparalleled Elegance and Versatility
Our wrist watch packaging box options allow you to create a packaging experience that resonates with your target audience. From minimalist and sleek designs to elaborate and ornate styles, we can cater to your unique requirements. With our wide array of finishes, such as glossy, matte, and textured, you can add a touch of luxury and exclusivity to your watch packaging boxes.
In addition to their visual appeal, our wrist watch boxes offer unparalleled functionality. The interior compartments allow customization to fit various watch sizes and styles, ensuring a secure and snug fit.
Custom Wrist Watch Boxes Tailored to Perfection
At Noah Packaging, we understand that every brand has its own story to tell. That's why we offer custom watch boxes wholesale solutions that enable you to showcase your unique identity and capture the essence of your brand. Our team of experts will collaborate with you to bring your vision to life, designing bespoke watch packaging that reflects your brand's values and resonates with your target audience.
From embossed logos to intricate patterns, every detail is meticulously crafted to showcase the unique character of your brand. The result is custom watch packaging that not only protects your timepieces but also becomes a testament to your brand's commitment to excellence.

Offer An Unforgettable Unboxing Experience
We understand that the unboxing experience plays a significant role in customer satisfaction and brand loyalty. That's why we go above and beyond to create packaging solutions that captivate and engage your customers from the moment they receive their purchase.
Our wrist watch packaging evokes a sense of anticipation and excitement. From elegant magnetic closures to luxurious velvet linings, every element is carefully curated to create a memorable unboxing experience.
Furthermore, our wrist watch packaging allows enhancement with additional features such as compartments for extra straps or tools, ensuring that your customers have everything they need in one convenient package. Also, do check out our wallet boxes on our website and avail customizations for those boxes too!
Choose Us As Your Packaging Partner!
Are you ready to elevate your brand and make a lasting impression with our exquisite and affordable wrist watch boxes? Contact us today to discuss your unique packaging needs and let our team of experts guide you through the process of creating custom watch boxes wholesale that reflect the essence of your brand.
Don't miss out on the opportunity to showcase your wristwatches with unmatched elegance and style. Choose Noah Packaging as your trusted partner and unlock the potential of exceptional packaging. Request a quote, explore our customization options, and take your brand to new heights of sophistication and success. Your timepieces deserve nothing less than the best!

Read more
| | |
| --- | --- |
| Box Style | Rigid Boxes |
| Dimension (L + W + H) | All Custom Sizes & Shapes |
| Quantities | No Minimum Order Required |
| Paper Stock | 10pt to 28pt (60lb to 400lb) Eco-Friendly Kraft, E-flute Corrugated, Bux Board, Cardstock |
| Printing | No Printing, CMYK, CMYK + 1 PMS color, CMYK + 2 PMS colors |
| Finishing | Gloss Lamination, Matte Lamination, Gloss AQ, Gloss UV, Matte UV, Spot UV, Embossing, Foiling |
| Included Options | Die Cutting, Gluing, Scored,Perforation |
| Additional Options | Eco-Friendly, Recycled Boxes, Biodegradable |
| Proof | Flat View, 3D Mock-up, Physical Sampling (On request) |
| Turnaround | 4 - 8 Business Days, RUSH |
| Shipping | FLAT |
The materials that are commonly used to manufacture wrist watch boxes are cardboard, rigid, kraft, and corrugated. These materials not only offer durability but also make the watches look eye-catching.

Definitely! The wrist watch boxes could be customized with your specific desired designs or logos. As a result, your brand becomes more recognizable to customers.
Absolutely! You can order wrist watch boxes in bulk at wholesale rates from us. This will help you stock up on boxes at once, eliminating the need to order boxes more often.
Sure thing! With us, you can get the wrist watch boxes custom printed with your desired features. A number of printing techniques that we offer are sure to enhance your brand's visibility in the marketplace.
Yes, the wrist watch boxes we offer are available in different colors or patterns. The colors and patterns we utilize to craft your boxes are sure to make your boxes look distinctive on the shelves.