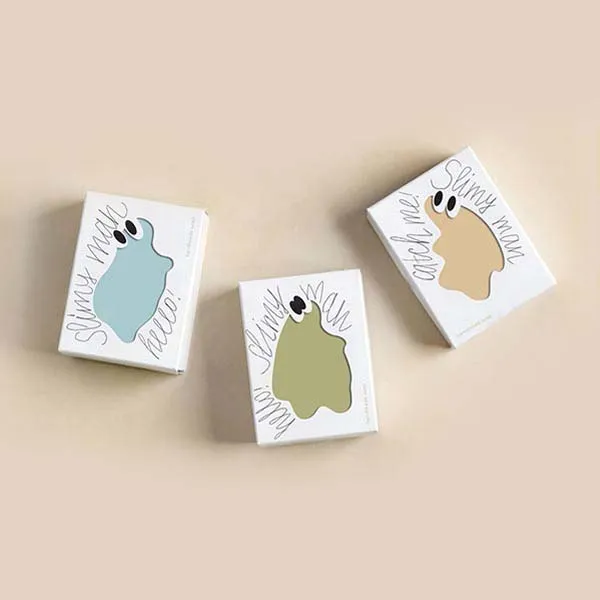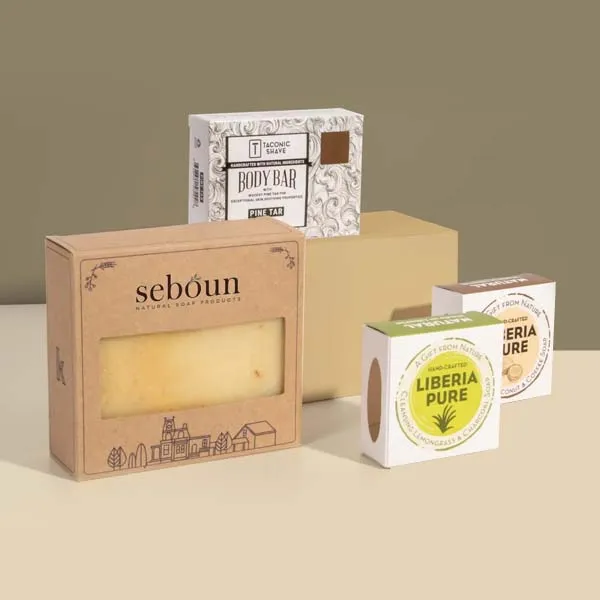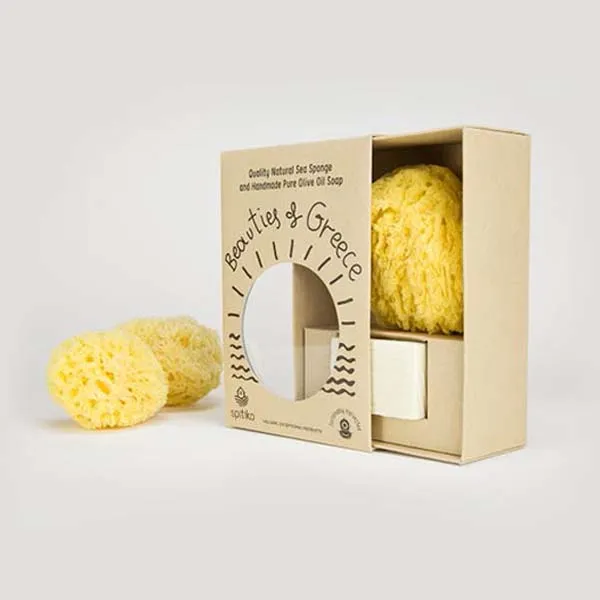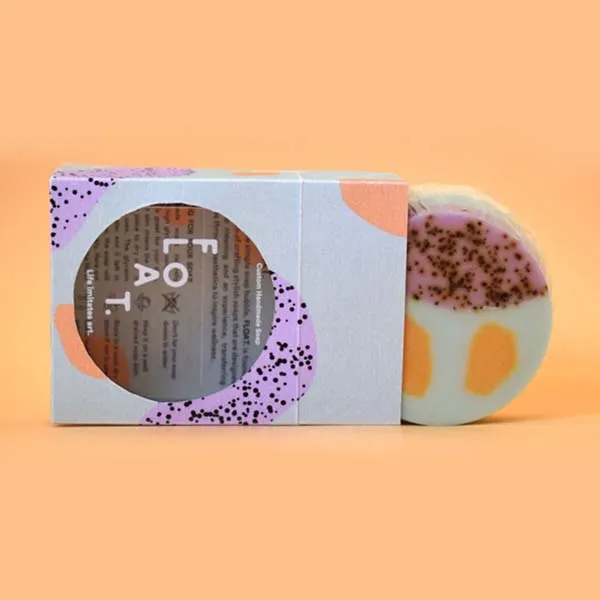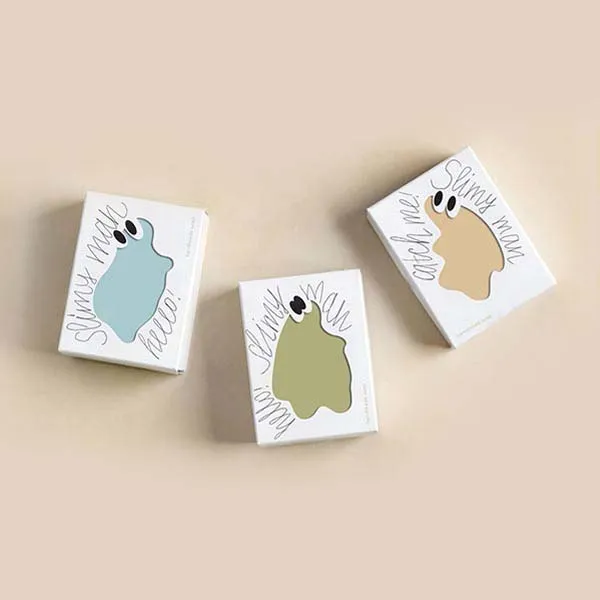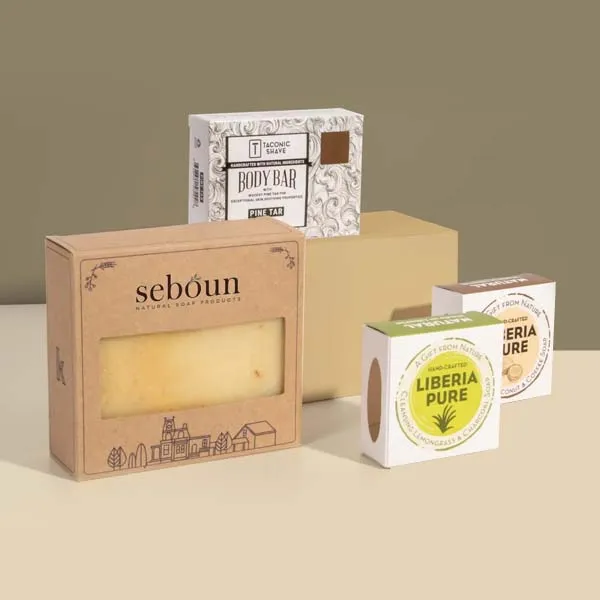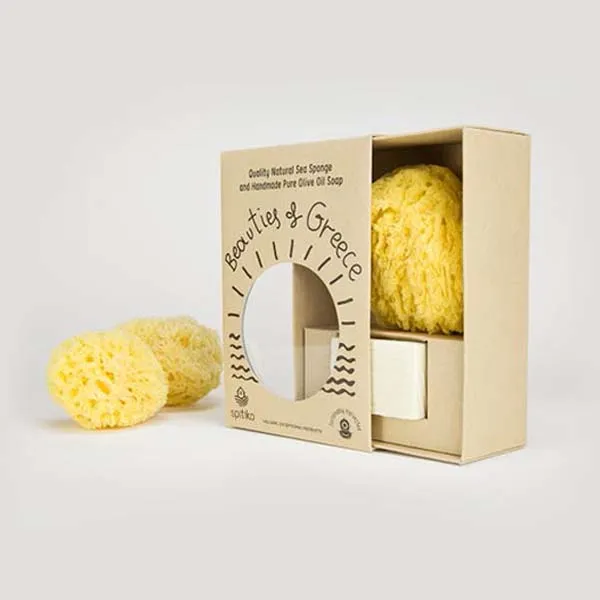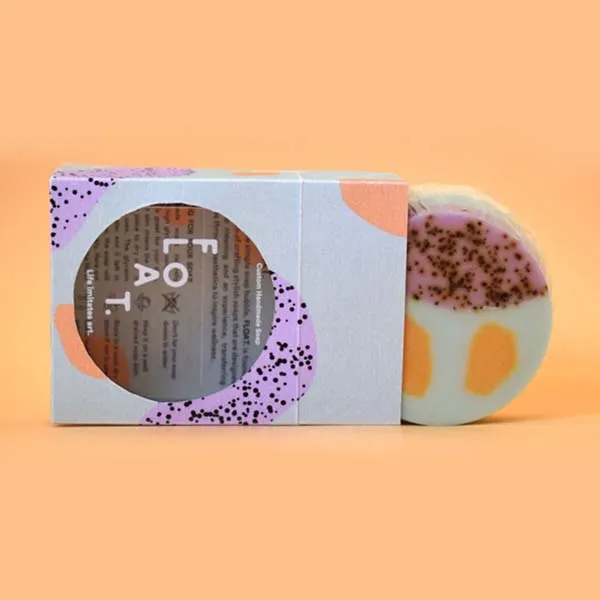 Custom Window Soap Boxes
Customizing window soap boxes is a great way to showcase your soaps. Therefore, we offer our customers various customization features. You can choose any size, style, design, and shape for custom soap boxes with window. Additionally, we offer discounts on wholesale custom window soap boxes. So place your order now!
Shop with Confidence
Money
Back Guarantee


Showcase Your Soaps with Our Window Soap Boxes
Presentation is everything in the packaging industry. When customers buy products, they look at how they are packed. Our Window Soap Boxes are great because they let customers see the soap inside without opening the box. This makes soaps look special and invites customers to take a closer look. So these soap boxes are just perfect to show off your soaps elegantly.
Benefits of Using Window Soap Boxes
Window soap boxes not only benefit customers but also benefit your brand. Here are some of the main advantages of using our boxes with windows:
Visibility and Attractiveness
Window Packaging Boxes allow customers to see the actual product inside. This can reduce the uncertainty about what they are buying and increase trust. Also, the window provides a modern look that attracts the eye. Hence, it makes your soap products stand out on retail shelves.
Besides showcasing the product, these boxes also perform their primary function: protection. They protect the soaps from potential damage during transportation. Thus, they ensure that the products remain in the best condition by keeping out dirt and other contaminants.
A white soap box with window allows you to showcase your unique soap designs and textures. This visual appeal can boost your brand's image. Also, these boxes with windows provide ample space for logos, brand colors, and other branding elements.
The versatility of window soap boxes allows you to choose from a variety of window shapes, sizes, and positions. Whether it's a full window, a die cut, or a unique shape, customization options are vast. You can choose the style that best aligns with your brand's theme, personality, and style.
Add A Personal Touch with Custom Soap Boxes with Window
Customization is a smart approach to adding a personal touch. It acts as a secret brand ambassador to promote your brand. Customization brings the following advantages to your brand.
First of all, custom printed window soap boxes differentiate your soap products. Thus, they help you create your unique brand identity in a crowded market. Secondly, you can embed your unique brand identity on your custom soap boxes with window. You can do this by adding your brand's logo, mission, values, and theme. All these branding elements make your brand easily recognizable, even from afar.
Thirdly, you can choose any size, style, shape, and color of Custom Window Soap Boxes. When you pack your products in perfectly sized packaging, there are fewer chances of damage during transportation. So it helps you win customers' hearts as they get their products in the best condition. In short, customization benefits your brand in various ways.
Add Transparency to Your Brand with Window Soap Boxes
Window soap boxes allow you to add transparency to your brand. First of all, the clear window helps you gain customers' trust as they can see the color, texture, and quality of the soap. Further, you can add product details, usage instructions, and other important details on packaging boxes.
Moreover, you can win customers' trust by sharing your contact details. So customers can get in touch with you in case they need any further information. All this makes your brand more reliable and trustworthy in the eyes of your customers.
Go Green with Kraft Soap Boxes with Window
Awareness regarding the green environment is increasing among customers. So, shifting towards sustainable packaging is the need of the hour. Therefore, we offer custom designed kraft soap boxes with window.
We use recyclable and biodegradable material, kraft, to manufacture these boxes. This material doesn't add pollutants to the environment. Thus, you can attract eco-conscious customers and earn more profit with a stronger customer base.
Appeal to Customers with Eye-Cathy Printing
Custom printed window soap boxes grab customers' attention in just a few seconds. That's why we use the latest printing tools and techniques. We use the following two methods for printing window soap boxes:
Offset Printing
Digital Printing
Both of these printing methods result in quality images on Custom Soap Boxes with window. Furthermore, we use lively and vibrant colors to make your printing more appealing. Moreover, you can choose any single color or combination of colors, such as CMYK, CMYK + 1 PMS, or CMYK + 2 PMS. All these colors capture customers' attention at the very first glance and help you get more sales.
Why is Noah Packaging a Premium Choice?
Getting high-quality packaging at affordable rates is no longer a dream with Noah Packaging. We are well aware of the significance of high-quality packaging. That's the reason we never compromise on the quality of our manufacturing materials.
Here are some of the reasons why Noah Packaging is a premium choice.
We offer white soap boxes with window at affordable prices. You won't get a better offer from any other packaging company. Besides, unlike other packaging manufacturers, we don't have any hidden or extra charges.
Our expert team of designers helps you at each step of customization. So you can choose the packaging that perfectly matches your brand's style and theme. In addition, you can share your packaging ideas with us. And we will turn your imaginations into astonishing packaging.
Super-Fast and Free Shipping
We offer our customers super-fast and free shipping all around the USA. You don't need to pay a penny to get your white soap box with window delivered to your doorstep. Furthermore, we have the quickest turnaround time in the packaging industry. So you will receive your custom window soap boxes within 12-15 working days.
We promise to provide high-quality window soap boxes. We provide quality packaging regardless of the size of the project. Also, we maintain premium quality throughout all our products by employing strict quality control measures.
Eco-Friendly Packaging Solutions
We understand the importance of a sustainable environment. Therefore, we offer our customers eco-friendly packaging solutions. We use recyclable and biodegradable packaging materials to reduce your brand's carbon footprint on the environment. So we offer a helping hand to show your commitment to sustainability.
Do you have some questions flashing through your mind? Don't hesitate to ask them; our live chat support team is always eager to listen to you.

Want to Save More?
If you want to save a handsome amount, our wholesale deals are for you. Yes! You heard it right. We offer our customers discounts on custom window soap boxes wholesale. Buying in bulk not only saves money but also effort and time.
Furthermore, it ensures consistent quality across all your products. This increases the sense of trust and reliability among your customers. Besides, it ensures the continuity of your business, as you will never run short on window boxes wholesale. So place your order and get our amazing discount deals!

Read more
| | |
| --- | --- |
| Box Style | Soap Boxes |
| Dimension (L + W + H) | All Custom Sizes & Shapes |
| Quantities | No Minimum Order Required |
| Paper Stock | 10pt to 28pt (60lb to 400lb) Eco-Friendly Kraft, E-flute Corrugated, Bux Board, Cardstock |
| Printing | No Printing, CMYK, CMYK + 1 PMS color, CMYK + 2 PMS colors |
| Finishing | Gloss Lamination, Matte Lamination, Gloss AQ, Gloss UV, Matte UV, Spot UV, Embossing, Foiling |
| Included Options | Die Cutting, Gluing, Scored,Perforation |
| Additional Options | Eco-Friendly, Recycled Boxes, Biodegradable |
| Proof | Flat View, 3D Mock-up, Physical Sampling (On request) |
| Turnaround | 4 - 8 Business Days, RUSH |
| Shipping | FLAT |
They are popular in packaging because they allow customers to view the product inside. Thus, enhancing product visibility, helping in branding, and boosting customer trust.
You can choose the right design for your window soap packaging by aligning it with your brand theme, vision, personality, and style.
Yes, Noah Packaging offers them in various shapes, sizes, colors, styles, and designs.
Yes, you can order them in bulk and enjoy handsome discounts.

Yes, you can use these boxes for different soap shapes and sizes. Or you can also customize them to fit your products perfectly.