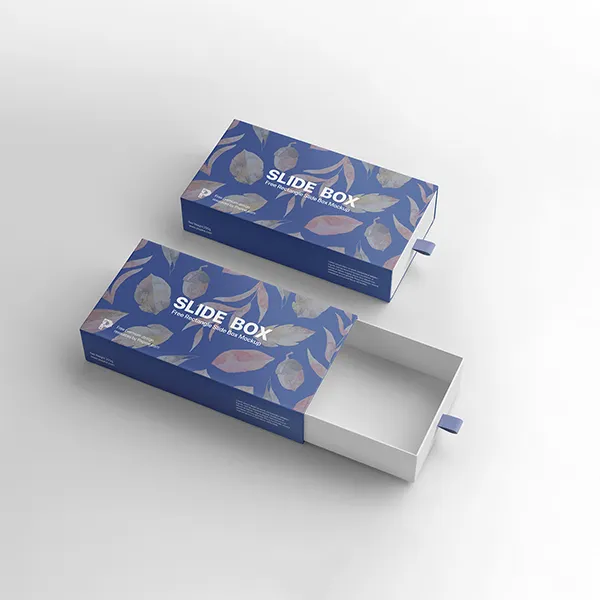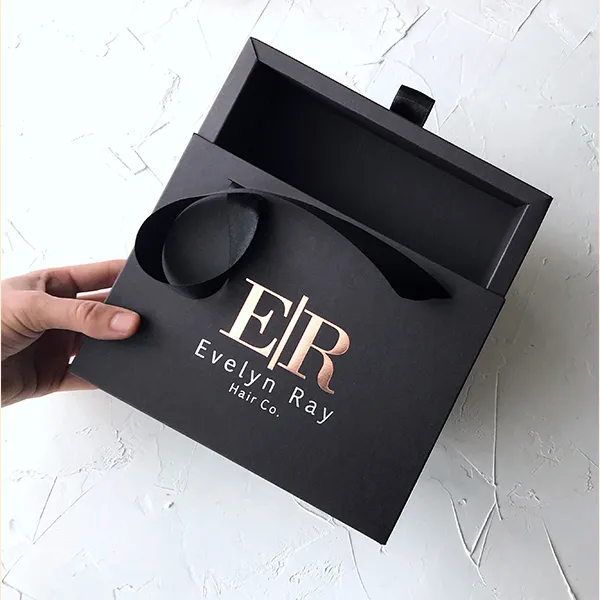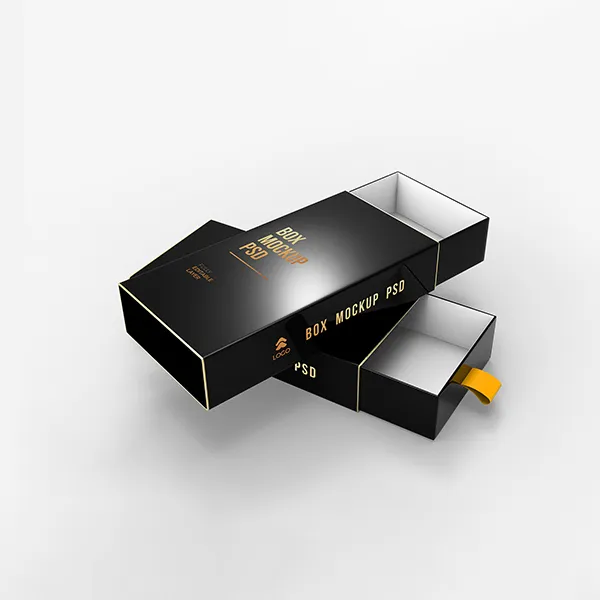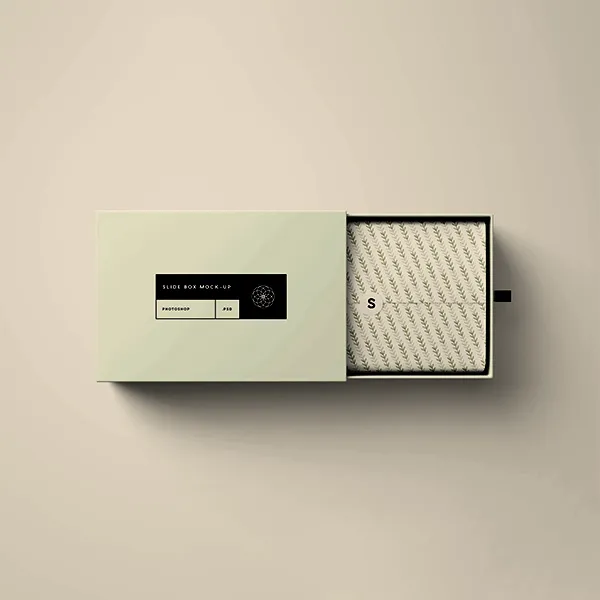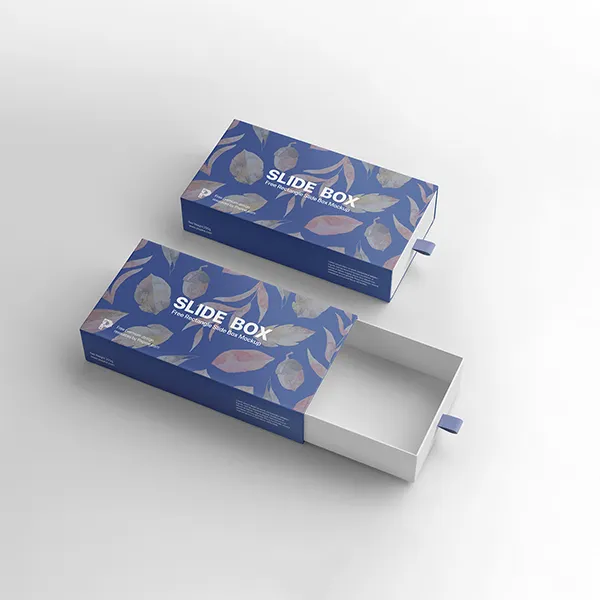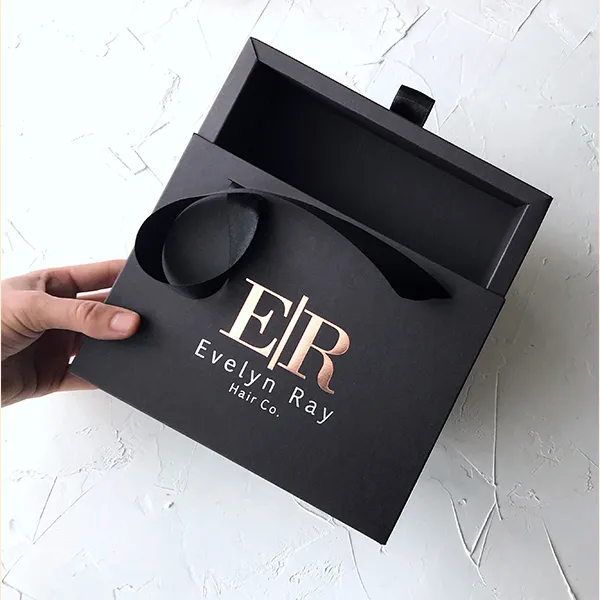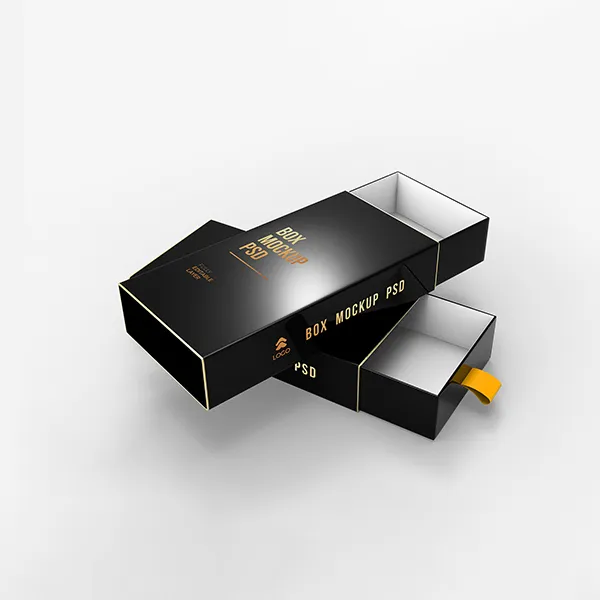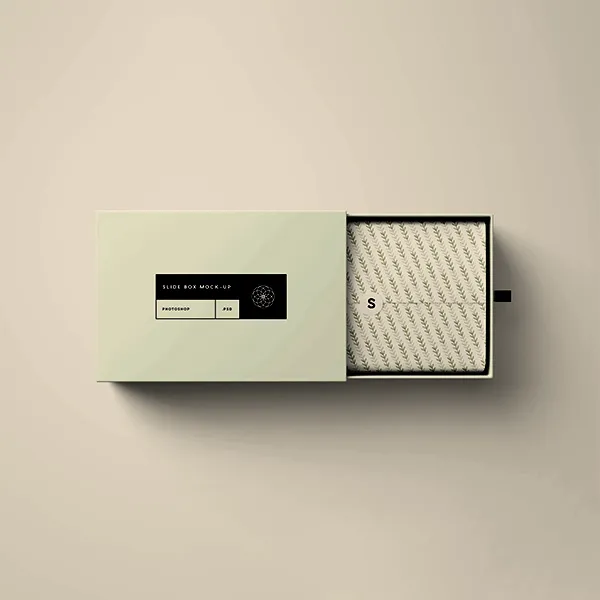 Slide Box Packaging
Slide box packaging offers a sleek and functional solution for your products. It's customizable design and sturdy construction make it an ideal option for various industries. With the growing demand for sustainability in packaging, slide boxes can also be made from eco-friendly materials, making them a responsible choice for businesses.
Shop with Confidence
Money
Back Guarantee


Slide Box Packaging: Sleek and Functional Solutions for Your Products
In today's competitive market, businesses must stand out to succeed. One way to do this is through custom slide box packaging. It is important to know that packaging is often the first contact between a consumer and a product. Customers are greeted by the product packaging before they even see or touch the actual item. Therefore, you must pay attention to the packaging design as it can make or break your sales.
For this, slide box packaging is a versatile solution that can be tailored to fit any product size or shape. It provides superior protection during shipping and handling, reducing the risk of damage or breakage. It also allows you to showcase your brand through personalized graphics and messaging, making a lasting impression on customers and potential clients. Therefore, investing in slide box packaging may seem like an additional expense, but the returns are well worth it.
Enhance Customer Experience with Sliding Rigid Boxes
Sliding boxes are popular among businesses looking to enhance customer experience. You can see match slide rigid boxes as an example. These boxes are a great way to make your brand stand out in the marketplace, and they offer many benefits that can help you build stronger relationships with your customers. One of the key advantages of slide box packaging is its versatility. These rigid boxes can be designed in any shape or size, which means they can accommodate almost any product. They are also highly customizable, allowing you to add your logo or branding elements for a more personalized touch.
How to Design Your Custom Sliding Boxes with Noah Packaging?
Designing slide box packaging allows you to create a unique and eye-catching package representing your brand. At the same time, it may seem a little daunting, but with the right steps, designing your custom sliding boxes can be an enjoyable and rewarding experience. Below, we have mentioned the process of designing your custom slide box packaging with Noah Packaging.
1: Determine the size and shape of the custom sliding boxes
A: Firstly, determine the size and shape of the product you want to package. This step is crucial as it determines the dimensions of the box required.
2: Consider the message you want to convey through packaging
A: Your packaging is the first contact between the customer and your brand. Therefore, the packaging needs to be attractive as well as informative at the same time. Before designing your custom slider boxes, consider the purpose of your product and what message you want to convey through the packaging. It could range from showcasing a luxury product or highlighting eco-friendliness.
3: What packaging material do you want to choose?
A: Next, choose the appropriate materials for your packaging based on its contents and intended use. You may opt for sturdy cardboard or corrugated boxes for heavier products or sustainable options such as biodegradable plastic alternatives for eco-friendly products.
Durability and Flexibility of Custom Slide Open Boxes
Custom slide open boxes are one of the most popular choices for businesses that want to package their products uniquely and stylishly. Custom drawer boxes are not only visually alluring but are also known for their durability and flexibility. Combining these two features makes them a popular choice among businesses of all sizes.
The durability of slide box packaging comes from its sturdy construction. These boxes are made using high-quality materials that can withstand the rigors of shipment and handling. They are designed to protect your products from damage during transit, which helps ensure that they arrive at their destination in pristine condition.
Another key feature of slide box packaging is its flexibility. These slider boxes can be customized to fit any product size or shape, making them an ideal option for businesses with unique or irregularly shaped products.
Why Choose Noah Packaging for Your Wholesale Packaging?
If you are searching for high-quality slide box packaging, look no further than Noah Packaging. We offer a wide range of white slide boxes and custom drawer boxes that are perfect for businesses of all sizes. Our team is committed to delivering top-notch customer service from start to finish.
When you contact us, we will work closely to understand your unique needs and create a customized solution that meets your specifications. Whether you want to customize the rigid set up boxes or match slide rigid boxes, we are here to help. Moreover, we use only the premier quality materials and manufacturing processes to ensure that every product we produce is durable and reliable.
Therefore, if you have any questions regarding customization for your custom slide open boxes, you can contact us at sales@noahpackaging.com to get in touch with our customer support team.
Read more
| | |
| --- | --- |
| Box Style | Rigid Boxes |
| Dimension (L + W + H) | All Custom Sizes and Shapes |
| Quantities | No Minimum Order Required |
| Paper Stock | 10pt to 28pt (60lb to 400lb) Eco-Friendly Kraft, E-flute Corrugated, Bux Board, Cardstock |
| Printing | No Printing, CMYK, CMYK + 1 PMS color, CMYK + 2 PMS colors |
| Finishing | Gloss Lamination, Matte Lamination, Gloss AQ, Gloss UV, Matte UV, Spot UV, Embossing, Foiling |
| Included Options | Die Cutting, Gluing, Scored,Perforation |
| Additional Options | Eco-Friendly, Recycled Boxes, Biodegradable |
| Proof | Flat View, 3D Mock-up, Physical Sampling (On request) |
| Turnaround | 4 - 8 Business Days, RUSH |
| Shipping | FLAT |
With Noah Packaging, you can order your slide boxes in bulk at highly affordable rates.
Yes, you can get custom printing on your slide boxes and print your logo, message, and designs on the packaging.
Noah Packaging offers a free sample of your custom slide boxes before you place an order in bulk.