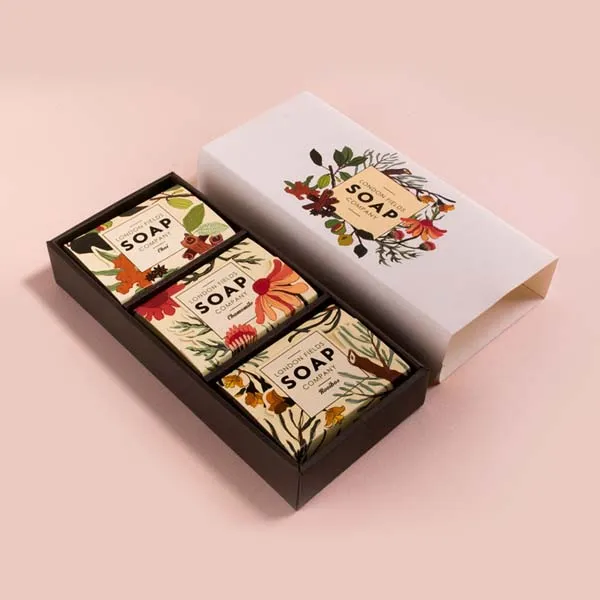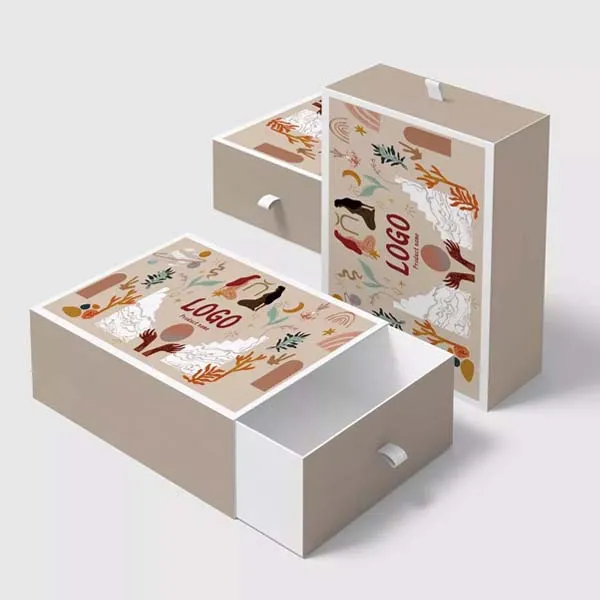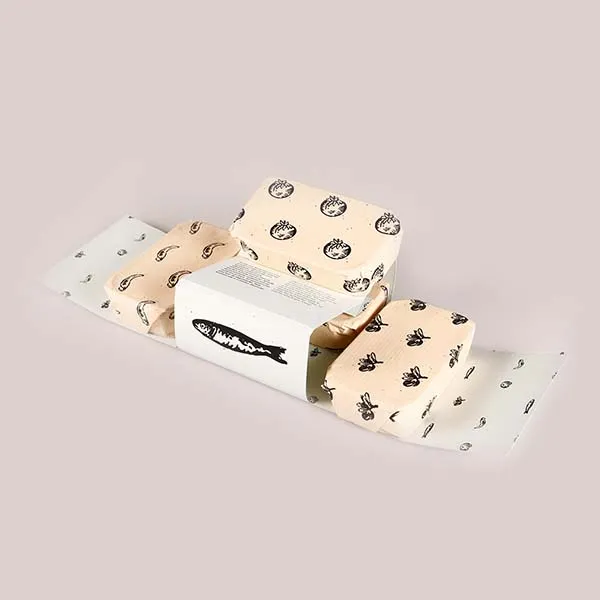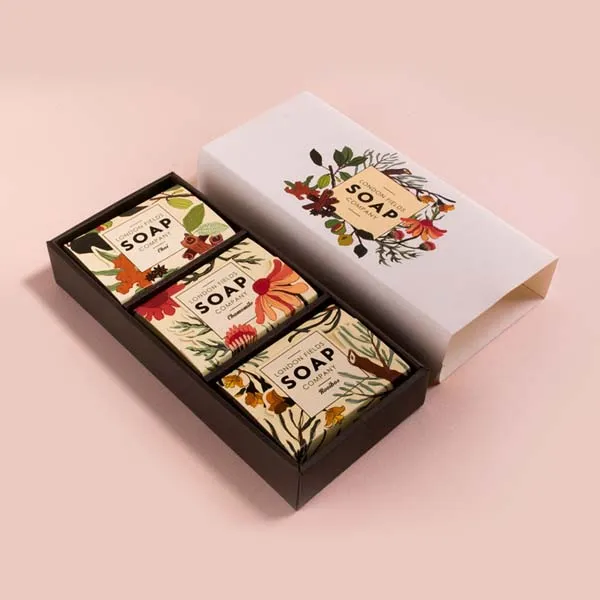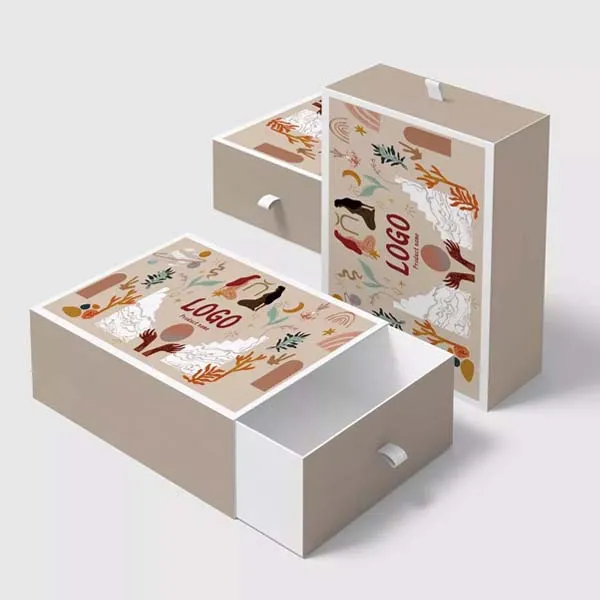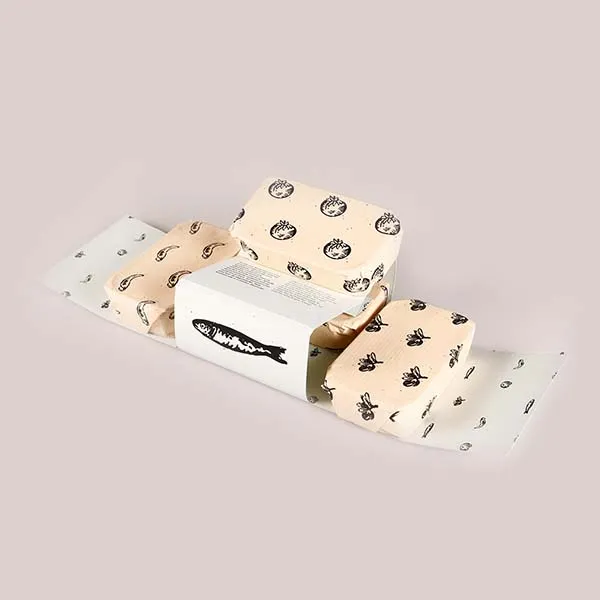 Soap Sleeve Packaging
Using sustainable soap sleeve packaging helps you grab customers' attention. At Noah Packaging, you can choose any material, size, style, design, and shape. Also, we use the latest printing techniques for custom soap sleeves. You can also choose amazing add-ons for soap packaging sleeves. So place your order today!
Shop with Confidence
Money
Back Guarantee


Sustainable Soap Sleeve Packaging for Elegant Presentation
Are you looking for a blend of eco-friendly and elegance? Our sustainable soap sleeve packaging is perfect for it. We design it with care, ensuring your soap packaging looks as good as it feels. More than that, it captures the attention of eco-conscious customers. So, opt for the perfect balance of simplicity and sustainability.
What is Soap Sleeve Packaging?
Soap sleeves are specially designed packaging solutions for soaps. They act as a protective covering that encases soap bars either partially or fully. Made from materials such as cardboard and kraft, these boxes protect the inside soaps. Thus, they allow customers to glimpse the soap's texture, color, and quality.
What sets apart the soap sleeve packaging from other packaging types is its eco-conscious nature and versatility. The use of recyclable and biodegradable manufacturing materials showcases your brand's commitment to sustainability. On top of that, you can customize them and emotionally connect customers with you.
Besides soap sleeves, we also offer durable and high-end bath bomb boxes. Plus, we use the same premium quality material to manufacture them.
Customize Your Soap Sleeve Packaging
Customization is an excellent approach to boosting your brand identity. First of all, it allows you to choose the size, style, design, and shape according to your product. Secondly, it enables you to add your brand logo, mission, story, and values to your custom soap sleeves.
Thirdly, it distinguishes your products from competitors on retail shelves. Thus, helping you to strengthen your brand identity and shine in the market. Fourthly, you can add transparency to your brand by adding windows, product details, and other necessary info. Hence, custom soap sleeves make you more reliable in the eyes of the customers.
Besides, we also customize soap boxes wholesale. You can not only save money but also promote your brand quickly.
Types of Soap Packaging Sleeves
Soap packaging sleeves are available in a variety of sizes, shapes, styles, and designs. Here are some of the types:
Open-ended sleeves are bands that wrap around the soap, leaving the ends open. They not only protect the soap but also allow customers to touch and smell it easily. This design is simple and shows off the soap's look and feel. Additionally, you can easily print the logo and details on it. If you want to showcase your soap's natural color and texture, open-ended sleeves are the best.
They fully cover the soap, providing the utmost protection to it. This full cover makes the soap look fancy and high-quality. It is perfect for luxury soaps. Plus, there is more space on it for branding, logo, and brand info.
Window sleeves offer a unique packaging solution. They feature a transparent section, allowing customers to view the soap inside. Thus, they elevate the aesthetic appeal of the soaps and draw the attention of potential customers.
Materials Used for Custom Soap Sleeves
High-quality materials win customers' hearts in just a few seconds. Therefore, we use top-notch packaging materials for custom soap sleeves, such as
Kraft
Cardboard
Corrugated
Rigid
All these materials are highly durable, robust, and reliable. Especially our cardboard soap sleeves are in high demand due to their versatility and sturdiness. Moreover, they provide a perfect balance between aesthetic appeal and durability. Also, they are easily customizable to meet different packaging needs.
In addition, our Kraft soap sleeves offer an eco-friendly packaging solution. It is a perfect choice for you if you want to impress eco-conscious customers. Its natural brown color provides a rustic and earthy feel to enhance the aesthetic appeal.
Printing Options at Noah Packaging
Attractive printing grabs customers' attention at the very first glance. That's why we use the latest printing tools and techniques for cardboard soap sleeves. We use the following printing methods for our soap sleeve boxes:
Offset Printing
Digital Printing
Both printing techniques result in high-end images on soap sleeve packaging. Above all, we use vibrant and vivid colors to make your packaging ever livelier. You can choose any single color or combination of colors, such as CMYK, CMYK + 1 PMS, or CMYK + 2 PMS. All these colors are great and help you to bring your brand to life.
Why Should You Partner with Noah Packaging?
Noah Packaging is a premium packaging manufacturer and supplier in the packaging industry. Our customers are our pride, and we facilitate them in all possible ways. Moreover, we offer a wide range of customization features to our customers.
We are the number one choice in the market due to the following reasons:
Here are the reasons that make us the number one choice of our customers:
No die or plate charges
No hidden or extra charges
100% free shipping
Fast turnaround time
Active chat support team
Besides, our team of expert designers helps you at each step of customization. So you can choose the packaging that perfectly aligns with your brand personality.
Save More on Wholesale Orders!
We also offer our customers discounts deals on wholesale soap sleeve boxes. It helps you not only save money but also time and effort. This is because you don't need to place orders over and over again. Moreover, it will ensure the continuity of your business because of the enormous supply of soap packaging sleeves. So place your order now and enjoy our customer-oriented services.
Read more
| | |
| --- | --- |
| Box Style | Soap Boxes |
| Dimension (L + W + H) | All Custom Sizes & Shapes |
| Quantities | No Minimum Order Required |
| Paper Stock | 10pt to 28pt (60lb to 400lb) Eco-Friendly Kraft, E-flute Corrugated, Bux Board, Cardstock |
| Printing | No Printing, CMYK, CMYK + 1 PMS color, CMYK + 2 PMS colors |
| Finishing | Gloss Lamination, Matte Lamination, Gloss AQ, Gloss UV, Matte UV, Spot UV, Embossing, Foiling |
| Included Options | Die Cutting, Gluing, Scored,Perforation |
| Additional Options | Eco-Friendly, Recycled Boxes, Biodegradable |
| Proof | Flat View, 3D Mock-up, Physical Sampling (On request) |
| Turnaround | 4 - 8 Business Days, RUSH |
| Shipping | FLAT |
Yes, you can customize them to meet your specific packaging needs. You can add your brand logo, story, mission, and values to them. Thus, you can boost your brand image in the eyes of the customers.
You can choose the right design by aligning it with your brand personality and style.
Yes, you can order them in bulk to help you save money, time, and effort.
Yes, you can get soap sleeves with logo printing or branding to elevate your presence in the market.
Yes, at Noah Packaging, we offer sample soap sleeves before placing a bulk order. So you can check the quality before placing the order in bulk.