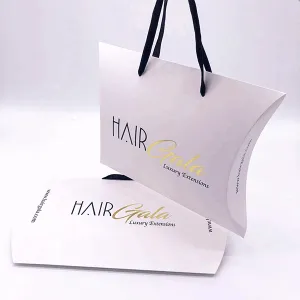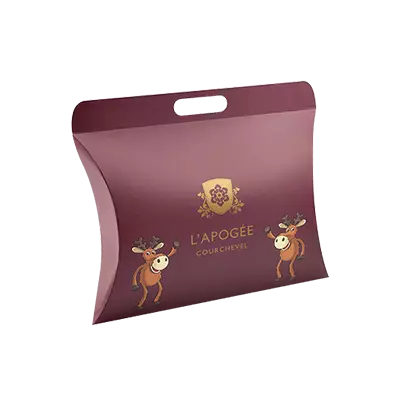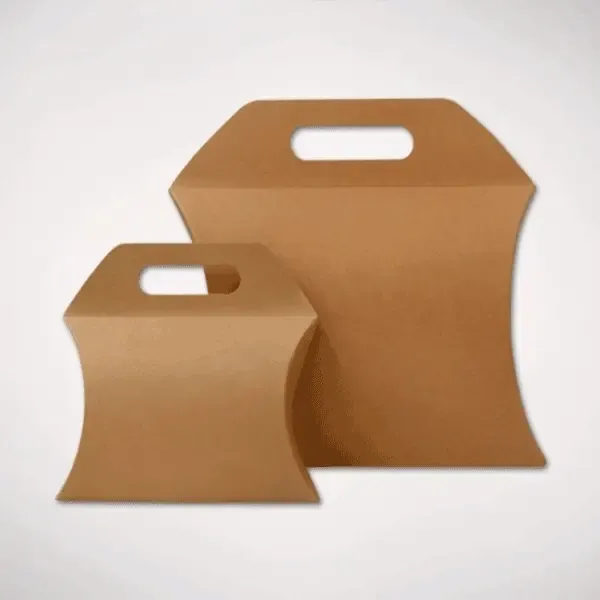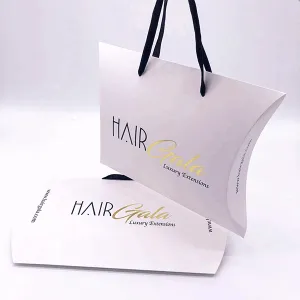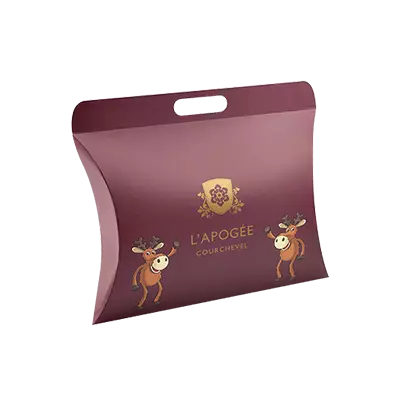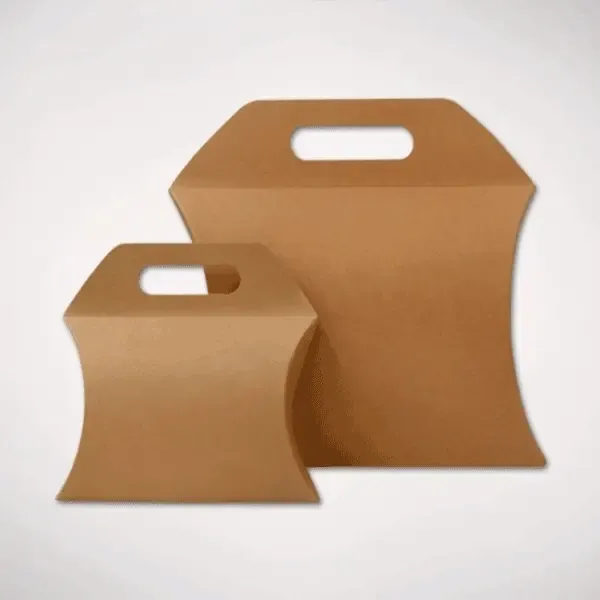 Pillow Boxes with Handle
Pillow boxes with handles are versatile packaging solutions designed for various purposes. These stylish boxes offer convenience and ease of carrying, making them ideal for gift packaging, party favors, or retail products. Crafted from durable and eco-friendly materials, these boxes provide excellent protection while adding an elegant touch to your products.
Shop with Confidence
Money
Back Guarantee


Enhance Your Brand with Sustainable and Stylish Pillow Boxes with Handles
In today's competitive packaging landscape, striking the perfect balance between sustainability, style, and functionality is essential. At Noah Packaging, we offer a diverse range of eco-friendly pillow boxes with handles designed to elevate your brand's image while minimizing your environmental impact. Discover how our customizable packaging solutions can make a positive impression on both your customers and the planet.
Customization that Sets Your Brand Apart
In a saturated market, standing out is crucial. Our custom pillow boxes with handles provide ample opportunities for customization. Whether it's the shape, size, or design, we can bring your vision to life. We precisely replicate your brand colors on these pillow boxes by utilizing advanced printing techniques and color models such as PMS (Pantone Matching System) and CMYK (Cyan, Magenta, Yellow, and Black). By incorporating unique branding elements, you can create packaging that effortlessly captures attention on store shelves and leaves a lasting impression on your customers.
Superior Protection for Your Products
Preserving the freshness and quality of your products is vital for customer satisfaction. We design our large pillow boxes with ribbon handles specifically to provide superior protection. Acting as a barrier against external factors like heat, moisture, light, and air, they ensure your products remain in optimal condition. With our customizable options, you can choose the ideal size and fit, securely packaging your items in white pillow boxes. It helps you reduce the risk of damage during transit.
Vibrant Results with PMS and CMYK Printing
Printing plays a significant role in creating visually appealing packaging. We utilize advanced printing techniques at Noah Packaging. Through PMS printing, we precisely match specific colors, ensuring consistency with your brand's identity. On the other hand, CMYK printing enables us to produce vibrant and detailed designs. These techniques utilize water-based inks, which are environmentally friendly, free from harmful chemicals and pollutants.
Communicating Your Commitment to the Environment
Packaging serves as a powerful tool for branding and marketing. Our pillow boxes with handle offer excellent opportunities to communicate your brand's commitment to the environment. By selecting sustainable packaging solutions, you can also showcase your dedication to reducing waste and preserving natural resources. This resonates with conscious consumers who prioritize eco-friendly choices. Moreover, our customizable branding options allow you to incorporate messaging and visuals highlighting your sustainability efforts, further enhancing your brand image.
A Cost-Effective and Environmentally Conscious Choice
Sustainable packaging doesn't have to break the bank. Our handle pillow boxes wholesale are not only eco-friendly but also cost-effective. Crafted from recyclable materials, they can be reused or recycled, contributing to waste reduction. Our efficient production processes also enable mass production at a low cost per unit, ensuring high-quality packaging without compromising your budget. By selecting our sustainable packaging solutions, you make an environmentally conscious choice while maximizing the value for your brand.
Why Should You Choose Noah Packaging?
Noah Packaging proudly offers a diverse range of customizable, sustainable, and stylish pillow boxes with handles that elevate your brand's image while minimizing your environmental impact. With a focus on using recyclable materials, advanced printing techniques, and cost-effective solutions, we empower you to make a positive change. Embrace sustainability, enhance your brand, and appeal to conscious consumers who value eco-friendly choices. For further inquiries, please contact us at sales@noahpackaging.com. Take the next step towards a greener future with the best pillow box with handle company by choosing our eco-friendly packaging solutions.

Read more
| | |
| --- | --- |
| Box Style | Pillow Boxes |
| Dimension (L + W + H) | All custom sizes and shapes |
| Quantities | No Minimum Order Required |
| Paper Stock | 10pt to 28pt (60lb to 400lb) Eco-Friendly Kraft, E-flute Corrugated, Bux Board, Cardstock |
| Printing | No Printing, CMYK, CMYK + 1 PMS color, CMYK + 2 PMS colors |
| Finishing | Gloss Lamination, Matte Lamination, Gloss AQ, Gloss UV, Matte UV, Spot UV, Embossing, Foiling |
| Included Options | Die Cutting, Gluing, Scored,Perforation |
| Additional Options | Eco-Friendly, Recycled Boxes, Biodegradable |
| Proof | Flat View, 3D Mock-up, Physical Sampling (On request) |
| Turnaround | 4 - 8 Business Days, RUSH |
| Shipping | FLAT |
Yes, pillow boxes with handles are easily customizable with branding or logos to create a unique and personalized packaging solution for your products.

Usually we use materials such as kraft paper, cardboard, or recyclable paperboard to manufacture pillow boxes with handles, offering durability and eco-friendly options.

Yes, we print pillow boxes with handles in full color, allowing for vibrant and eye-catching designs to enhance your brand's visual appeal.
You can order pillow boxes with handles with custom inserts or padding to provide additional protection and secure packaging for delicate or fragile items.
The cost of pillow boxes with handle packaging may vary depending on factors such as size, material, customization options, and quantity. It is best to contact us for specific pricing details tailored to your requirements.